The Loop
Something New At The Old Course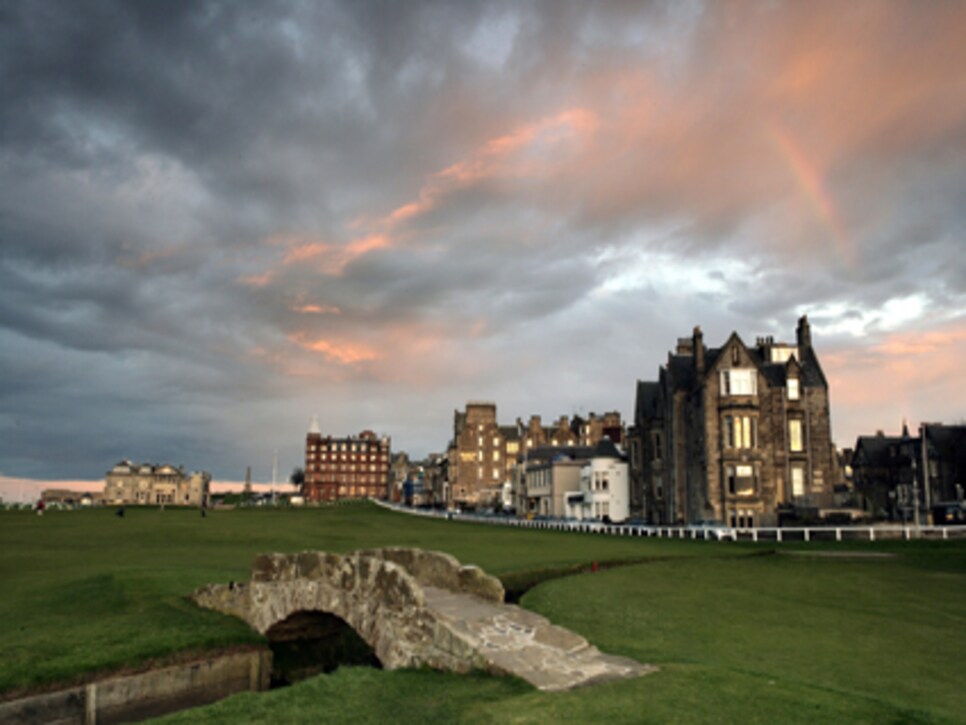 Shipnuck and I got out to the starter shed at 6ish in the morning and put our names in the ballot box as singles. We were told we had a good chance of getting out; now all we had to do was pay the green fee, coordinate a caddie if we'd like and to produce the mandatory handicap cards.
Right . . . handicap cards?! We told the cold red face behind the small white window that we needed to go back to our car to get our handicap cards.
We had no car to go back to because the group had dropped us off, but more important--we didn't have handicap cards.
Shipnuck had been a bag boy at Pebble Beach, but he was no member and didn't have a handicap card. I was a member of Oakmont Golf Club in Santa Rosa, Calif., but I didn't carry my handicap card, and I certainly didn't think that rule was enforced. If it was 6 a.m. in St. Andrews, it was 10 p.m. at the Oakmont golf shop.
A few young and mildly resourceful scrappers, and roughly single-digit handicappers, hadn't come all this way to be turned back by a man with the breath of Old Tom Morris, and in our minds, a minor technicality.
(Enter stage brother in Hawaii.) It was 7 p.m. on the North Shore of Oahu, he was home, and he had access to a fax machine. In less than an hour Shipnuck and I were strolling down the mega-wide first fairway of the Old Course. (We were lucky enough to be paired together.) Sitting in some file of the Old Course was a fake letter faxed from the Turtle Bay Golf Club (my brother's office just down the street) in which the club secretary (Sean Somemadeupname) confirmed that Matt Ginella and Alan Shipnuck had official handicaps of less than a 24.
It was as if we were avid golfers playing the first hole of the Old Course--high-fivin', gigglin' and soakin' it all up. That lasted only a few steps before I had to cut over to the fence line of the 18th fairway--I had thrown a nasty hook at my opening tee shot, which barely stayed in bounds. There was probably some element of guilt to that first swing, and I was cheating in the courtroom of the golf gods. Some nerve.
We might've played like two 34s, but the point is, we played. And then we had lunch, and we both played again that afternoon. It was a glorious day for two so-called members of Turtle Bay.
The point of the blog is twofold: to clear my conscience, and to let you know that there's something new at the Old Course. As of Jan. 7, 2012, you'll be able to put your name in the ballot box 48 hours in advance of wanting a tee time, instead of 24 hours.
Here's an edited version of the press release:
Old Course ballot to change to 48 hours ahead in 2012
The daily ballot for the Old Course is to change from January next year, moving to a 48-hour ahead system of entering for the first time in its history.__
For many years golfers have entered the ballot one day ahead of when they wish to play the Links, but from Saturday, January 7, 2012 golfers will enter two days before.
The change is being made by St. Andrews Links Trust, following an extensive consultation exercise with local golfers, local golf clubs, businesses, golf organizations, hoteliers, travel operators and tourism bodies.
The Old Course takes more than 40,000 rounds of golf a year in the six days a week it is open for play. The ballot is designed to give golfers who have been unable to book in advance the chance to play when they are in St Andrews.
It is hoped the change to 48 hours ahead will benefit both local and visiting golfers by enabling them to plan their golf more effectively if they know further in advance when they will be playing the Old Course. It will dovetail with the one-day ahead booking system on the Jubilee, Eden and Strathtyrum courses and will enable golfers who have been unsuccessful in the ballot to book an alternative course for the day they want to play. The earlier draw will make it easier for visiting golfers to plan accommodation and travel arrangements and will encourage them to stay longer in St. Andrews and play more golf in and around the town.
The 48-hour ahead ballot will be drawn for the first time on Saturday, Jan. 7, 2012 for play on Monday, Jan. 9, 2012. To enter the ballot requires at least two golfers and they will have to enter their names, home clubs and handicaps by 2 p.m. The ballot will take place every day of the week with the exception of Friday, as there is no play on the Old Course on Sundays.
__The entries can be made by phone on 011-44-1334-466666 or in person at any of the three clubhouses at the Links. It's thought that the origins of the daily ballot on the Old Course date back to 1895 following the implementation of the 1894 Links Act which saw St. Andrews Town Council re-acquire the Links.
For a handicap card in a pinch, call my brother.
(Photograph by Getty Images.)