The Loop
Somehow, Tiger Woods conjures up comedy in wake of his worst round as a pro
SCOTTSDALE, Ariz. — Well, there's always stand-up comedy should professional golf cease to be an option for Tiger Woods. Or not.
After signing for the worst score of his professional career, an 11-over par 82 in the second round of the Waste Management Phoenix Open, Woods stepped to the podiumat the TPC Scottsdale for a brief interview session.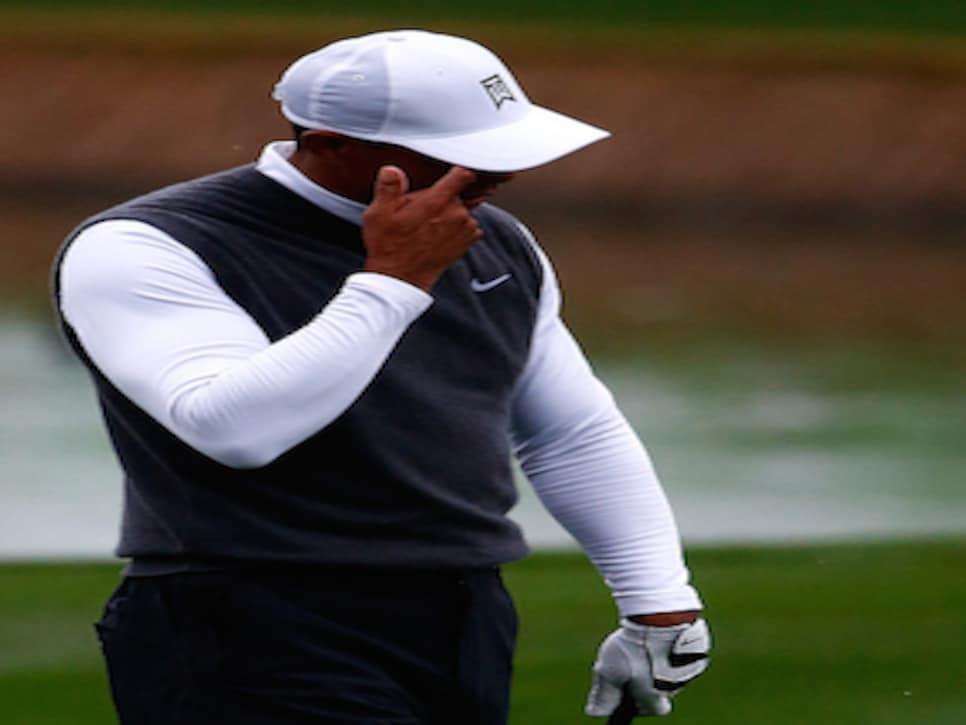 "I'm just doing this so I don't get fined," he said with a smile, playfully echoing Seattle Seahawks running back Marshawn Lynch.
Good that he was able to laugh in the wake of a pitiful performance that sent him packing early. But the chipping yips, if that indeed is what he is experiencing, are no laughing matter.
And there is a growing coalition of those who opt for yips over technique to explain the inexplicable, the inability of arguably the best player in history to execute shots once considered routine.
On Thursday, Golf Channel's Arron Oberholser cited the yips. Colt Knost and Dottie Pepper used the word in Tweets on Friday.
"Never fun seeing, let along reporting on, 2 dreaded topics in golf: shanks & yips," Pepper wrote. "Sadly, Tiger has the latter. Nerves not mechanics."
The worst of his short-game mishaps came on the par-3 fifth hole, where Woods bladed a chip over the green and into a bunker.
"Well, it's the pattern," he said, citing the swing changes he has made with instructor Chris Como as the cause of his short-game woes. "My attack angle was much deeper with Sean [Foley, his previous instructor]. Now I'm very shallow. So that in turn affects the chipping. I'm not bottoming out in the same spot. It's a different spot."
He did allow that it's a mental problem as well, "because the physical pattern is different. So the trust is not quite there. I'm not bottoming out in the same spot. Yeah, to an extent, it is [mental], but I need to physically get the club in a better spot."
The chipping yips are debilitating and capable of ending careers. Australian Brett Ogle won twice on the PGA Tour when he developed the putting yips that spread to other parts of his game, including chipping. He even tried chipping left-handed for a time before he was driven into retirement.
Woods is not that desperate, notwithstanding a front nine on a cool wet day here that would seem to call for desperate measures. He double-bogeyed his fifth hole and tripled his sixth en route to an eight-over par 44, equaling the worst nine of his career.
"We all have days like this," Woods said. "Unfortunately, mine was in a public setting. We take the good with the bad."
Woods then headed straight to his courtesy car and would soon be heading home to Florida to practice in advance of his start in the Farmers Insurance Open next week in San Diego.