The Loop
Some positives, but a mostly routine Day 1 for Tiger at Muirfield
GULLANE, Scotland -- The last time Tiger Woods teed it up in the opening round of the British Open at Muirfield was 2002 and he had already won the Masters and U.S. Open. But his Grand Slam dream was slammed in the third round in 81 cold, wet, windy strokes. That Open began with a wild drive that Tiger blamed on a photographer with an itchy trigger finger. Thursday's round, played in an East Lothian heat wave that saw temperatures in the mid-70s, began just as inauspiciously and ended pretty much inconclusively. Still, Tiger broke both par and the temperature as he posted a 69 that left him three strokes off the lead going into the second round. Nothing that happened over his opening 18 holes here led you to believe Woods couldn't end his 0-for-16 drought in the majors.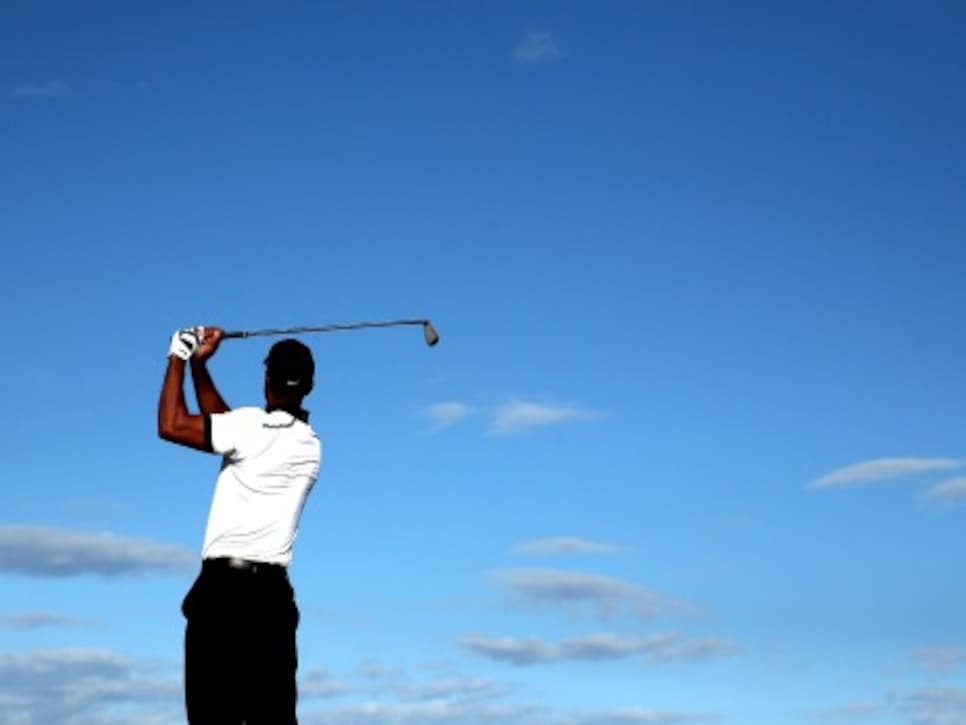 Then again, there was very little about the way he played that would make you think he will walk away Sunday with his fourth claret jug and 15th professional major title -- except that he made putts when he needed them, including an 8-foot par save on the last hole. What Woods did was manage his game well, shrug off some mistakes -- and a couple of wacky hole locations -- and make big shots when he needed them, likely manufacturing the best score possible given how he played. "It was tough," Woods said. "The golf course progressively got more dried out and more difficult as we played. And I'm very pleased to shoot anything even par or better." Driving with a fairway wood, Tiger pull-hooked his first shot of the day so badly he played a provisional and then needed to take an unplayable lie penalty drop when he found the first effort tangled in long grass. He bunkered his third shot, blasted to three feet and made the putt for what amounted to a good bogey after a bad tee shot.
Related: Video: Tiger's wild first hole at Muirfield Woods got the bad end of the draw, teeing off at 2:45 local time when the wind had picked up a bit and the course browned up a lot. With several greens gasping for breath and badly in need of a drink, getting the ball close to the hole was more than a challenge. On No. 3, an errant approach shot ended up in a bunker and unluckily didn't roll far enough away from the lip to give Woods an easy line to the hole location. Still, from an awkward stance, he worked his short game magic and blasted to within three feet, wincing as the wind blew sand back into his eyes. A birdie at the par-3 fourth hole got Woods back to even par and gave him an opportunity to start his Open Championship all over again. On No. 6, his chip from behind the green rolled right back to him and he had to make a 12-foot putt to save bogey. "It was more of a grind than one of those Pro-Am, happy-go-lucky, you know, talking to your playing partner all day," said Woods, who played with Graeme McDowell and Louis Oosthuizen, who withdrew on the ninth hole with a neck injury. After turning in 37, Tiger opened the back with two birdies to get to one-under par. A one-knee bunker shot on No. 12 to 10 feet followed by a made putt was reminiscent of the kind of momentum-saver he routinely summoned when he was the full Tiger. To prove that the momentum was in fact preserved, he rolled in a birdie putt on the next hole from a couple of villages away to get to two-under par and make his first appearance on the leader board, four strokes off the lead at the time. On No. 14, he was victimized by the quickening greens and a dicey hole location, putting off the green and making bogey. "Some of these putts today, I mean, I putted the ball off the green today. And it really wasn't that bad a putt. Anything that goes four feet by, it's gone. It was tough."
Related: Was Muirfield setup fair? But he fought back with a two-putt birdie on the par-5 17th hole and a par save after driving into the rough on No. 18. On the grand scale of the Woods' resume, which contains some of the great performances in the history of the game, this was a decidedly routine effort. But sometimes magical journeys have ho-hum beginnings. And for Woods, who took the last month off to rest an injured elbow, just having a pain-free beginning was an encouraging sign. "The elbow held up great," he said. "I knew the ground was going to be hard over here. There's potential for having some long rough. And that little time off helped." The British Open is the flukiest of major championships, one in which bad luck, bad tee times, bad weather and bad hole locations can conspire to drive you nuts. What Woods did extremely well on this sun-baked Thursday was manage his game and his emotions. This was not an effort to write home about -- far from it.
Related: Tiger's First-Tee Jitters But it could be the beginning of an effort that results in the engraver writing Tiger's name on the claret jug for the fourth time come Sunday evening. More than five years removed from his last major championship, Woods no doubts feels the frustration -- and mounting pressure -- of that drought. His thirst for victory is as likely as parched as the historical Muirfield links. Tiger has been in its position before. He will likely sleep well on this performance, knowing not often are all the pieces in a championship puzzle perfect. This one was just good enough. And that's not a bad way to begin.