Pairings
Solheim Cup 2023: U.S., European opening foursomes pairings come with fair share of surprises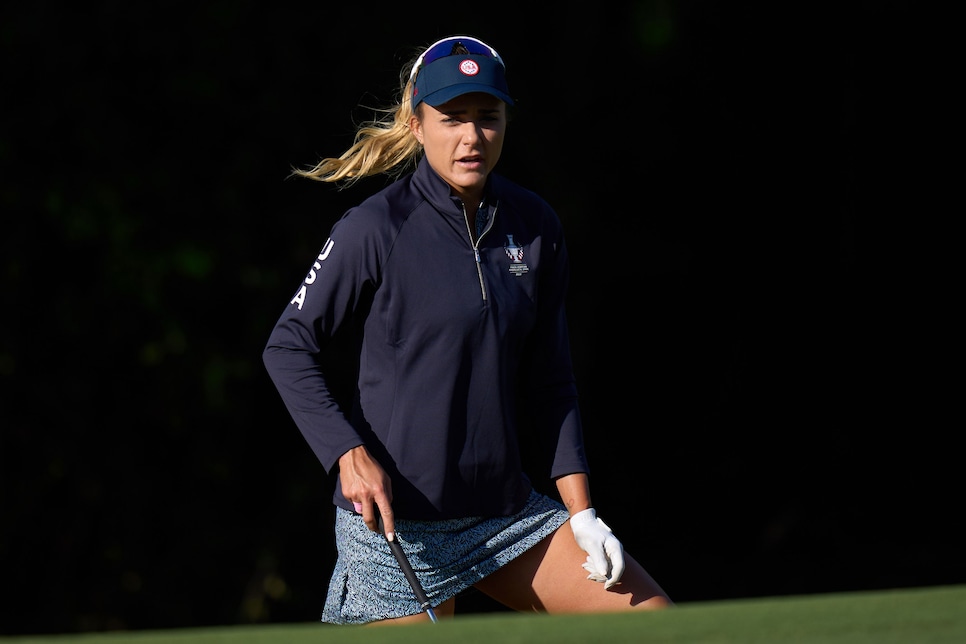 Lexi Thompson has struggle much of 2023, but U.S. Solheim Cup captain Stacy Lewis says she's looked good enough this week to warrant getting the chance to hit the opening tee shot of the match on Friday morning.
Angel Martinez
CASERAS, Spain — The pre-match verbal jousting all but done and the practice sessions over, Thursday afternoon was time for Solheim Cup captains Stacy Lewis and Suzann Pettersen to get down to the semi-serious business of announcing the pairings for Friday morning's opening series of foursomes.
And both came up with mildly surprising choices.
Although at pains to say we will be "seeing a lot" of Lilia Vu over the course of the next three days, Lewis has left the World's No. 2-ranked player on the metaphorical bench. And Pettersen, showing great faith in a long-established partnership and friendship, has placed two Solheim Cup rookies, Swedes Maja Stark and Linn Grant, in the top match against the vastly more experienced Lexi Thompson and Megan Khang.
The appearance of Thompson, who will have the honor of hitting the opening tee shot, is also something of a risk for Lewis. Wildly out-of-form, the 28-year-old Floridian, already a five-time Solheim Cup player, was the last qualifier for the American team and surely not in line for a captain's pick had she required one. All of which likely provoked Lewis' stern defense of Thompson.
"I've had a couple people within our team—caddies and helpers—come up to me and say, 'she's hitting it really good.' Then every day there's been more and more people telling me that. I actually have their strokes gained from practice over the last two days, and Lexi is off the charts right now. She's been working really hard the last two months. I think it was just a matter of time. The driver is looking great and the ball-striking looks better than it has in a long time. She's got the most experience on our team, and I wanted her to go out there and have that first tee shot. I think she's earned it."
Sitting side-by-side, the difference in philosophies between the two captains was also firmly underlined. While Lewis was clear in saying that the four players omitted from the first morning's play—Vu, Rose Zhang, Jennifer Kupcho and Angel Yin—would all appear after lunch, Pettersen equivocated.
"We don't quite know yet what the Friday afternoon looks like," Pettersen said. "We'll see how the morning goes and kind of we'll take it from there. We have plans A, B, C, and D."
So there is no guarantee that Gemma Dryburgh, Caroline Hedwall, Madelene Sagstrom or home favorite Carlota Ciganda will see opening-day action. Although it would be a major shock if the Spaniard, who owns a 7-8-4 record in five previous Solheim Cups, was not part of the post-lunch line-up.
Whatever, it is clear that Pettersen's much-rumored disdain for analytics has some truth to it.
"As a player, I wasn't really into stats; I was also very much a feel player," she said. "But I feel like every decision we've made from literally picking the team to where we stand today has been based on facts. Then on top of it, I would like to say it this way, there's an exception to every rule. There's always an exception to every stat.
"These girls are humans with a heart as well, so you've got to have the dynamics fit on top of it," she continued. "They've got to enjoy being out on the golf course for five hours together. So there are other elements to the puzzle than just looking at the stats. I guess you probably feel better when you can base it on statistics and say the statistics kind of matches your gut feel, then it's a no-brainer. But I know everything about these players, probably more than they do themselves, of the state of their games."
Then there is Lewis' firm belief that no American will play all five matches. That makes sense on a Finca Cortesin course that would not look out of place in the Himalayas. Tongue-in-cheek speculation has it that the club champion is named "Billy," as in goat. Whatever, it is one tough walk, even if the players will be carted from the first green to the second tee, between the sixth green and the seventh tee and from the 13th green to the 14th tee.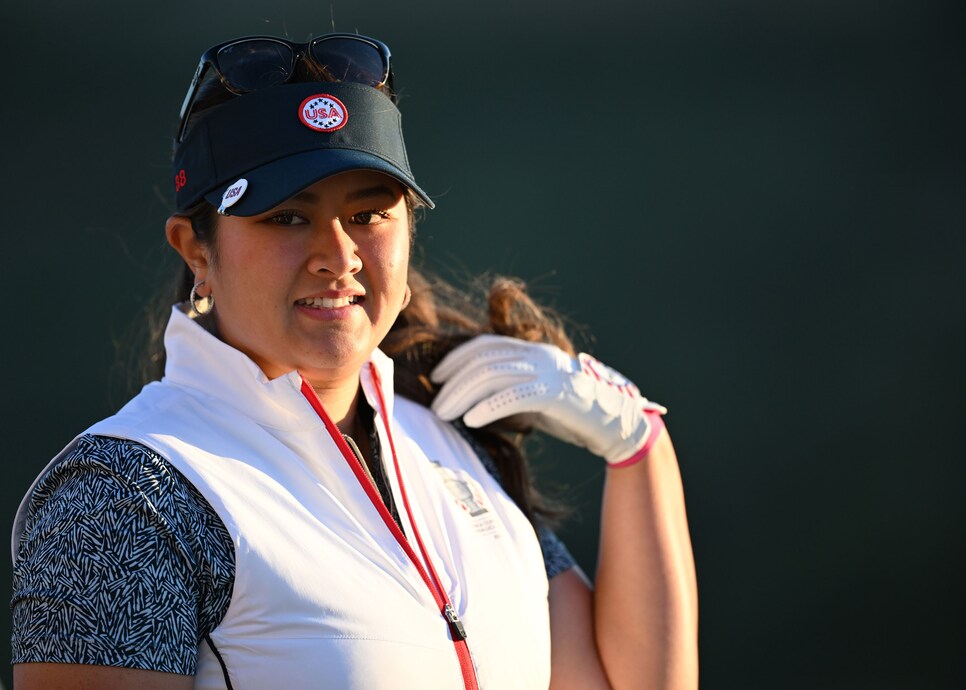 Lilia Vu, a two-time major winner in 2023, isn't playing in the opening session but U.S. captain Stacy Lewis says she'll get plenty of action during the three days of competition.
Stuart Franklin
Still, amidst the relative eye-openers, there was also predictability. Three of Lewis' four pairings followed the classic theory that any Solheim Cup rookie will require the reassurance of an experienced partner at least the first time out. So it is that Danielle Kang, in her fourth appearance, will shepherd Andrea Lee; Solheim sophomore Nelly Korda will play alongside U.S. Women's Open champion Allisen Corpuz; and Ally Ewing will partner Cheyenne Knight. Alongside Lewis' willingness to take a chance on Thompson there is plenty of orthodoxy.
"I've had these four pairings down on paper for quite a few months now," Lewis said. "It was more like in what order do you play 'em. But we have so many great players. There are only so many that get to play each session. It's great to have both experience and rookies out there to get the hang of it, get the feel, and let 'em play."
Equally, quite apart from the young Swedes getting what they both wanted, Pettersen has gone with the obvious pairing of Celine Boutier and Georgia Hall. In four appearances together at the last two Solheim Cups, the Anglo-French pair are unbeaten. All in all, a no-brainer for the 42-year-old Norwegian, as is, to an extent, the sight of perhaps the two steadiest ball-strikers in the team, Leona Maguire and Anna Nordqvist, together.
Charley Hull, who is suffering from a sore neck, and Emily Kristine Pedersen are perhaps the most interesting of Pettersen's picks. Both are long off the tee. But neither is particularly proficient in the "fairway finding" department. This year Pederson ranks T-78 on the LPGA in driving accuracy, 41 places higher than Hull. On paper at least, they make more sense as a four-ball partnership rather than in the more demanding foursomes format. It is, however, how they perform on grass that will really count.
Lexi Thompson/Megan Khang, U.S. vs. Linn Grant/Maja Stark, Europe
Danielle Kang/Andrea Lee, U.S. vs. Celine Boutier/Georgia Hall, Europe
Nelly Korda/Allisen Corpuz, U.S. vs. Leona Maguire/Anna Nordqvist, Europe
Ally Ewing/Cheyenne Knight, U.S. vs. Charley Hull/Emily Kristine Pedersen, Europe
U.S.: Jennifer Kupcho, Lilia Vu, Angel Yin, Rose Zhang
Europe: Carlota Ciganda, Gemma Dryburgh, Caroline Hedwall, Madelene Sagstrom