The Loop
So much for a bomber's paradise: Phil sees only three driver holes at Chambers Bay
UNIVERSITY PLACE, Wash. - If you're limiting your U.S. Open picks to long hitters, think again. Phil Mickelson said after his Tuesday practice round that he's down to hitting driver on three holes: Nos. 7, 11 and 14.
During his practice round with Butch Harmon stablemates Rickie Fowler, Brandt Snedeker and Jimmy Walker, Mickelson backed up his assertion by attacking Chambers Bay with his Callaway X Hot 13-degree wood. What changed? A firmer and faster Chambers Bay than two weeks ago where Mickelson had first sensed distance was a vital commodity.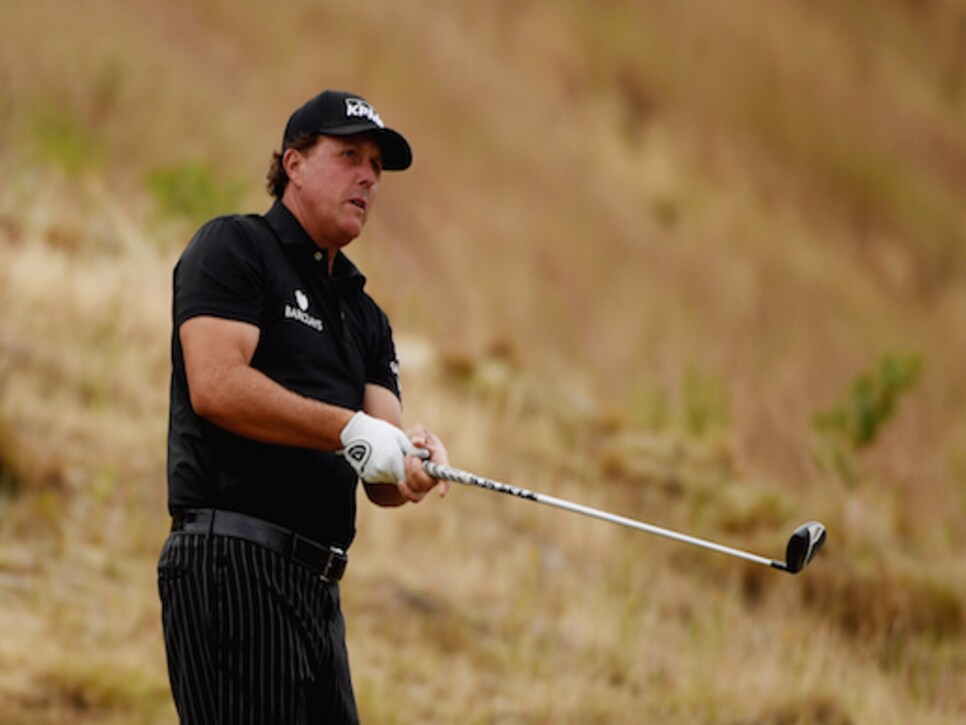 "Two weeks ago I thought so, but after playing it today I don't think that it matters," the birthday boy (45) said. "Holes I was hitting drivers two weeks ago, I was hitting 3-woods and even 2-irons. So I don't see it being as critical."
Mickelson and Fowler dusted opponents Snedeker and Walker, who both got the majority of instructor Harmon's attention. While Fowler continued to attack the course with driver in part to test the limits of aggressiveness, Mickelson only once showed indecisiveness in making his distance downshift. At the par-4 13th, where the widest-ever fairway in a U.S. Open awaits, he pushed it into the left rough because the hole's left-to-right slope sends balls to a fairway bunker only in reach for a 330-yard drive.
Punters should be warned: Mickelson sounds and looks very comfortable at Chambers Bay, equating it to St. Andrews after his round. Like Fowler, both appear to relish the creative possibilities around the greens.
"This golf course allows for the short game to save shots. It doesn't force you to play perfect golf," Mickelson said.
"It's a great opportunity for him," Fowler said of Mickelson. But Fowler is not shy on confidence, openly salivating at the opportunity to "show off" at Chambers Bay more than the traditional inland and constraining U.S Open examination.
Just don't expect driver to be as much a part of the showing off as originally expected.