High Voltage! Brandt Snedeker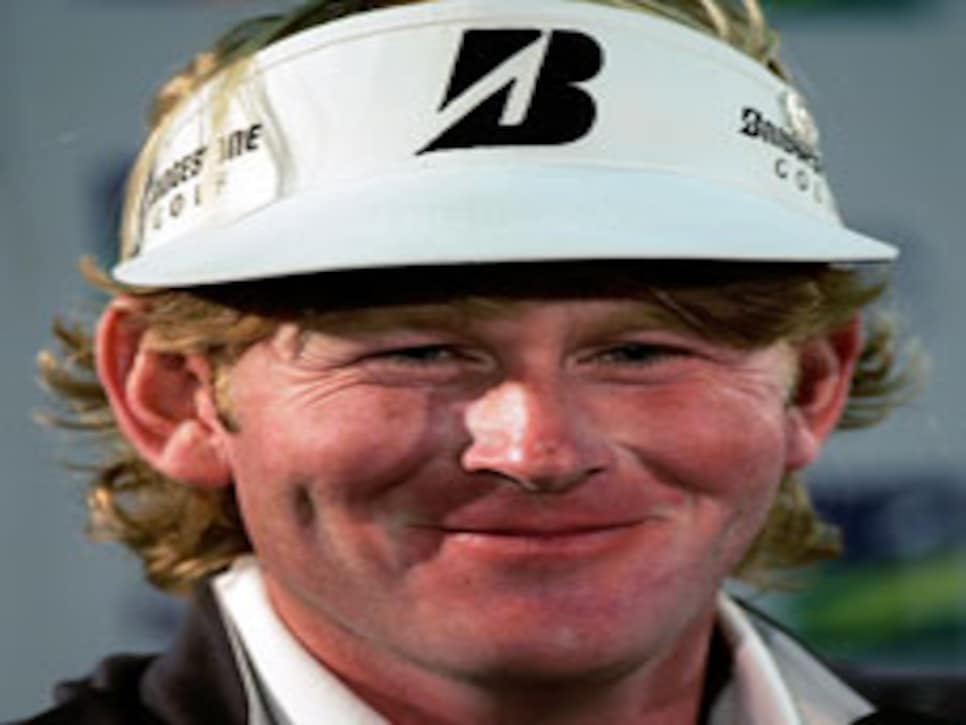 Just because he's the golfer who cried doesn't mean Brandt Snedeker can't apply the needle.
In a game of "Wolf" at Frederica Golf Club in St. Simons Island, Ga., Snedeker smirks as his agent, Jimmy Johnston, stalks away from a slightly mis-hit drive.
"You just want to break that club, don't you?" Snedeker gently taunts, playing onJohnston's past as an unofficial member of the All-Volcano Team during his years on the PGA Tour. "Aren't you the only guy [Bob] Rotella ever fired?"
"No, he stuck with me," Johnston deadpans, referring to the noted sport psychologist, "but I almost retired him."
It's two weeks after Snedeker finished tied for third at the Masters, and he's recharging amid the beauty and comfort that has become a haven for tour players. It's the place where Jonathan Byrd and Lucas Glover practice, and where Zach Johnson got his wedge game ready for the 2007 Masters. This year, Snedeker nearly wore out the practice chipping area with marathon sessions and putted endlessly on greens the superintendent got running at 14 on the Stimpmeter. Toward the end of the morning, Davis Love III and his son, Dru, veer their cart by to say hello.
Snedeker is a Nashville guy, and he won't be moving after he and his fiancee, Mandy Toth, marry on Oct. 18. But St. Simons Island is where he's building his career with the team of Johnston, swing instructor Todd Anderson and trainer Randy Myers. He comes here to work, as utterly at ease as he appears, but his 27-year-old motor, which he ignites every morning with a can of Red Bull, hums even when idling. Snedeker claims that after an initial jolt, the ingredient taurine in the drink has a calming effect. "I looked it up," he says.
If so, it's a good thing, because Snedeker talks at a speed that challenges interview-room stenographers. His stride is never without a bounce, and his bearing is buoyant. The kinetic package is accented by the blond mop that looks as if it came from a '70s-era cover of Rolling Stone, or perhaps from one of the pictures in a PGA Tour media guide of that vintage.
"I know, it's too long," says Snedeker. "At least it's short compared to Charley Hoffman, who's got to give it up. Shaved it once in college. Looked like Dumbo."
The Frederica course is built for Snedeker to have fun, with wide fairways, dramatically sloped greens that require creative wedge play, and greens that reward touch and a great putter's eye for the "high line." The extra room lets Snedeker -- whose biggest long-term challenge is to transform himself from a mercurial driver into a consistent one -- swing the big stick with freedom. After a pulled tee shot nevertheless stays on the edge of the short grass, Snedeker pipes, "That's why I love this place: Another fairway hit."
Later, after he and Johnston lose a hole to Canadian tour player Brad Heaven and director of golf Steve Archer, Snedeker jabs Johnston again. "Jimmy, I thought you told me you weren't going to take me down with you today?" Johnston, who happens to hold the Frederica course record of 60, answers, "If I had been on tour playing like this, there would be eight clubs left. Now I just give up."
"And you wonder," says Snedeker, "why I ignore everything you tell me."
Away from the group, Snedeker reflects on the subject of temperament and tournament golf. "You know, I've always been blessed with a good attitude," he says. "I've never had a lot of bad thoughts enter my mind. Never have felt like I needed to see a sport psychologist. All that stuff is what I believe I do well naturally."
Of course, some might have considered his tears in the immediate aftermath of the Masters evidence of a head case. And in truth, it surprised those closest to him.
"I was shocked," says his father, Larry, a retired lawyer. "He's always kept that stuff covered up."
But even if there's no crying in baseball, there is in golf.
Bobby Jones cried after victories and defeats. OK, maybe guys like Hogan, Nelson or Snead never lost it at tournaments, but Arnold Palmer broke down at Oakmont after his final U.S. Open in 1994, Jack Nicklaus' eyes were glistening at St. Andrews in 2005 and Tiger Woods couldn't keep the torrent in after winning two years ago at Hoylake.
It's a long list. Patty Sheehan, Ben Crenshaw, John Daly, Sergio Garcia, Len Mattiace and Fred Couples were all overwhelmed by events, good and bad.
It's golf, the sport that requires so much be kept inside. The ones who care the most are almost by definition the most bottled up.
After his fourth-round 77 at Augusta, Snedeker, who says he had never cried because of golf before (the only two other times he can remember tears in his adult life came at his brother's wedding and when he and Toth became engaged), felt his emotions coming loose in the scoring trailer. "I could hear the people cheering and calling my name," he says. "It made me think I had let them down."
That's when he felt the entirety of the greatest and most disappointing week of his life. He thought of all the friends he had made at Augusta National during his approximately 15 visits after winning the 2003 U.S. Public Links Championship to qualify as an amateur. There was the thrill of playing the Par-3 Contest and the first two rounds of the tournament this year with his boyhood golf hero, Tom Watson. Snedeker's mother, Candy, whose heart is regulated by a pacemaker, caddied for him in the Par 3. More than anything, Snedeker had believed he could win, just as he had with a closing 63 at the 2007 Wyndham Championship for his only PGA Tour victory.
"That was the most painful experience of my life in golf," Snedeker says of the Masters. "All I needed was 18 holes of decent golf, and I've got a shot. And I played terrible. Going into Sunday, I felt like the script had been written, like this was meant to be. Walked out of that tent and realized I had let a golden opportunity go by. It would have meant so much to everyone who supported me. And it just hit me all at once."
As Snedeker stopped to meet with some assembled media, he handled the first part of the questioning with poise. But when Tom Rinaldi of ESPN asked, "Brandt . . . we don't know what it's like. What is it like?" Snedeker paused and was overcome by a sharp intake of breath before hiding his face in a towel.
"People asked, 'Why did you stop for the media?' " Snedeker says. "Well, the game's a lot more important than me. A lot of people wanted to ask me a question. So I wanted to give them a peek at what I was feeling and gut through it. I didn't want to say, 'I don't want to talk; I had a bad day.' Well, you're going to have bad days. It's OK to let people see that."
Adds Toth: "He understands that a bad day for him is not a bad day for a lot of other people in the world."
I got to see the way it is for a lot of people ... who needed to pawn their wedding ring to pay their heating bill.'
Search Snedeker on youtube.com and you can watch a newscaster from Sky Sports laugh at the clip of Snedeker crying. "That's why he lost," the announcer crows. Snedeker gets a chuckle out of it and joked with officials from the next week's Verizon Heritage that they should make sure to have a box of Kleenex handy at his interviews.
"I was sorry in a sense that he's as tender as he is," says his mother. "I know he's mine, and I'm biased, but when I watched him at the Masters, I thought he's the face of what golf should be. The way he can smile, it means so much to people. He knows how to make people feel good. I think they felt the same way when he cried."
Adds Masters champion Trevor Immelman: "Brandt's kind of got an old soul, if you know what I mean. A fantastic guy, real down to earth, takes everything in his stride. Some of the tapes I've seen from Sunday on the way he conducted himself, especially coming up 18 -- pretty special. I just hope he gets the opportunity to feel what I felt."
Snedeker is an advertisement for good upbringing and family values. Consider his recounting of calling a penalty on himself (for accidentally moving his ball in the rough) with five holes to go in the 2007 Australian Open, which he lost by a stroke to Craig Parry. "You know, there was nobody around me, and the ball barely moved," he says. "Sure, it went through my mind that I could have definitely gotten away with it. Nobody else would have known but me. But karma's a powerful thing in this game."
Although Larry Snedeker made a good living as a lawyer and real-estate developer, his second son was exposed to a different reality by spending weekends as a youngster with his mother behind the counter at the family's pawn shop, Gray House Jewelry & Loan, in a gritty section of Nashville. There Snedeker had contact with all sorts of characters.
"I got to see the way it is for a lot of people," he says. "People who needed to pawn their wedding ring to pay their heating bill or buy their medications. I mean, life's a battle. And I got to see my mom's kindness, the way she treated people, and the way she gave everyone at least one chance.
"You know, in a tournament, I use being nice and responding to people as my mental safety zone. It takes me out of the situation a bit and relaxes me. But also, it's the way I was brought up. If somebody says hello, you never just ignore them. I know it's not uncommon in golf for a player to kind of look straight ahead and keep walking. But I feel awkward, if someone says something to me, to just walk past. That's just rude."
Snedeker has always been close to his brother, Haymes, who is five years older. "I couldn't beat him in anything," Brandt says of Haymes, who would become an all-conference golfer at Ole Miss. "It was good for me, because I just kept trying."
At 18, Brandt beat Haymes in the final of the Nashville City Championship. "My brother is everything I would hope to be as a person," says Snedeker. "He's my best friend and my biggest fan, and I've never sensed any jealousy from him. I often wonder if the roles were reversed, would I have been able to handle it so well?"
"He would have, no problem," says Haymes, a lawyer and part-time judge in Fairhope, Ala. "The main thing I feel toward him is just unbelievably proud. He worked at it, dedicated his life, and earned it, and he's stayed this wonderful person. People ask me all the time, 'Is your brother like he is on TV?' And I say, 'That's him, absolutely.' You know, our family is far from perfect, but Brandt got the good parts of all of us."
Snedeker took up golf at about age 7 during family summer vacations in rural Missouri, where his maternal grandmother was the manager of a golf club and ran a restaurant. As he got older, he would spend entire summer days at a Nashville muny, Shelby Park. Early on, Larry noticed a special quality in his youngest son.
"The thing that sets Brandt apart from his brother, and from me, and from 99 percent of the world, is his unbelievable drive," he says. "He's as focused a person as I've ever met in my life."
Brandt sees it a bit differently. "I definitely have some ADD [attention-deficit disorder], because I have a real hard time focusing on stuff I'm not interested in, and I can be pretty disorganized. But it's weird . . . when I get my mind on something and start working on it, I do it nonstop. It's that way with golf."
As Snedeker got immersed in the game, he found himself drawn to Watson's example. "I just loved the way he played," Snedeker says. "Loved the way he struck the ball, the way he played fast, his pre-shot routine, the way he held his finish the same way no matter where the ball went, all of which I copied. I copied everything about him. As a teenager, I always had Tom Watson wedges and Ram irons. One of the most exciting moments of my life was watching on TV when he won the '96 Memorial in his mid-40s. He wasn't putting great by that time in his career, but you'd never see him get upset. You could see disappointment, but he'd never lose self-control. I was so impressed by that."
Although a Tennessee state junior champion, Snedeker was not highly recruited and attended his hometown college of Vanderbilt, where he met Toth. He enjoyed college life (graduating with a degree in communications), finding out, among other things, that he could coast on his natural ability. As a junior he became the first Vanderbilt golfer to make first-team All-America, but Snedeker remembers his coach saying, "Brandt, you don't work as hard as most All-Americans."
It was like a switch went on. I realized I had every advantage in life, and that I was wasting it.'
That changed when Candy required open-heart surgery. "That was the turning point in my life," says Snedeker. "It was like a switch went on. I realized I had every advantage in life, and that I was wasting it."
Says Candy: "I can see where it might have made a difference. Seeing me like that scared him. But he also saw that I was determined to get better, and he's got that quiet determination as well."
Haymes adds another factor. "Whenever either of us kids did anything good, it always made our parents so happy. We both loved that. So when she got sick, I believe there was something in Brandt that decided winning tournaments was how he was going to make Mom well again."
Snedeker won the Public Links soon after, which qualified him for the next year's Masters. As a qualifier he was allowed to play at the club, and he took advantage of the opportunity, playing about 60 rounds, befriending several members and coming to know the golf course as well as any young amateur in memory. The next year, with Haymes as his caddie, Snedeker birdied 11, 12 and 13 in the first round, made the cut and tied for 41st place.
Still, Snedeker had some holes in his game when he turned professional. He joined the Nationwide Tour and finished 45th on the money list his first two years. Blessed with the exceptional feel and hand-eye coordination that makes him extraordinary on and around the greens, Snedeker had some technical flaws with the driver in particular that kept him from being long or straight. After missing the second stage of qualifying school in late 2005, he embarked on a program of improvement.
Under Todd Anderson, Snedeker has worked hard at correcting a habit of allowing his left hip to move toward the target on his backswing. The flaw causes his upper body to drop too much behind the ball on the forward swing, forcing an over-reliance on the hands to square the clubface. Anderson has him loading his backswing correctly onto a "stacked" right knee and right hip, which allows him to turn his body back through the ball to create a more powerful and consistent release. "Brandt knew how to play golf, but his fundamentals were not as good as most tour players," says Anderson. "The great thing about him is that he's going to do what a lot of guys aren't willing to do to get better. Bottom line, the more we can get him to play from the fairway, the better chance he has to become a special player."
Snedeker's ability to make a more athletic swing is being enhanced with his intense training sessions with Randy Myers, who customizes exercises that will facilitate the swing changes Anderson is trying to achieve.
A lanky 175 pounds when he first began working out with Myers, Snedeker, 6-feet-1, now weighs 190 with less body fat. And though he has work to do before breaking through the upper half of the tour's statistical categories for driving distance (276.2 yards, 153rd) and driving accuracy (61.5 percent, 109th), he's certain that his misses are longer and straighter.
"The biggest benefit of what Todd and Randy do for me is consistency," says Snedeker. "I've always been a guy who could get hot, but my goal is not to have to rely on those streaks."
Not that Snedeker ever wants to lose his ability to bring serious heat. Rounds like his 61 at Torrey Pines North in the 2007 Buick Invitational, during which he turned in nine-under-par 27, and his closing 63 at Greensboro, which included a 30-footer for birdie on the 71st hole, featured outstanding putting, as did his first three rounds this year at Augusta.
Snedeker is the inverse of so many top young players who possess classic swings but lack virtuosity on and around the greens. "The short-game stuff I'm good at is usually something you develop at an early age, rather than after you get out on tour," he says. "But for most tour players, the ball-striking tends to get better as you get older."
On the greens, Snedeker has a short, "pop" stroke with a mallet putter that brings back memories of Billy Casper. "I've always been a good putter," says Snedeker. "I hardly ever three-putt. Even if I push it a little or pull it a little, it seems to find its way into the hole. And even when I'm missing, I always think I'm a good putter, as good as anyone out here. You know, I think Boo Weekley and I would be perfect alternate-shot partners in the Ryder Cup. One of the best strikers with one of the best putters."
Watson, too, was a wild driver and deadly putter as a young professional, and he was charmed by Snedeker during their three rounds at the Masters, in part because his style of play "reminded me of me." But Watson, whose appeal before he challenged Nicklaus was as golf's plucky Huck Finn, also related to Snedeker's character.
"He's a terrific young man," says Watson. "He gets it, if you get my meaning. He gets what it takes to not only play professional golf, but he also knows how to handle himself the right way. I really admire that about him."
Watson, who says he has never actively mentored a fellow professional, called Snedeker after the Masters.
"I'll never forget that phone conversation," Snedeker says. "He said, 'Brandt, there's nothing I can say that's going to make you feel any better. I shot 79 in the last round when I led my first major [the 1974 U.S. Open at Winged Foot]. How you deal with it and move on is what's going to define you as a player. I believe you're going to learn from it and be better for it.'
"He said it with that deep voice, which always carries so much conviction and meaning," Snedeker says. "I know Tom's a private person, and who knows where things will go from here? I hope he'll be a mentor for me. I mean, that would be my dream. But if we never talk again, he's still my hero and the nicest guy in the world."
Snedeker thought a bit more about what Watson had said and remembered one more thing. "He said I was going to like Royal Birkdale. He said that the golf course was his favorite in the rota. I know he won his last British Open there, and it's going to be my first. I can't wait."