Play
Sneaking in A Little Golf... In San Francisco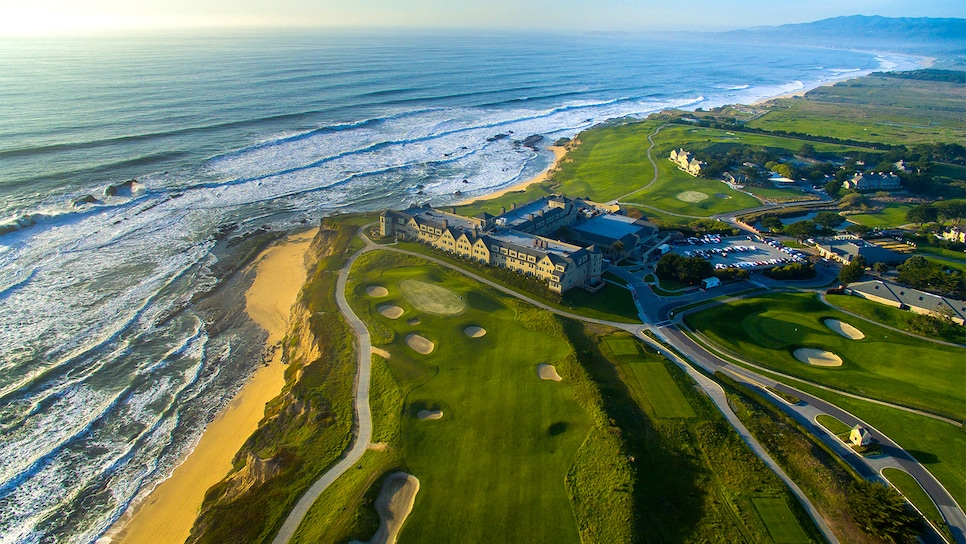 Few canvases in American golf are more beautiful than the northern California coast, with the Monterey Peninsula alone home to some of the world's most-renowned courses. But even if you don't have the time (or the budget) for a jaunt down to Pebble on your business trip to San Francisco, there's plenty of great golf architecture to behold closer to the city.
TPC Harding Park
This is tournament golf where you'd least expect it—on a city course in the heart of San Francisco. In 2020, TPC Harding Park will become just the fifth municipal course ever to host a major as it welcomes the 102nd PGA Championship. In 2025, on its 100th anniversary, it will host the Presidents Cup. At its low point, Harding Park became a parking lot for the 1998 Open at Olympic Club, but since then a lot of money has been pumped into the cypress-lined fairways and green complexes that overlook Lake Merced. It's a lengthy design even from the 5,800-yard forward tees (it plays 7,169 from the back) but nevertheless a great walking course (especially since local rules force carts to stay on cart paths at all times). Most players agree that the back nine is where the course earns its stripes. A bonus feature to the property is the short and sporty Fleming 9, a nine-hole bonus layout that is just over 2,100 yards. tpc.com/hardingpark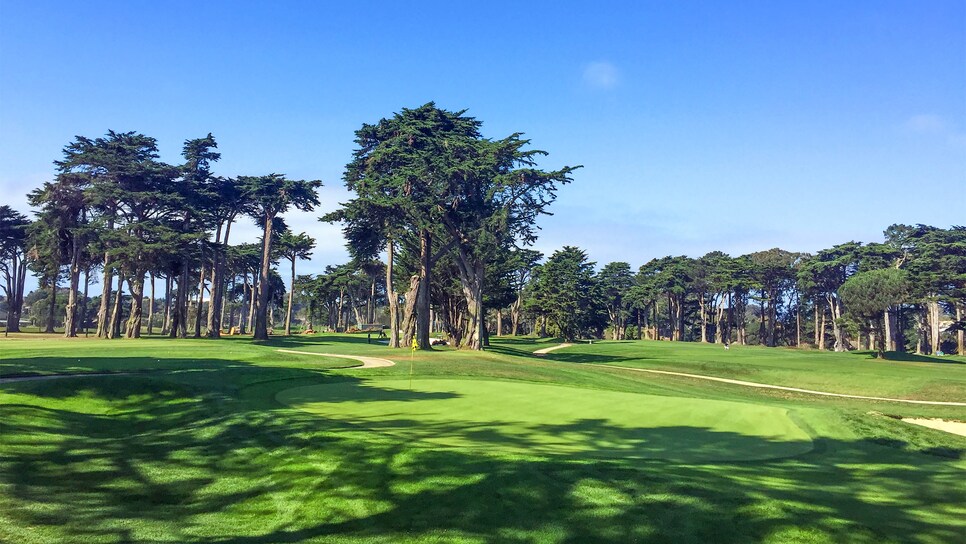 Sharp Park Golf Course
Proud locals refer to Sharp Park, designed by Alister MacKenzie, the mastermind behind Augusta National and Cypress Point, as "A poor man's Pebble Beach." The description is apt, as it rests on a beautiful linksland property along the Pacific coastline just 10 miles south of San Francisco and is maintained on a small maintenance budget. But if you're willing to overlook some scruffy edges, this sporty 1932 layout is a true delight, not to mention a prime habitat for endangered animals like the San Francisco garter snake and the protected red-legged frog. The lack of frills (no range, sputtering golf carts) is made up for by a friendly staff, a good bar and scenic coastal beauty—including crashing waves and mature Monterey Cypress that look like giant bonsai trees dotting the fairways. Local knowledge: leave early for weekend tee times as Highway 1 can get backed up. sfrecpark.org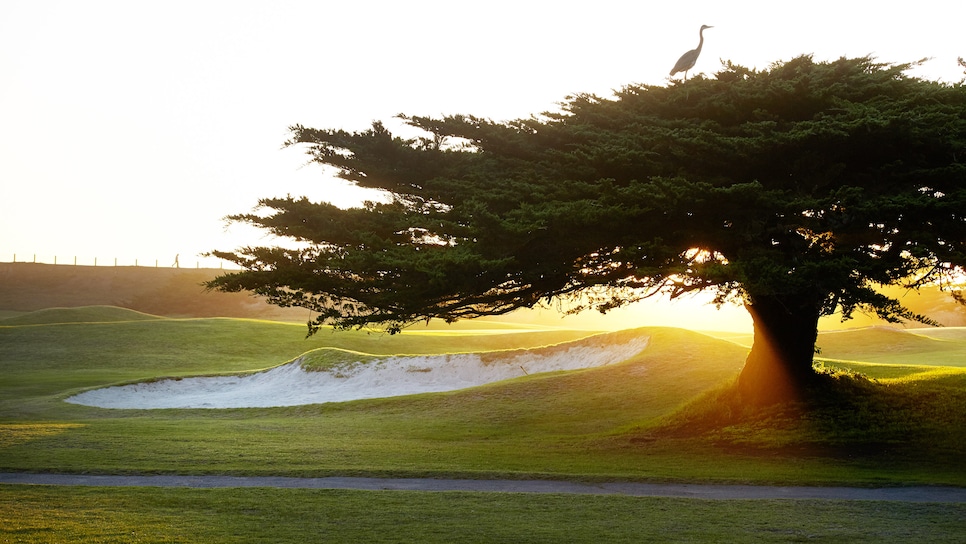 Presidio Golf Course
Prepare for battle at this historic course that sits on bygone military grounds. Your foe?  Wind, fog, rain, cold (sometimes all in one round), and San Francisco's trademark hills. What once was a private enclave for military officers back in the early 1900s has hosted the likes of Babe Ruth, Bing Crosby and Bob Hope, and opened for public play in 1995. Located within a national park just minutes from downtown San Francisco, Presidio is well laid out for walkers and has five sets of tees ranging from just over 4,000 to 6,500 yards that jog through lush stands of eucalyptus and pine. Post-round, retreat to the lofty Craftsman-style clubhouse with its clubby atmosphere, good food and large outdoor terrace with sweeping views of the golf course. presidiogolf.com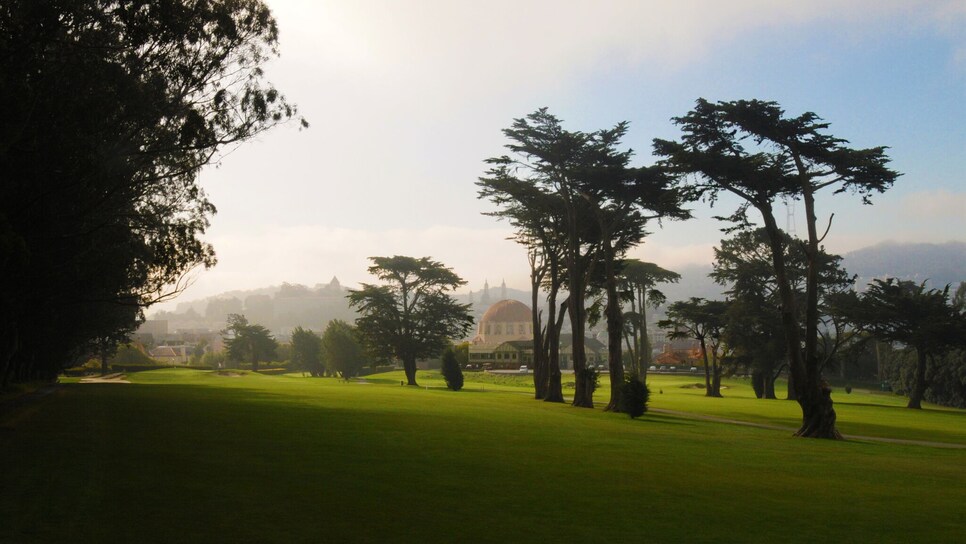 Half Moon Bay Golf Links
If you only have time for one excursion away from the city, hop in your car and head 20 minutes south of SFO to Half Moon Bay, for a truly "Wow!" oceanfront golf experience times two. The Ocean Course and The Old Course are different—links versus parkland—but the closing holes on both are as good as it gets, running right along the ocean with cliff-hugging drama. The conditions are always superb, as you might expect from a Ritz-Carlton property. The Ocean Course feels like more of a "destination" play because of its spectacular setting with views of the ocean from nearly every hole. The Old Course has a more traditional vibe with doglegs and fairways dotted with cypress trees, but once you head up hill to 17 and the ocean backdrop, it's hard to match. No. 18 runs along the cliffs from tee to green and is one of the most thrilling tee shots on a course not named Pebble Beach. Try not to think about the folks on the patio enjoying the view and watching you bring it home. halfmoonbaygolf.com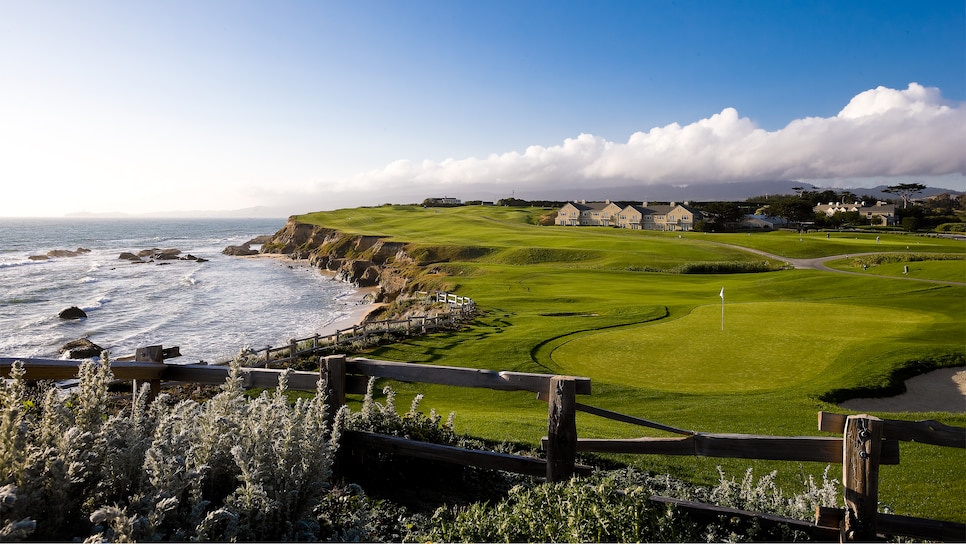 The Course at Wente Vineyards
For a taste of wine-country golf without heading to Napa, Wente Vineyards is an excellent option. The family-owned winery 50 minutes east of San Francisco is known for its Chardonnays and offers tours and tastings in addition to a scenic, well-designed Greg Norman championship course with amazing views. Save the tasting for after the round, because you might get a bit tipsy just playing it. The first tee perches at a 100-foot elevation, and No. 10 ("the course's version of Lombard Street") climbs 250 feet with eight switchbacks. These ups and downs add to the fun but also bring the wind into play on several holes. Drink in the panorama as the 7,181-yard layout will test pretty much every club in your bag with elevated tee shots and interesting angles into sloping greens. It's all beautifully edged with canyons, vineyards and grasses making an outing to Wente a top-shelf experience. wentevineyards.com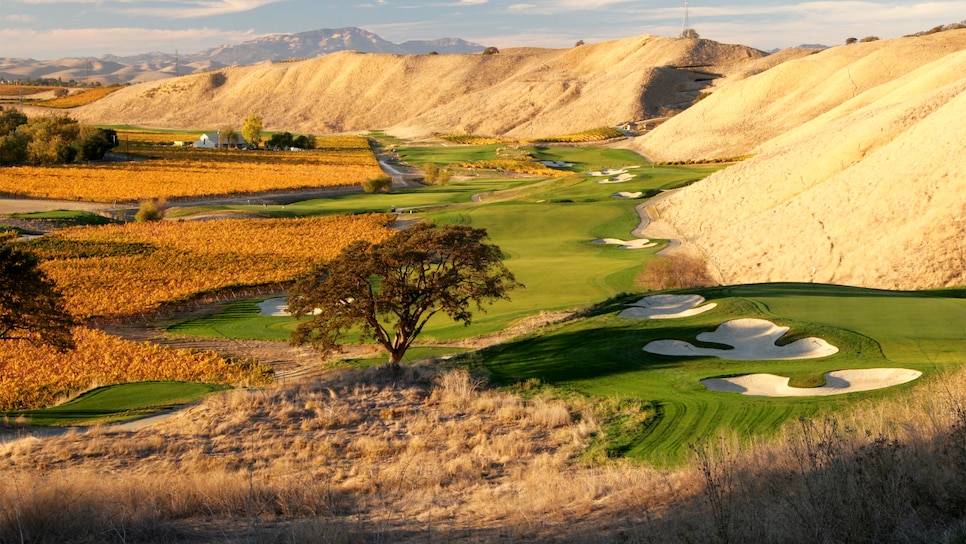 Looking to sneak in a little golf? Rent with Avis and they'll chip in $25 toward your next round. Visit Avis.com/golfnow for more details.