SMILING ON THE INSIDE
Cam Young is having fun on the PGA Tour, even if you can't always tell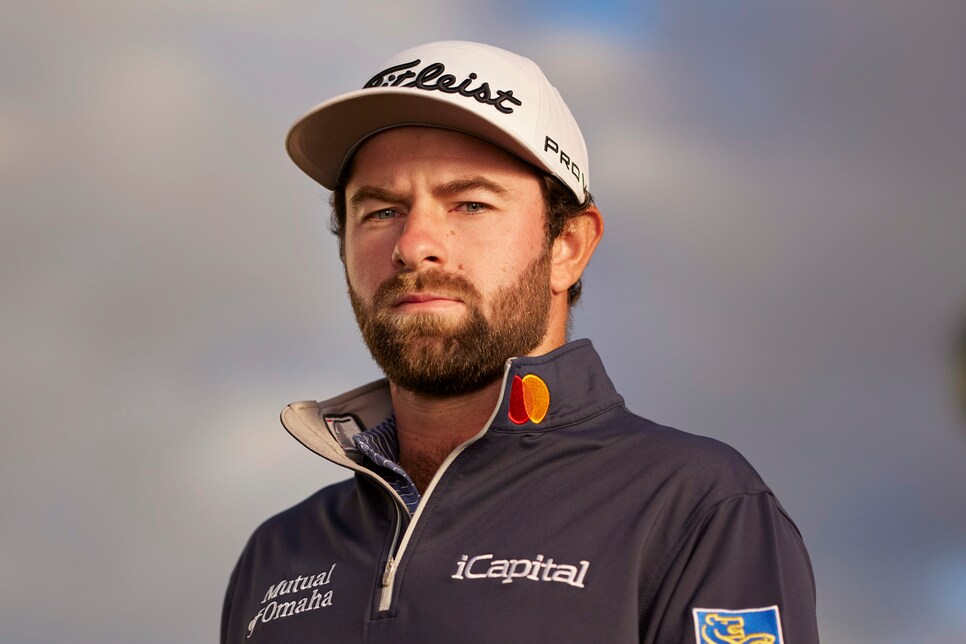 Cam Young is having fun. Really, he is. You might not know it by the way he sometimes treats his golf clubs, and when he finishes a round, it's hard to tell if he shot 66 or 86. But if your impression of the PGA Tour's 2022 Rookie of the Year is that he's miffed all the time, you've got it wrong.
"He's the grumpiest nicest person I have ever met," Will Zalatoris says.
Zalatoris, another of the PGA Tour's rising stars, became friends with Young while they played at Wake Forest University, and the two have grown closer since. In fact, there's a network of ex-Wake players in the Jupiter, Fla., area who still pal around and play semi-competitive rounds with each other.
Ask any of them to describe the Young they met in college, and they'll likely tell you he was quiet … until he wasn't. There was the time when Young slammed his golf bag with a club, only to realize his once fully intact cellphone was inside, his teammates say. Cam also admits to breaking a shaft over his neck once, but that was years ago. Nowadays, assaults on golf equipment have been replaced mostly by looks of disgust between the gallery ropes, even when things seem to be going right.
"He's the type of guy who can shoot a low number and could be complaining, but I love him," Zalatoris says. "He's got a heart of gold—one of my favorite people in the world."
Adds former teammate Lee Detmer, who now plays on the PGA Tour Canada, "On the outside he might seem like an angry old fart, but he's a very happy-go-lucky guy."
Young says his resting grump face is the result of trying to curb emotion during tournaments—bad and good—and it seems to be helping his game. Although winless in his rookie year, Young had seven top-three finishes in 25 PGA Tour starts, including nearly winning the Open Championship (lost by a shot to Cameron Smith). This season, he finished runner-up to Sam Burns in the WGC-Dell Technologies Match Play. His rise has been so fast and impressive, he went from a World Golf Ranking of 1,500 in 2020 to 14 this year. That progress, becoming one of golf's surprise success stories, should manifest in more grins than scowls, no?
'I DON'T SMILE A TON ON THE GOLF COURSE, BUT THAT'S JUST MY WAY OF KEEPING MYSELF IN A MENTAL HEADSPACE WHERE I CAN DO MY JOB.'
"People think I'm more upset than I am," says Young, who will turn 26 on May 7. "I don't smile a ton on the golf course, but that's just my way of keeping myself in a mental headspace where I can do my job."
Adds his father, David, "I think a lot of people would enjoy it more if he was up, acting happier, but he works hard at not showing it."
There's the Cam Young you know, and the Cam Young you don't know, his friends say. The Cam Young you don't know is now the quintessential family man, spending nearly all of his free time with his wife, Kelsey, and their two young sons, both under the age of 2. Although he was a multisport athlete growing up, when asked about activities and hobbies he enjoys in his down time now, Young gives you that new-parent look of, Yeah, right.
"It's golf and diapers," he says.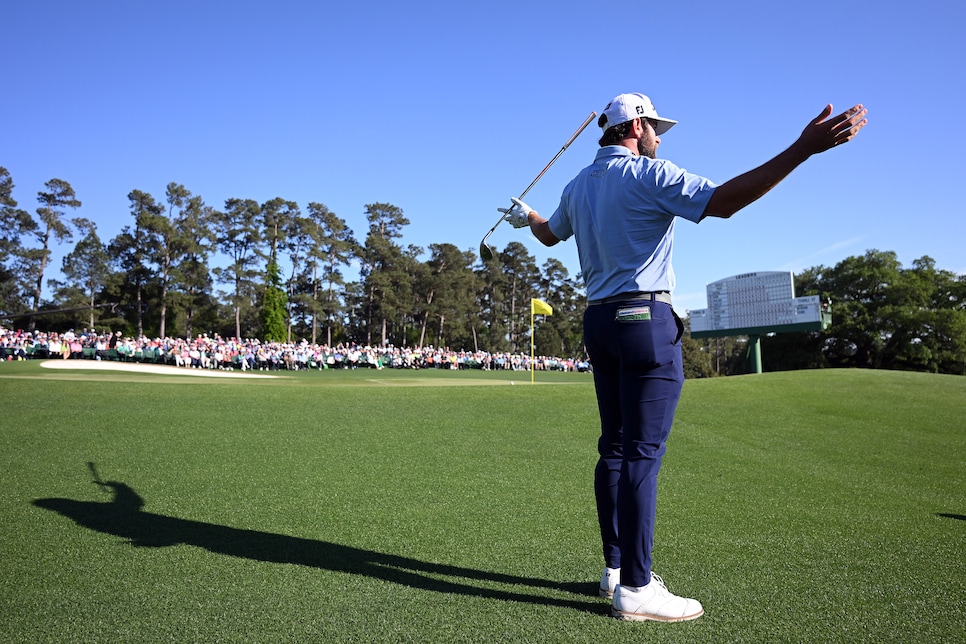 Although Cam will probably never be anointed the life of any party, his family and friends say he does show more personality now. "It's not much, but he did text me a pic of himself with a champagne bottle after they won the Presidents Cup last year," Detmer says.
"He looks so darn serious, but he's got a good sense of humor and really enjoys life," says David, the former golf professional at Sleepy Hollow Country Club in Briarcliff Manor, N.Y. Cam grew up with that renowned course literally in his back yard. As an only child practicing and playing a lot on his own, Cameron says he learned to enjoy the solitude of the game and thinks it helped him develop as a golfer faster.
David can attest to his son's drive for improvement, especially when it comes to fine-tuning one of the most powerful swings on the PGA Tour. Young ranks among the top five in average driving distance (316 yards) and driver clubhead speed (123 miles per hour) but continually tries to refine his technique, counting heavily on dad's feedback as he has since childhood. Scott McKean, Young's former caddie and Wake classmate, once described the way the father and son communicate as if they're using "telepathy."
Adds Detmer, "If you listen to them talk to each other, it's like these low mumbles. You can barely understand them. But you can tell they're really in tune with each other. There's a lot of respect between the two."
Cam says he learned a lot about the "profession" of golf by watching how his father handled himself, and it's why he's not taking anything about this opportunity for granted, even if that means winning fewer fans.
"People don't realize, sometimes, that this is your job," he says. "I love golf, and I love playing competitively, but it is a job, and I take it seriously. Sometimes smiling and waving to the crowd isn't my first priority."