The Loop
Small event a big measuring stick for Woods' game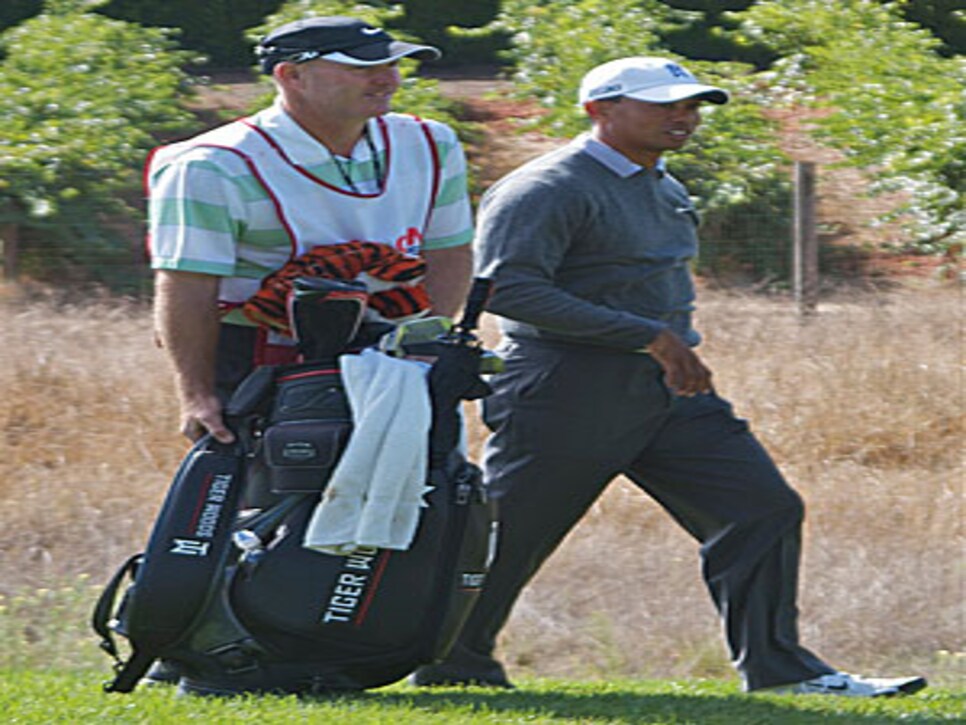 SAN MARTIN, Calif. -- If you watched Golf Channel's live coverage of Tiger Woods' pre-Frys.com Open press conference, the 14-time major winner might have come across as a tad bored. Yet don't be fooled by subdued demeanor that was a result of being whisked off the Robert Trent Jones Jr.-designed CordeValle resort course following a sluggish pro-am round, and directly into the media center where he faced a room full of reporters.
"You know, I've got a chance to practice and work on everything, which has been good, which is something that I hadn't been able to do for a while," Woods said. "So I have to say I'm very pleased with every facet of my game."
Pretty stock stuff, but a careful look at his pro-am play and post-round comments suggest we will see a struggling golfer making progress when Woods prepares to tee off Thursday at 12:10 Pacific Time with Louis Oosthuizen and amateur Patrick Cantlay. While Woods' pro-am round included what has become the usual mix of sound play, ballooned tee shots (mostly to the right) and uninspired putting, his golfing body language appeared far different than the Tiger we've seen of late.
Gone was the constant swing analysis and borderline-neurotic monitoring of swing positions. In was a relaxed demeanor suggesting that for all Tiger's references to needing reps (seven mentions Wednesday alone), he actually looks like a golfer who is more comfortable with his swing.
"That's [something] Sean kind of alluded to even today," Woods said of instructor Sean Foley, who walked with Woods Wednesday and has been present for some of Tiger's practice sessions in Jupiter, Florida. "He said, 'you're just kind of stepping up there and just hitting it.' I said, 'yeah, I don't need to worry about whether I have the club here or here or here or here or here. I've kind of done all that legwork and now it's time to play.'"
"I hadn't posted a low round in a long time. So that's something that felt good to do, and to be honest with you, it was pretty easy and I left a few out there. I was starting to shoot some really good rounds, a bunch of 66s and 65s, but I hadn't taken it deep. And that was fun to actually post a 62 because it was a pretty easy round. It was just one of those rounds that just -- it's hard to believe I shot that because I didn't feel like it."
He sounded less confident in his putting. At CordeValle, where the greens were slowed by .61 inch of overnight rain, Woods struggled to get the ball to the hole a day after playing The Institute, an ultra exclusive course known for its ridiculously fast green speeds. Following the press conference and a couple of television interviews, Woods, hit the practice putting green to adjust to the speed difference.
The sitdown with reporters came just hours after the Wednesday morning revelation that Woods had landed his first blue-chip corporate endorsement deal since his November 27, 2009 car accident and the ensuing scandal which led to terminated deals with several companies, including watchmaker Tag Heuer. Agent Mark Steinberg replaced that deal with a five-year pact to have Tiger throw on a Rolex immediately after rounds. The shine coming off his new watch was hard to miss Wednesday.
"Rolex is convinced that Tiger Woods still has a long career ahead of him and that he has all the qualities required to continue to mark the history of golf," the company said in a press release posted on Rolex.com and on Woods' website. "The brand is committed to accompanying him in his new challenges."
Whether the prestige of Rolex provides a confidence boost remains to be seen, but Woods did sound confident in another new component of his game: caddie Joe LaCava, who previously worked with Fred Couples and most recently, Dustin Johnson before notifying Johnson at the Tour Championship that he was moving to Woods' bag.
During Wednesday's practice round, the two looked like they've been working together for years, yet Woods admitted they are still figuring each other out. "There's been an adjustment period for both of us," Woods said. "You know, I hit the ball a little bit further than Freddie does, but certainly shorter than Dustin. So I'm kind of like right in the middle. But you know, he's going to have to get an understanding of what I like to hit, what clubs I like to kind of favor, do I like to hit one hard or do I want to take something off of it. These are things he's going to have to learn, but that just takes time."
On a lighter note, Woods was asked about Stanford's undefeated football team and said he hopes to see Saturday afternoon's home game against Colorado. "I hope I can get tickets."
With tee times scheduled from 9 a.m to 11 a.m. Saturday and a Golf Channel broadcast window from 2 to 5 p.m., Woods will have a hard time making it by halftime. That's assuming he's playing late.
A tee time in one of the final groups would suggest the "reps" have worked, the "traj" is good, the "sightlines" are functioning as described and the once reliable putting stroke is in order. Thursday's opening round should got a long way toward telling us if Tiger's game is back and how much Stanford football he'll get to see Saturday.
(photo by Geoff Shackelford)