News
Slumping Hideki Matsuyama shows signs of life, and tour continues to mull new schedule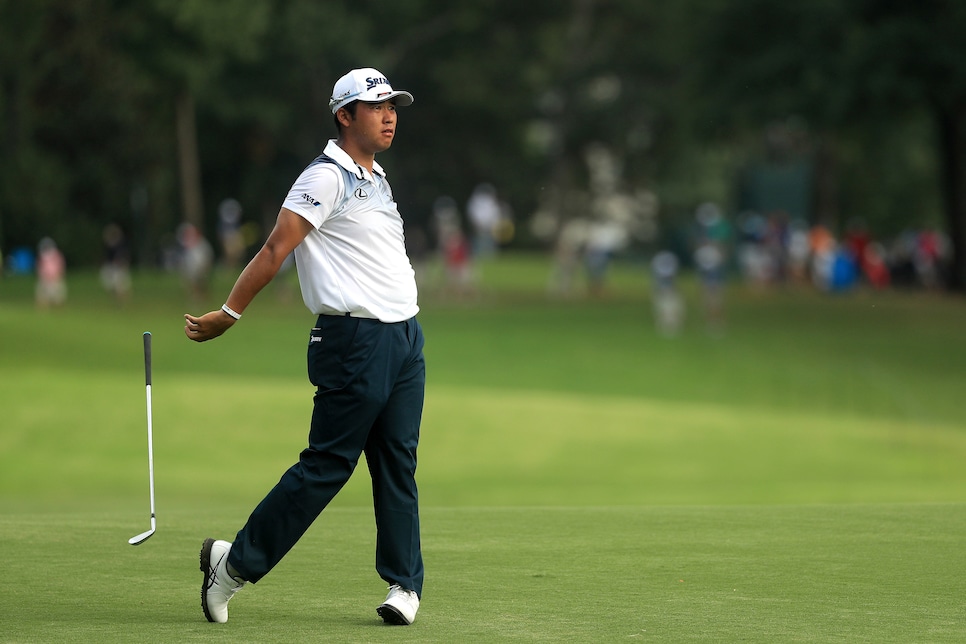 Mike Ehrmann/Getty Images
Nick Price need not worry about Hideki Matsuyama, as if he was. The Matsuyama that led the FedEx Cup in points during the regular season in no way resembled the Matsuyama of the playoffs—with exception of the five birdies he made in his final nine holes at the Tour Championship on Sunday. While Matsuyama only beat three players in the 30-man field, that encouraging finish to his week in Atlanta certainly helped the confidence level of the International captain going into the Presidents Cup. "I know he hasn't played his best the last 3-4 weeks," Price told me on Sunday night from his hotel in Manhattan. "I think he's probably a little tired. It makes me really happy that he had a strong finish." What happened to Matsuyama since the PGA Championship? There was speculation it was media attention over the Aug. 23 announcement that he had married in January and had a child in July, but that wasn't it. It was more the after-effects of taking a one-shot lead going into the back nine on Sunday at Quail Hollow and finishing T-5, three strokes back of Justin Thomas. In his quest to become the first Japanese man to win a major championship, Matsuyama was in tears signing his scorecard and broke down in front of the Japanese media contingent that follows his every step. In actuality he was happy about the baby and goes into New Jersey feeling better about his game. "I'm not worried about Hideki at all," said Price, who first captained Matsuyama as a 21-year-old at Muirfield Village in 2013. "He will rise to the occasion."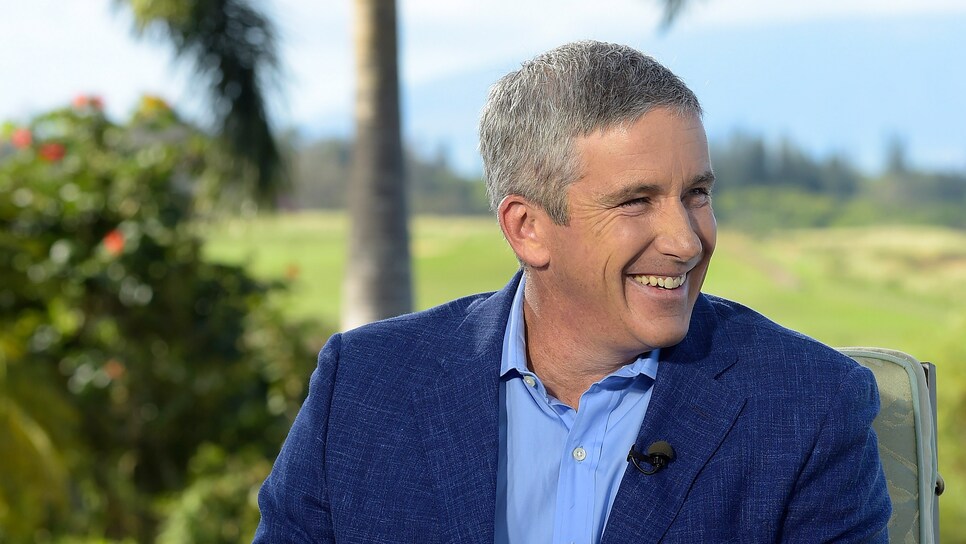 Where we're only two years away from the PGA Tour-FedEx Cup postseason potentially ending by Labor Day. It's not a done deal yet, but it's getting closer to becoming reality. As PGA Tour commissioner Jay Monahan explained last week in a news conference at East Lake, the tour has been "fairly public" about this, that it's "something we'll continue to look at but at this point in time we have not resolved it." Maybe not, but in strategic planning going on at Tour Headquarters, this is all heading toward the Tour Championship ending before opening kickoff of the 2019 NFL season. "I think that you look at our schedule now and you look at the strength of the NFL and you look at the strength of our playoffs and we listen to what our fans are saying," Monahan said. "If we had a scenario where we could culminate our FedEx Cup Playoffs in the strongest manner possible, that's the direction we're going to head." With the tour actually growing in 2017-'18 from 47 to 49 tournaments, how is this going to be retrofitted into a model that ends by Sept. 1, 2019? It seems logical that The Greenbrier Classic will land in the fall. Houston has been on the schedule since 1946 and local officials could foot the bill without a sponsor for a year. After that, it's TBD. Another domino is playoff sponsor Dell Technologies, which filled in for Deutsche Bank at TPC Boston, and could be stepping aside after '18 or taking a spot in the fall. That scenario seems unlikely since it would mean competing against the Patriots and the Red Sox. That could mean a three-week playoff system rather than a five-week FedEx Cup post-season that includes a one-week break. And then there's the future—if there is one on the schedule—for one of the tour's strongest television advertising partners Quicken Loans, which dropped out as sponsor of the Tiger Woods Foundation event at Congressional C.C. While the event still remains on the schedule as "The National," this is one of the unresolved issues that need to be worked out for the tour to make the schedule more compelling for sponsors and fans, while monetizing its playoffs the way all the other sports leagues do.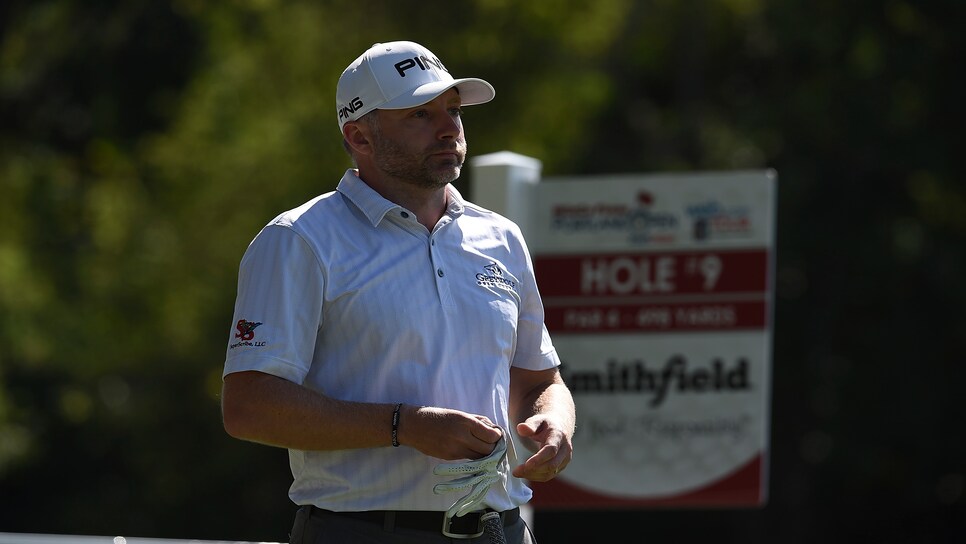 From David Skinns on Sunday. He was home in Atlanta, holding one-week old son Bennett in his arms and trying to organize a few toddlers that included 2 1/2 year-old brother Brayden, before packing for a trip to extend his PGA Tour career at the Web.com Tour Championship. A week earlier, after withdrawing for the Albertson's Boise Open when his wife went into labor, Skinns told me that Kristen and his children needed him more than their husband and dad finishing off a golf tournament, that it wasn't going to change where his career goes. This was vastly different circumstances than when Hunter Mahan pulled out of the 2014 Canadian Open while leading by two strokes after 36 holes when wife Kandi went into labor back home in Dallas. A top-25 Ryder Cup player at the time, Mahan could afford walking away from the $1 million on offer for first place at Glen Abbey. Skinns, a 35-year-old native of Lincoln, England that played college golf at the University of Tennessee 12 years ago, finished 58th on the 2017 regular season money list. Tied for ninth in Boise when he pulled out, knowing a top-five finish would lock up his tour card for 2018, Skinns dashed for the airport but didn't make it home in time for the birth of his second child. He also skipped last week's DAP Championship because Kristen needed him at home until her parents arrived from Pittsburgh. "No regrets at all," said Skinns, who needs a top-five this week in Atlantic Beach, Fla. the way Nicholas Lindheim produced one at the DAP. Five players -- Tom Lovelady (Columbus), Martin Piller (DAP), Bronson Burgoon (DAP), Alex Cjeka (Boise) and Jonathan Randolph (Boise) -- had previously earned their cards with a single top-five finish in the finals. "I'm playing well," Skinns said. "There's no reason why I can't get it done in one tournament. Several guys have done it already."
You are using an unsupported version of Internet Explorer. Please upgrade to Internet Explorer 11 or use a different web browser.