News
Gold-Medal Golfer: J.R. Celski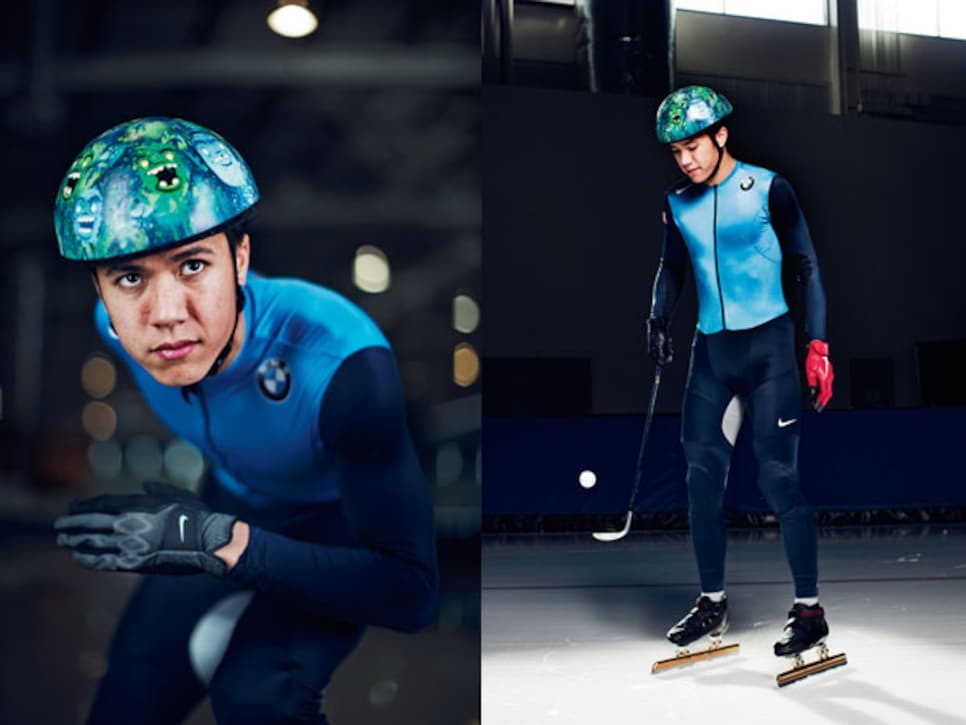 I consider the golf course my oasis away from skating. When I'm there, I'm not even stressed...unless I'm playing bad, which is 99 percent of the time. Ha!
ON BEING AN OLYMPIC GOLD-MEDAL FAVORITE
This is my opportunity to prove myself. I can do it.
ON HIS GRUESOME SKATING ACCIDENT
It was the last day of Olympic trials in 2009. I was coming around a curve, and I fell and crashed into the boards awkwardly. The tip of the blade of my right skate was shoved into the quad of my left leg. I looked down, and it was stuck in there pretty deep. I had to pull the skate out myself. The muscle had been severed.
I had exactly five months till the opening ceremony of the Olympics. It took me six weeks to start walking, another month just to get back on my skates. That left me with a month and a half to get ready for the Games. The leg is fine now, but I have a six-inch scar across my thigh. I tell people I got bit by a shark.
In the summer I'll play golf three times a week. And when I'm in Salt Lake, training, I get out when I can. The courses in Utah are nice and cheap. The nicest I played is Glenwild, a private course.
I'm shooting in the low 80s. My best score is a 79. It was at Old Mill in Salt Lake. I could never break that barrier until one day when I went out and had a different mind-set: Just go out and have fun and don't worry about the score. I had a couple of strokes to spare on 18 to break 80.
It was my grandfather who got me into golf. But my dad was the captain of the football team, and my mom was the head cheerleader at their high school in Washington. So my family is very athletic. My father is of Polish descent, and my mom is Filipino. Interesting combo, right?
ON THE SIMILARITIES BETWEEN GOLF AND SKATING
I actually apply my skating technique to my swing in terms of weight shift. They're also similar in that the harder you swing, the shorter the ball will go. And when you try to push on the ice when you skate, the slower you're going to go.
Winning a gold medal or breaking par? It's gotta be breaking par. No question.