The Loop
Sister Jean had a huge press conference and a bunch of idiots are mad about it
If you haven't noticed, the internet is a wretched, vile, despicable and miserable place. The keyboard warriors will chew you up and spit you out before you've even had time to process being chewed up and spit out. Just ask Ken Bone, who went from political Twitter sensation to creepy porn guy in a matter of 24 hours.
But there are rare viral sensations who can stand the test of time, and by test of time I mean almost two full weeks. The shining example of this is Loyola Chicago's Sister Jean, whose improbable run has lasted throughout the NCAA Tournament without a hitch. Obviously, being a 98-year-old nun helps, but the Twitter eggs and internet investigators are ruthless enough to dig up dirt and attack just about anyone, including an elderly sister. But so far, Sister Jean has remain unscathed.
But a good thing can only last so long, and with the massive media attention coming Loyola Chicago's way for the Final Four, it appears the callous, cold-hearted commenters have reached their tipping point. Here's a few incredible photos of Sister Jean's huge press conference in San Antonio in comparison with Loyola Chicago guard Marques Townes' press conference:
Look, we could do the "she isn't even on the team" debate all day, but Sister Jean is larger than life at this point, and that's the story the media will latch on to whether you like it or not. These people clearly are among the group that DOES NOT LIKE IT:
Can you be more of a wet blanket than these people? Just when you're all warm and cozy, the wet blankets swoop in to ruin all the fun. And yes, my co-worker Joel Beall is one of this biggest, coldest WBs of them all: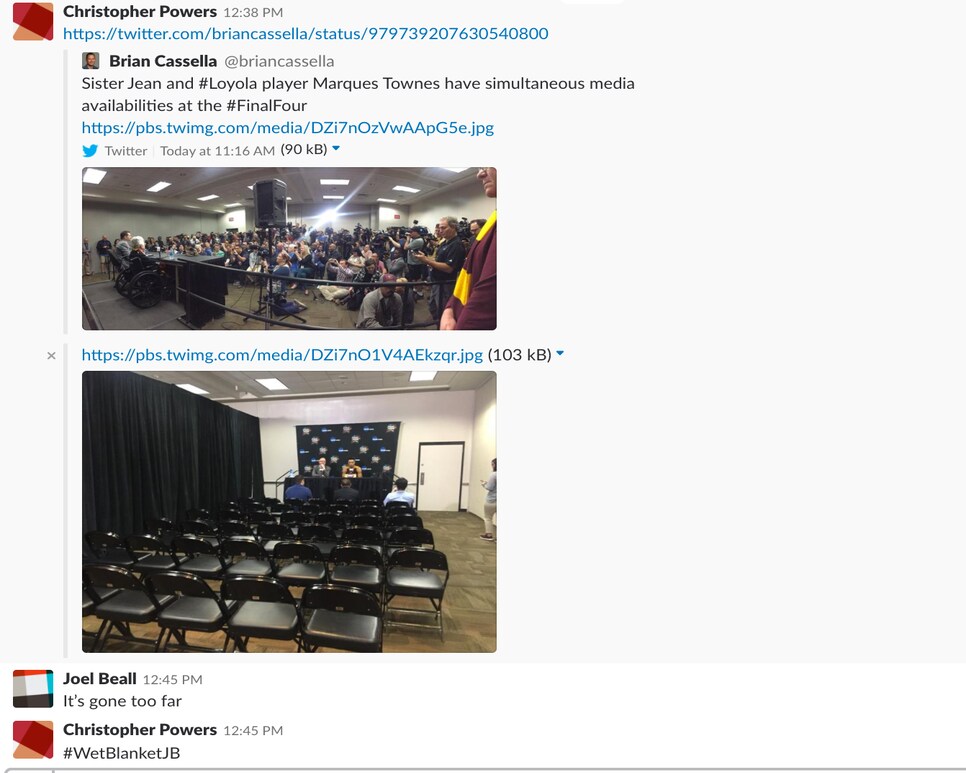 If you thought the press conference was bad, 98-year-old Sister Jean had the AUDACITY to offer an opinion on NBA vs. College basketball, re-igniting the most annoying debate ever:
No thanks, not doing this right now. Let's just calm down everyone, it's just a basketball tournament. It's not that serious.