The Loop
Sirak: Woods' story as compelling as ever
Pretty much all I have to do is type the words "Tiger Woods" and I get immediate feedback by Email, Twitter, Facebook, text, comments and carrier pigeon. Sometimes it seems as if all I have to do is think his name to trigger an avalanche of response. And the fascinating thing is that I can make the most innocuous, factual observation and be accused by one person of being too hard on Woods and by another of pandering.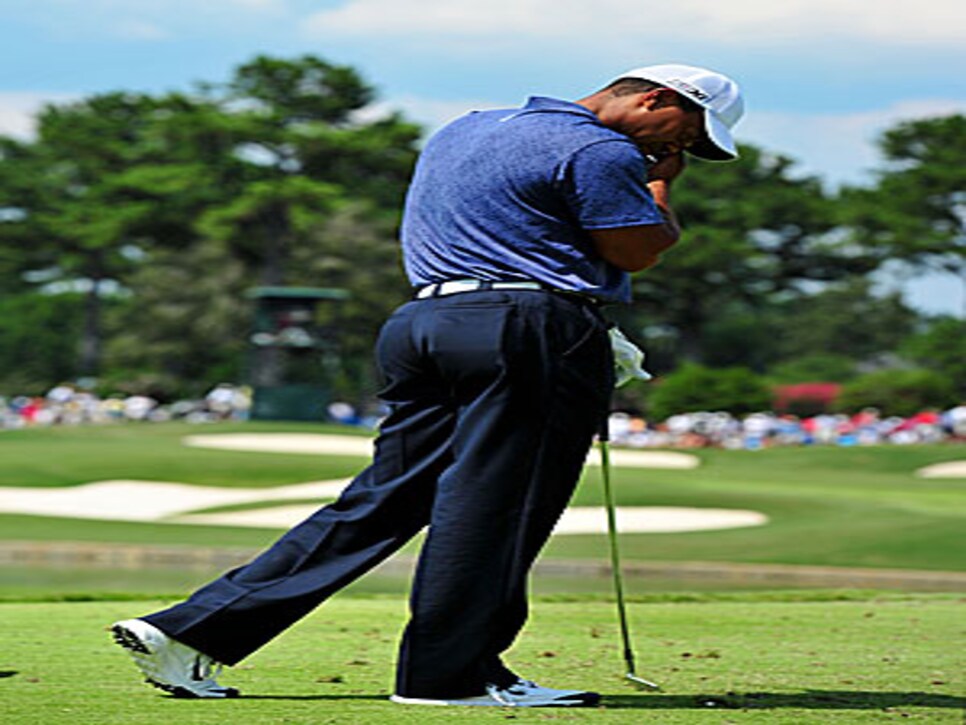 That's why Tiger remains one of the most compelling stories in all of sports.
When Woods missed the cut at the PGA Championship, there were those who were quick to point out that he had played only 117 holes of competitive golf since the Masters -- a true fact. And there were also those who jumped in to ask why we are still writing about a guy who missed qualifying for the weekend by six strokes and has fallen out of the top-30 in the World Ranking.
To both I give the same answer: Did you really expect the guy who has been the best player in the world for 15 years and is on the short list in the conversation involving the best ever to play the game to finish outside the top 100 at Atlanta Athletic Club, even if rusty? And to those who say they know how this story is going to end, I say you are wrong. No one does.
That's why Tiger remains one of the most compelling stories in all of sports.
This is not a matter of kicking someone when he is down, or of trying to make excuses for behavior both on and off the golf course that has offended millions of people. If Woods were almost anyone else, none of this would matter. But he is not anyone else: He is a global brand by his own creation who is now damaged goods by every and all definition.
The fascination here -- and it is a totally appropriate one for both journalists and fans -- is trying to figure out exactly what it going on with Woods. Is it technical problems with the swing? Physical problems with the knee? Emotional scar tissue on his concentration and confidence inflicted by the personal turmoil and humiliation he has gone through? Is it just not playing enough and practicing enough?
Sorting through that mess is why Tiger remains one of the most compelling stories in all of sports.
In 1997, at the height of Tigermania -- after Woods followed up his 12-stroke victory at the Masters with a win at the Byron Nelson in his next start a month later -- this conversation with a PGA media official took place, raising the question of whether tour media officials should exist as facilitators or barriers.
"We need to ask Tiger to come into the interview room," the media said after Woods finished T-4 at the Colonial Invitational.
"But we only bring in the winner and the runner-up," the media official said, staking out turf as barrier rather than facilitator. "We wouldn't bring in Vijay Singh if he finished fourth."
To which the always helpful media replied: "We wouldn't want Singh if he finished fourth. Tiger is not Vijay," failing to add that it would have been a close vote on whether or not the media wanted Singh even if he had won.
The point is this: From the very beginning, Tiger was different. First off, he was the rare athlete who not only lived up to the hype but also exceeded it. He was better than advertised. Everyone who could capitalize on his success did: The PGA Tour, the major championships, his sponsors and managers, as well as the media.
The rules were different for Tiger -- some were literally changed, like allowing caddies to wear shorts when Steve Williams showed up at one of the Tiger made-for-TV-events in the desert sans long pants. The media had virtually no one-on-one access to Woods, so we needed him in the interview room whenever we could get him there.
All of this, from the very beginning, has been of Tiger's doing. He set the rules involving access and we followed them. There was no choice. Certainly neither his handlers nor the tour were going to stand up to him. And we all sort of understood that and reluctantly accepted it. He was king of the world and we were reporting on his reign.
Now, it has been two almost years without a victory and more than three years without a major championship. The 14-major-long stick from which the carrot of Jack Nicklaus' record 18 majors dangles seems to be getting longer, not shorter. What seemed in April of 2008 like a sure thing -- Tiger blowing past Jack -- appears more and more unlikely with each poor performance by Woods.
This is not the sad spectacle of Willie Mays falling down in the outfield while playing for the New York Mets at age 42. We understood that. Willie simply stayed at the party for too long and we knew he was never going to be the Say Hey Kid again.
But we don't understand what is going on with Tiger. Is it as simple as a swing flaw or regaining his confidence? Or is it as ominous as a permanently damaged left knee, suddenly unreliable putter and diminished concentration because of the emotional turmoil he has been through?
But, unlike with Mays, there still remains the possibility we will once again see the wondrous side of Woods. And even those who think that Tiger deserves being slapped around by the golf gods a bit feel a sense of loss in being denied the opportunity to witness his wonderful play. Who wouldn't want to see one more Pebble-like performance in the 2000 U.S Open, when he won by 15 strokes?
And that is the point. This is not about just anyone suddenly struggling with their game. This is about Tiger Woods. What we saw at the PGA Championship was almost beyond belief. This wasn't just anyone making double bogeys by the handful. This was the guy who not only lived up to the hype, but also exceeded it. This was the guy mentioned with Hogan, Nelson, Snead, Jones, Hagen and Nicklaus.
That is why Tiger remains one of the most compelling stories in all of sports, even if we don't see him play again until November. We don't know how this story is going to end, and that's what makes it a page-turner.
Follow on Twitter: [@ronsirak
](http://twitter.com/ronsirak)
(Photo: Stuart Franklin/Getty Images)