The Loop
Sirak: Woods leaves desert utterly adrift
The imagery was overwhelming, almost to the point of being trite. As the helicopter circled the patch of property in the Dubai desert that was to become Tiger Woods' first golf course design project -- complete with mansions and a hotel -- I could not help but be overwhelmed by the fact the would-be course was a fragile plot of green isolated in a lifeless, expanse of sand. The desert was lapping at the edges of the project, like waves flirting with the shoreline, and it seemed inevitable nature would reclaim its territory. It was fighting to hang on, much in the way Woods seems to be on the golf course.
The only hope for the Al Ruwaya Golf Course project getting back on track is Woods once again become the best player on the planet. The real estate bubble in Dubai -- which lacks the vast oil reserves of the other Gulf States -- has burst and the towering construction cranes that dominate the landscape there are motionless. No one is building in Dubai. If Al Ruwaya, which means "serenity" in Arabic, had any hope, it was that Woods return to the Omega Dubai Desert Classic last week and win.
But after a closing round 75, Woods leaves the desert with more questions than answers -- if not for his Dubai project, which is certainly dead, then at least for his game. Certainly, he did not provide the answers to their economic woes as the developers who have paid Woods tens of millions of dollars would have liked. Beginning the day one stroke off the lead, Woods bogeyed the second and third hole to fall back and by the time be closed with a double-bogey 7, well, it didn't really matter.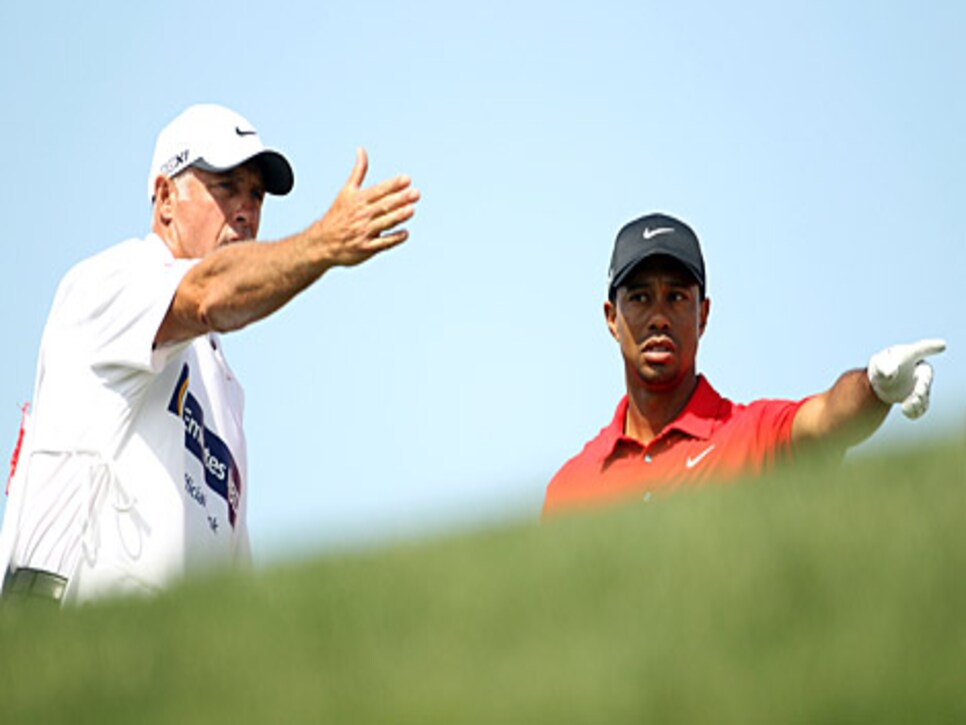 *(Woods and caddie Steve Williams are searching for direction so far in 2011. Photo by Ian Walton/Getty Images) *
The winner at Dubai -- Alvaro Quiros -- is no fluke. He's won five times on the European Tour. But among those who outplayed Woods in Sunday's final round were James Kingston (67), Scott Strange (68) and Bradley Dredge (69). Tiger wasn't even low Wood: Chris Wood closed with a 69 and finished T-10 at six under and Lee Westwood had a 72 on Sunday to beat Tiger by one stroke at five-under-par 283.
It was not that long ago that we were talking about Woods as being one of the greatest closers of all time -- and that is certainly still true. At one time he was. And while Woods did not have the lead going into the final round at Dubai, being one stroke back you had to like his chances. But now the question that emerges is this: Are the problems with which Woods is wrestling not so much swing issues as they are confidence issues?
Certainly, everyone who has played the game has confronted a crisis of confidence at some point. Back when Woods was bursting on the scene -- winning the 1997 Masters by 12 strokes -- the wise old heads around said, "Wait and see how he handles adversity, that's when you really find out what a golfer is made of." Well, it took 13 years for Woods to face that adversity, but he is squarely facing it now and in doing so he is finding out he is, after all, human.
When Tiger got on his private jet and took off Sunday for the States -- he likely will play next in the WGC Accenture Match Play Championship -- he had gone 455 days since his last victory anywhere. We all know how many times people have been made to look silly when they have doubted Woods ability to do the impossible. That he will bounce back seems to be a certainty; the only question being how far back to his old self he will get
But there is this question: If Tiger remains winless through the Masters, will some turn the conversation from WHEN Woods will win again to IF he will win again? Certainly, if he leaves Augusta without another green jacket the bandwagon of those saying he will not get the five professional majors he needs to pass Jack Nicklaus' record of 18 will get crowded. You can't help but wonder if Woods, as his jet departed Dubai and he glanced out the window, also saw an unsettling imagery when he glanced at his abandoned project in the desert.