The Loop
Sirak: Tiger Woods should put Colonial on his schedule
FORT WORTH, Texas -- The first time I covered the Crowne Plaza Invitational at Colonial was in 1997 when it was known as the MasterCard Colonial, the best player in the world was Tiger Woods and I was the golf writer for The Associated Press. A lot has changed since then. For Tiger, the Colonial and me.
The story that week was that it would be the first time Woods and Fuzzy Zoeller crossed paths since Fuzzy made racially insensitive remarks following Tiger's 12-stroke victory in the Masters at the age of 21. Woods took a month off after that historic victory, then won the HP Byron Nelson, in which Zoeller didn't play, setting up Colonial.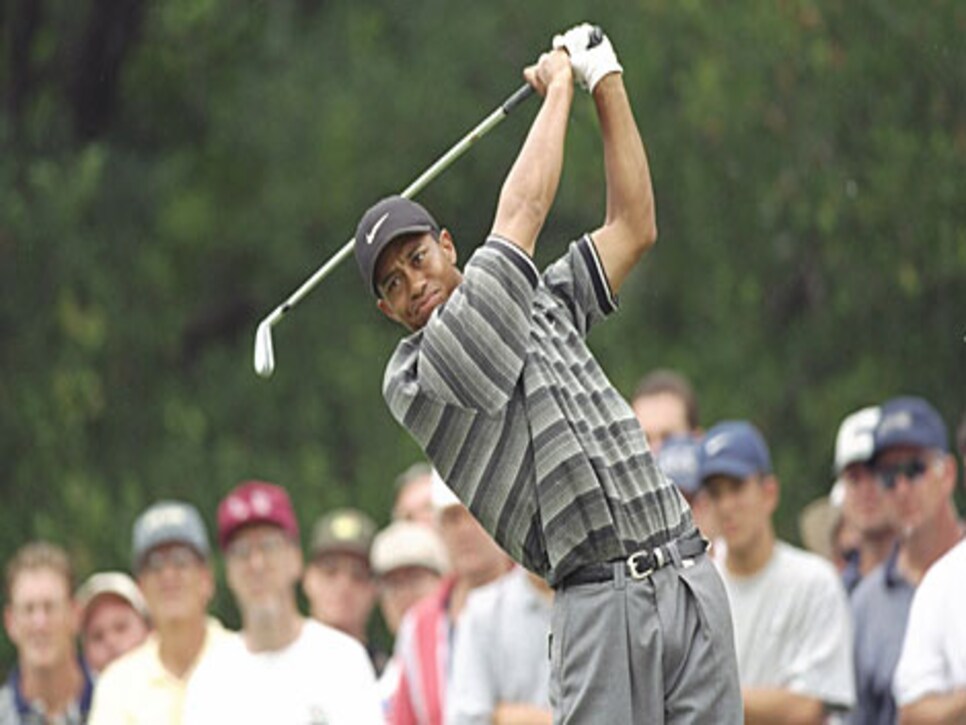 Woods hits an approach shot at the 1997 MasterCard Colonial. (Getty Images)
"He's doing quite well, pretty impressive," Zoeller, known for his irreverent sense of humor, said Sunday evening after Woods' record-setting win at Augusta National. "That little boy is driving well and he's putting well," Fuzzy continued in remarks that aired several days later in a CNN report by the late Jim Huber.
"He's doing everything it takes to win," Zoeller said. "So, you know what you guys do when he gets in here? You pat him on the back and say congratulations and enjoy it and tell him not to serve fried chicken next year. Got it." Zoeller started to leave, then turned around and added: "Or collard greens or whatever the hell they serve."
Fuzzy simply could not have squeezed more racially insensitive buzzwords into so few sentences. The outrage was immediate -- although many supported Fuzzy's defense that he is a known jokester and this was a poorly-worded attempt at humor and not racism. Woods complicated matters by waiting several days before accepting Zoeller's apology.
Zoeller didn't factor in the 1997 Colonial, finishing T-33, and Woods, after opening 67, 65 and 64, closed with a two-over-par 72 to finish T-4, three strokes behind winner David Frost. And there is also this: Woods has never come back. So this is a call for Tiger to fix that.
When Woods played the Frys.com Open last fall he said it was the beginning of an effort on his part to play PGA Tour events he had skipped during the first 15 years of his career. At the time, the words seemed nice but there were also rumors he was trying to line up an endorsement deal with Frys, adding a significant grain of salt to the stew.
Then in March, when he played the Honda Classic for the first time as a professional, it was easy to be cynical because he had just moved from Orlando to Jupiter and the West Palm Beach event was a home game for him. But when Woods announced recently that he would play the Greenbrier Classic in July, the words started to ring true.
Certainly, it stuck in the craw of many that in 1996, as he made a successful effort to earn his PGA Tour card off the money list, Woods played the Greater Milwaukee Open, Bell Canadian Open, Quad City Classic, Las Vegas Invitational, La Cantera Texas Open and Walt Disney World/Oldsmobile Classic on sponsor exemptions, then was lukewarm in his support of those events after that.
Tiger never returned to Milwaukee, Quad Cities (now the john Deere) and the Texas Open to say thank you for helping him get his tour card. He went back to Las Vegas once, in 1997 because he was defending champion. He's played Canada four times and Disney, which used to be a home game for him, on nine occasions.
Of the events currently on the tour schedule, Woods has not played the Sony Open in Hawaii, Humana Challenge, Transitions Championship, Shell Houston Open, Zurich Classic of New Orleans, FedEx St. Jude Classic, Travelers Championship, Wyndham Championship in Greensboro and McGladrey Classic on Sea Island, Ga.
All of those are stops Woods should make, but I'd also suggest Woods make a priority of supporting the history and tradition of this tournament, first played at Colonial CC in 1946 and won by local boy Ben Hogan. It would be cool if Tiger could add his name to a winner's list that also includes Sam Snead, Arnold Palmer, Lee Trevino, Jack Nicklaus, Tom Watson and, by the way, Fuzzy Zoeller.
At first, it was assumed that Woods did not return to Colonial because, for many years, it was sponsored by MasterCard and Tiger had an endorsement deal with American Express. When the Amex deal went away, some thought the strategic-natured Colonial Country Club did not fit Woods' game. In fact, in the poll of PGA Tour players by Golf World last year, Colonial was ranked the fifth-best course on tour.
This is a tournament Woods needs to get back on his schedule. Of the top 15 in the FedEx Cup standings -- and Woods is No. 15 -- nine are in the field this week: Jason Dufner, Hunter Mahan, Matt Kuchar, Carl Pettersson, Johnson Wagner, Rickie Fowler, Kyle Stanley, Mark Wilson and Bill Haas.
That's pretty strong, but missing are: Bubba Watson, Phil Mickelson, Rory McIlroy, Justin Rose, Luke Donald and Woods. And that's a lot of star power either taking the week off or playing elsewhere. Tiger needs to set the tone for the other stars and announce this week that he will play here next year. That will give all those other big names plenty of time to adjust their schedule.
History hangs heavy over Colonial like the humidity that rolls across it off the Trinity River. That history needs to be protected and promoted, and Woods can lead the way -- if only he'll return here. Then his connection to this place will be more than merely where he and Fuzzy crossed paths after the fried chicken incident. Tiger could make it known as a place where he joined a great list of winners.