The Loop
Sirak: Tiger Woods no longer a lock on Sundays
At a high school reunion some years ago, one of my classmates, who had made it to Double-A baseball as a pitcher, but never cracked the roster at the major league level, shook his head slowly, stared into his beer and said, "There's not that much difference between me and them. It's just being able to hit that corner when you need to."
Such is the world of professional sports. There are a lot of incredibly-talented athletes, and the difference between those who make it and those who don't is just that close. They all have the ability to do what has to be done; the difference is being able to do it when it matters most.
For almost all of his 17 seasons as a professional golfer, Tiger Woods has been able to do it when it mattered most better than anyone this side of Jack Nicklaus and Ben Hogan. And when he showed up to play the 2008 Masters, there were few -- if any -- who doubted that he would end his career being considered to be the best ever to play the game.
If you had asked me that April almost four years ago what I thought Woods' final career stats would look like I'd have said 100 PGA Tour victories and 25 major championships. But that was two knee surgeries, one swing change and one scandal ago. Now I'd say it is remote that he gets the five majors he needs to break the Nicklaus record of 18.
In the pecking order of athletic achievement there is average, good, great and transcendent. Once, when Bill Walton was telling me about the NCAA championship game in 1973 when he made 21 of 22 shots against Memphis State, he said: "The game was happening a half-second sooner for me than it was for everyone else."
And such was the case for Tiger for the first 14 years he was on tour. He was seeing a game no one else saw. When push came to shove on Sunday, there was no one who pushed better than Woods. He was invincible on Sunday -- at least until Y.E. Yang had his Buster Douglas moment at the 2009 PGA Championship, ending Tiger's 14-for-14 streak with the lead in the majors.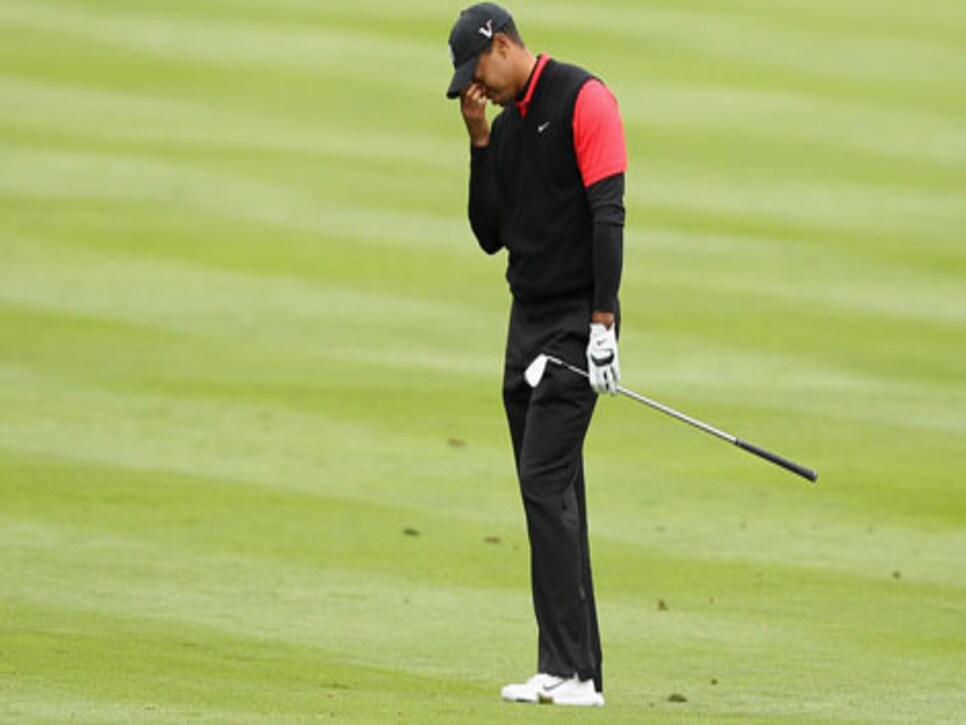 Photo by Ezra Shaw/Getty Images
When Woods teed off this past Sunday at Pebble Beach in the final round of the AT&T National Pro-Am four strokes behind Charlie Wi, one back of Ken Duke and two clear of Phil Mickelson, most assumed he would win his first full-field tournament since November 2009 and first on the PGA Tour since September of that year. He was the greatest closer the game has ever seen.
But that has not been the case since Woods got Yanged at Hazeltine, and it has especially not been true since his personal life took a nasty turn in the wee hours of Thanksgiving night several months after losing that 2009 PGA. The greatest culprit has had nothing to do with his swing but with his putter. He gave nine strokes away to Mickelson on the greens last week -- precisely the final margin between the two.
Since returning to competition at the 2010 Masters, Woods has played 28 four-round tournaments. Twice he withdrew because of injuries and twice he missed the cut. In the other 24, Woods has shot 72 or higher in the final round 11 times, including his 75 Sunday at Pebble when Lefty began the day two strokes behind Tiger and ended up nine in front of him.
Woods did win the Chevron World Challenge at Sherwood CC in December, but that was a 16-player event, and most of those in the field had already put a wrap on their year and were just around to pick up free money at a no-cut event.
In the last three full-field, 72-hole tournaments Woods has played, he has had a chance to win all three on Sunday and struck out in all three. He closed with a 67 in the Emirates Australian Open, but he made bogeys on a par-5 and a drivable par-4 on the back nine and finished third.
Last month, in the Abu Dhabi HSBC Golf Championship, Woods began the final round tied with Robert Rock and never pressured him, closing with a 72 as Rock cruised to victory. And then there was Sunday at Pebble Beach.
The scoring holes at Pebble are the first seven; Mickelson played them five-under par while Woods was only one under. Lefty made the turn in 31 and Tiger 38. And that was that. It was dramatic and a bit shocking but not nearly as mindboggling as it once would have been.
Here is what is missing with Tiger Woods: That sense of inevitability that was always there. You KNEW he would hit the hero shot when he needed to and you KNEW he would follow the hero shot by making the putt. It always happened. ALWAYS.
Now, the hero shot ends up dressed more like Robin than Batman. And the big putt -- those bombs that found the cup with astonishing regularity -- now curve just short and low. And those six-footers that ALWAYS went in are now power lip-outs, like that meaningless-except-for-pride birdie try on No. 18 Sunday.
Certainly, doubting Tiger has made many people look like fools. He has done the impossible enough times to make any sane person know that ability lurks not far below the surface. But what you achieve is limited in large part by what you believe you can achieve. Right now, you have to wonder what Tiger believes he can achieve.
In a month and a half, the best players in the world will gather at Augusta National for the Masters. It just may be that tournament that will be the most important Woods has ever played. If he wins his 15th major, then breaking the record of 18 by Nicklaus is back in play. If he doesn't, then the hill just got a lot higher, if not insurmountably high.
The difference between the great and the special is as close as the smidgen of grass between a made putt and a missed one. Right now, that is a gap that appears to be widening for Woods. When it came to squandering final-round opportunities, the song for Woods used to be "Never on Sunday." Now it has the mournful tones of Kris Kristofferson's "Sunday Morning Coming Down."