The Loop
Sirak: Spirit of Hogan remains at Colonial
FORT WORTH, Texas -- There are just certain venues that you can't wait to get back to. For me, Colonial Country Club, site of this week's Crowne Plaza Invitational, is one of them. History hangs heavy in the humid air along the Trinity River. From the moment you walk past the statue of Ben Hogan near the Colonial clubhouse until you reach the final green you know you are walking on ground tread upon by the greatest to ever play the game.
My personal connections to Colonial through my professional activities have imbedded this place deep in my heart. When I return here, I am paying a visit to special memories. First off, I am a Hogan guy, which is interesting in that I never saw him strike a golf ball in person and saw him precious few times on television. But I know this: The numbers tell me that from 1946 through 1953, Hogan played the game about as well as anyone ever, and much of that greatness took place at Colonial.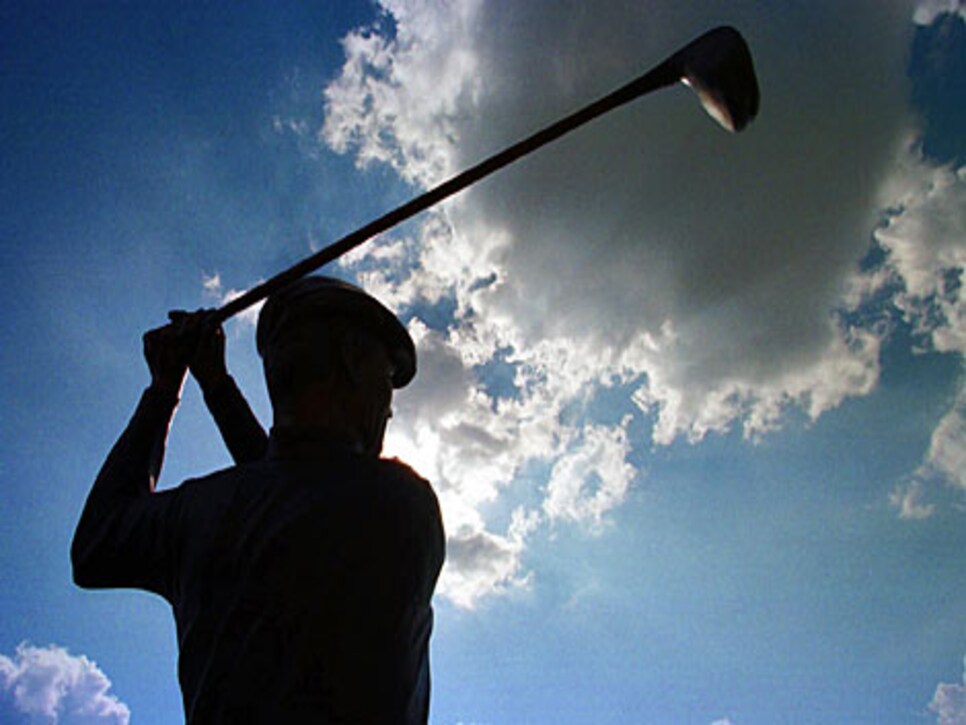 A statue of Ben Hogan stands near the clubhouse at Colonial CC.
Consider this: It took Jack Nicklaus 96 tries to win his 18 major professional major titles - from the first at the 1962 U.S. Open until the last in 1986 at the Masters. It took Hogan 16 tries to win his nine majors - from the 1946 PGA Championship through the 1953 British Open. Because of travel difficulties and later because of battered legs from the near-fatal car crash, Hogan never once in his career played all four majors in the same season. Nicklaus did it 40 times. They are the two best ever to play the game, and you can't go wrong either way you rank them.
My other spiritual connection to Colonial involves two of my more memorable assignments. In 1997, while I was the golf writer for The Associated Press, I was among the horde of media curious to see how it would go when Tiger Woods and Fuzzy Zoeller crossed paths for the first time since Zoeller uttered his "fried chicken and collard greens" comment after Woods won the Masters by 12 strokes a month earlier.
Famously, Zoeller apologized and Woods let him twist in the wind for several days before accepting the apology. They both did and said the right things at Colonial, and Zoeller finished T-33 with Woods tied for fourth. Unlike me, Woods has never returned for another Colonial Invitational.
In 2003, by then writing for Golf World, I came to Colonial to watch Annika Sorenstam play in a PGA Tour event. She was at the peak of her game - winning 11 times on the LPGA in 2002 and twice more abroad - and the whole world was watching as she teed off on No. 10 Thursday in the first round. Many were mystified why she would put her reputation and the reputation of the LPGA on the line with the risk of shooting an 80 - or worse.
Dan Jenkins, the writer who himself was born and raised in Fort Wroth, says there is likely no one who ever hit a single shot with as much pressure on them as Sorenstam did that day. The atmosphere was overwhelming - more like a major championship than a regular PGA Tour event. Hundreds of media were on hand and millions watched on TV.
Sorenstam was so nervous when she stepped onto the tee she could not make words come out when she tried to respond to the well wishes of her coach, Pia Nilsson. In my office I have a photo of me standing maybe 10 feet away from her as she waited to hit. I could see the muscle in her neck twitching with nervousness.
Sorenstam nailed the 4-wood off the tee, did a fake weak-knee wobble to acknowledge the tension - by far the most human reaction she had ever shown in public while competing - and went on to shoot a ball-striking masterpiece that resulted in a 71 that could have been a 66 if she had putted well. It was the day she went from being "Sorenstam" to being the one-word "Annika."
The story of Colonial began in 1936 when local businessman Marvin Leonard was determined to introduce Bentgrass greens to the area. No area course would convert so Leonard hired John Bredemus to build the course on land he purchased along the Trinity River. Perry Maxwell later redesigned Nos. 3, 4 and 5 for the 1941 U.S. Open, which was won by Craig Wood and put Colonial on the map. Fifty years later, Meg Mallon won the U.S. Women's Open here, holding off future Hall of Famers Pat Bradley and Amy Alcott.
Plans to have a tour event at Colonial were shelved for five years by World War II. Then in 1946, the first Colonial National Invitational Golf Tournament was played and Hogan, who along with Byron Nelson was a Fort Worth native, won the first two. Colonial is where Hogan, a five-time champion here, won his last tournament in 1959. And in 1967, at the age of 54, he tied for third.
The winners list at Colonial is a Hall of Fame roster: Arnold Palmer, Jack Nicklaus, Phil Mickelson, Julius Boros, Billy Casper and Nick Price among them. It remains, in the era of bomb-and-gouge golf, one of the most respected layouts on tour by the true shot-makers. "A straight ball will get you in more trouble at Colonial than any course I know," Hogan said about the many sharp angles needed to negotiate while navigating through the trees and around the bunkers. "This is the best, most traditional course without an ocean we play every year," said Davis Love III.
And then there is the history, pure and simple. "I know this: Whenever I step out here, I feel [Hogan's] presence," said Ben Crenshaw, who is one of the best former players who now designs courses. That hits the nail right on the head. The spirit of Hogan haunts this place, and that's why it's always a good week when the PGA Tour comes back to Colonial.
(Photo: John Freilich/AP)