The Loop
Sirak: McGirt is a FedEx Cup longshot worth rooting for
NORTON, Mass. -- Spend about five minutes with William McGirt and you can't help but decide you want him to make it through the FedEx Cup Playoffs and reach the Tour Championship. After five minutes, you will also be only about one-third of the way through his answer to your first question. This likeable young man makes Paul Goydos look like a reluctant interview.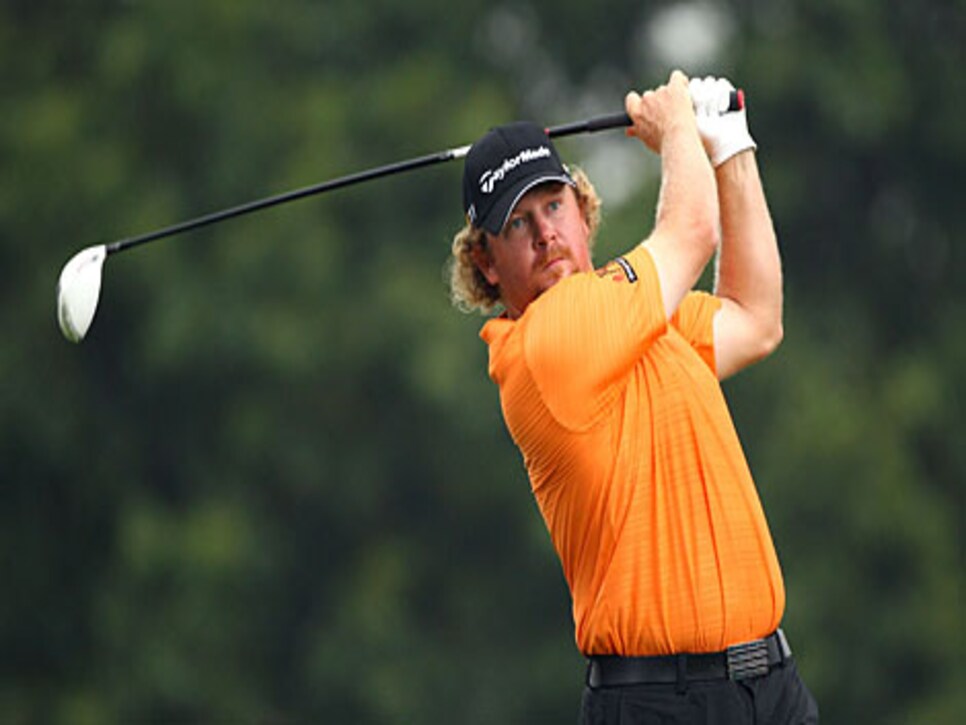 Photo by Hunter Martin/Getty Images
McGirt is the ultimate outsider. He got into the Barclays -- the first of the FedEx Cup Playoff events -- with a T-52 finish at the Wyndham Championship that moved him to No. 125 in FedEx Cup points, the last qualifying spot. Then a T-24 effort in New Jersey moved McGirt to No. 96, sneaking into the top 100 who qualified for this week's Deutsche Bank Championship.
The ballpark guess is that the 32-year-old from Fairmont, N.C., with 13 missed cuts in 27 starts this year and who has yet to secure his playing card for 2012, will need to finish in the top 25 at TPC Boston come Labor Day to advance to next week's BMW Championship by being in the top 70. McGirt winning the FedEx Cup would make the Buster Douglas defeat of Mike Tyson look like a mild upset.
"In 2004 I barely -- if I even covered expenses -- I barely covered expenses for the year, 2005 was basically the same way," said McGirt, whose answer to the first question asked him Wednesday at TPC Boston was 881 words long, a highly unusual bit of oration in an era of the monosyllabic I-can't-get-this-interview-over-quick-enough athlete.
"It was starting to get frustrating," he said, his curly hair poking out from under his white TaylorMade hat like it was trying to escape. "I was like, I've either got to find a way to get a lot better or maybe it's time to go get another job or something." But the Southerner, who is a Boston Red Sox fan because he honeymooned on Cape Cod in 2003 and attended his first-ever baseball at Fenway Park during that trip, kept grinding.
"[I] went to Q-school, finished tied for second, and here I am," he said with a grin that makes everyone else want to smile. "I'm tickled to death that I didn't find another job, and I can tell you after being out here for a year, I wouldn't trade this job for anything. I mean, does it get much better than this? If it does, you're going to have to show me. I enjoy everything about it."
In the age of entitlement, where players have been known to complain about the quality of their courtesy car and bring along their dry cleaning to a tournament to get it done for free, it is so refreshing to see a guy who appreciates how lucky he is. And he wants to share that good fortune.
"One thing that I like to do in pro-ams is if you see a kid and he's by himself or he's with his dad and he's the only kid around, have him come in and walk the hole with you," McGirt says. "It's one of those things that as a kid I enjoyed. Having a PGA Tour professional speak to you and have the opportunity to walk a hole with them is something the kids are never going to forget, and if it helps draw more interest in the game, I'm all for it. I'd have 100 kids come in with me if I could."
It would be nice to have about 100 kids walking the fairway with McGirt at East Lake in the Tour Championship later this month. It's a long shot, but stranger things have happened. Just ask Mike Tyson about Buster Douglas.