The Loop
Sirak: LPGA pays tribute to a fallen friend
NAPLES, FLA. - In a moving tribute to head LPGA rules official Doug Brecht, who died last month at the age of 62 after a several month battle with West Nile Virus, the tour placed a golf cart on No. 17 at Twin Eagles, site of the season-ending CME Group Titleholders, as a reminder of the man who policed the game for 22 years.
The tribute is to a lasting memory of Doug for the Brecht family. LPGA commissioner Mike Whan explained the tribute in this email to LPGA players.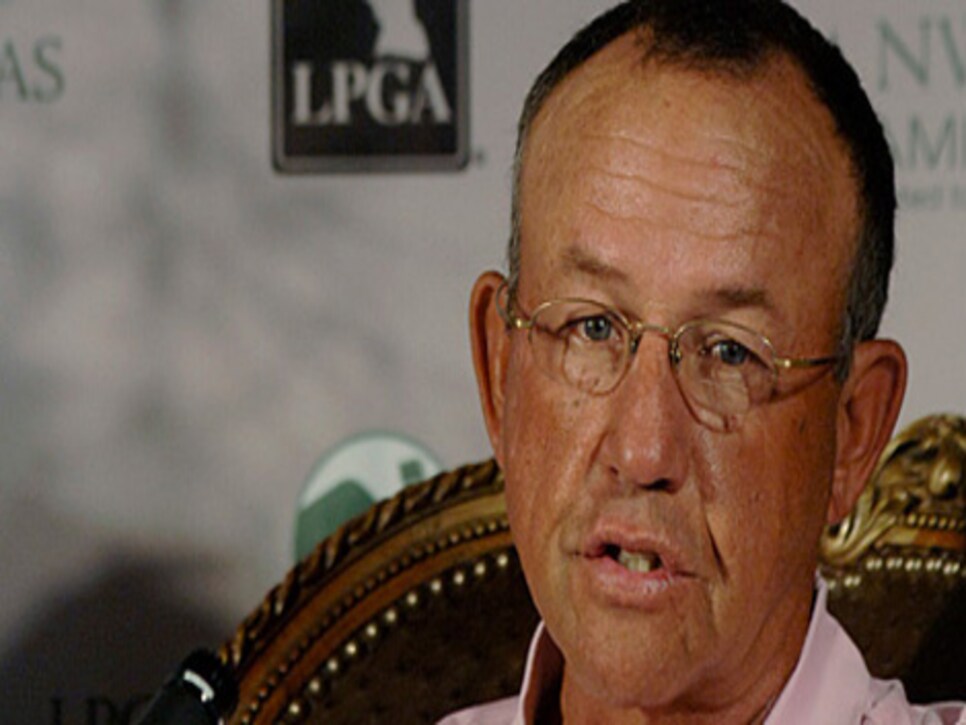 *"LPGA Titleholder Players, *
As I explained in Korea, our plan for remembering Doug Brecht this week is very unique, and very consistent with 'how Doug would want it'.
On Friday and Saturday, just after you walk over the bridge on the par 3, 17th hole -- you will see a red golf cart (Oklahoma Red to be precise). The sign on the front of the cart will say "LPGA Rules Official -- Doug Brecht". You notice the OU sticker and Chicago Cubs sticker on the side of the cart, as well. :))
We would invite you to take a quick seat in "Doug's cart" and/or say a little prayer to our teammate, as you pass. Also there will be a silver and black Sharpie on the steering wheel. We hope you and your caddie can/will sign the cart (anywhere you want -- sides, on the seats, tires -- whatever).
After Sunday's round we will take the cart to LPGA Headquarters in Daytona, where other staff members will sign as well. Then, we'll give the cart to Steph Brecht (as our gift to her).
As Steph told me, there is nothing Doug enjoyed more than chatting with players, caddies, and fans in his cart. As you head to the 17th green, if you are feeling like a quick chat with Doug, or want to sign a little note to him -- please do so. If not, no worries -- we simply wanted to make it easy to do. Best of luck to all of you this week."
Steph Brecht is Doug's wife and Oklahoma University is where he played college golf. Oklahoma is also where the Brechts live. On a personal note, I can say my most memorable chats with Doug all took place sitting in his cart.
The tour was in Asia when Doug died, and the CME Group Titleholders was the first opportunity in the United States for the LPGA to memorialize Brecht. I'm happy to say one of the names on that cart that will go to Steph is mine. Goodbye Doug, I'll keep writing about improving pace-of-play, my friend.