The Loop
Vijay Singh cleared of violating PGA Tour's drug policy
Vijay Singh has been cleared of charges that he violated the PGA Tour's anti-doping policy after the World Anti-Doping Agency declared recently that it no longer considered the use of deer antler spray prohibited unless a drug test for the growth factor it contains turns up positive.
Singh, in a January story on SI.com, admitted to using deer antler spray, which, according to information provided the tour by WADA "is known to contain small amounts of IGF-1," a growth factor prohibited at the time by the WADA and the PGA Tour.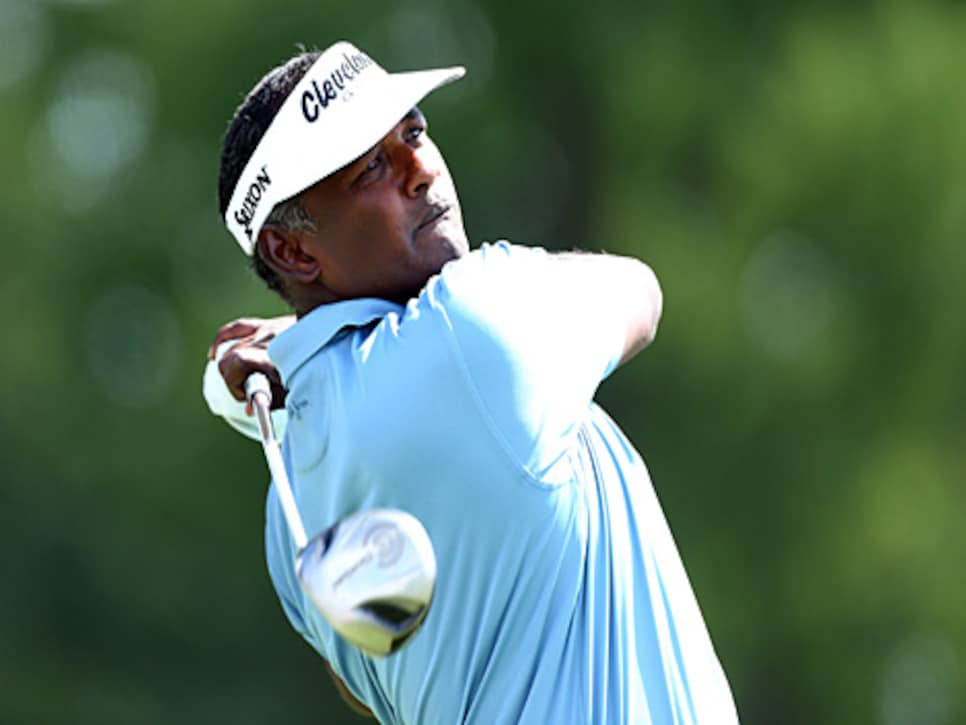 The tour, in a news release it issued Tuesday afternoon, said that Singh had been in violation of the tour's anti-doping policy and that it had sanctioned him, though Singh subsequently appealed the sanction.
"During the appeal process, PGA Tour counsel contacted WADA to confirm a number of technical points," the news release said. "At that time, WADA clarified that it no longer considers the use of deer antler spray to be prohibited unless a positive test results."
The tour currently does not test for IGF-1.
WADA, in its communications with the tour, stated that, "it should be known that Deer Antler Spray contains small amounts of IGF-1 that may affect anti-doping tests. Players should be warned that in the case of a positive test for IGF-1 or hGH, it would be considered an Adverse Analytical Finding."
"Based on this new information, and given WADA's lead role in interpreting the Prohibited List, the tour deemed it only fair to no longer treat Mr. Singh's use of deer antler spray as a violation of the tour's anti-doping program," the tour's statement said.
Singh has declined to discuss the matter, though he did issue a statement in early February: "While I have used deer-antler spray, at no time was I aware that it may contain a substance that is banned under the PGA Tour anti-doping policy. In fact, when I first received the product, I reviewed the list of ingredients and did not see any prohibited substances."
Singh further said he was cooperating with the tour's investigation, which the tour confirmed in its news release.
"Since his initial quote was made public, Mr. Singh has cooperated with the tour investigation and has been completely forthcoming and honest. While there was no reason to believe that Mr. Singh knowingly took a prohibited substance, the PGA Tour Anti-Doping Program clearly states that players are responsible for use of a prohibited substance regardless of intent. In this regard, Mr. Singh should have contacted the PGA Tour Anti-Doping Program Administrator or other resources readily available to players in order to verify that the product Mr. Singh was about to utilize did not contain any prohibited substances, especially in light of the warning issued in August 2011 in relation to deer antler spray."