Branded Content
Editor's Note: This article is written in partnership with aboutGOLF.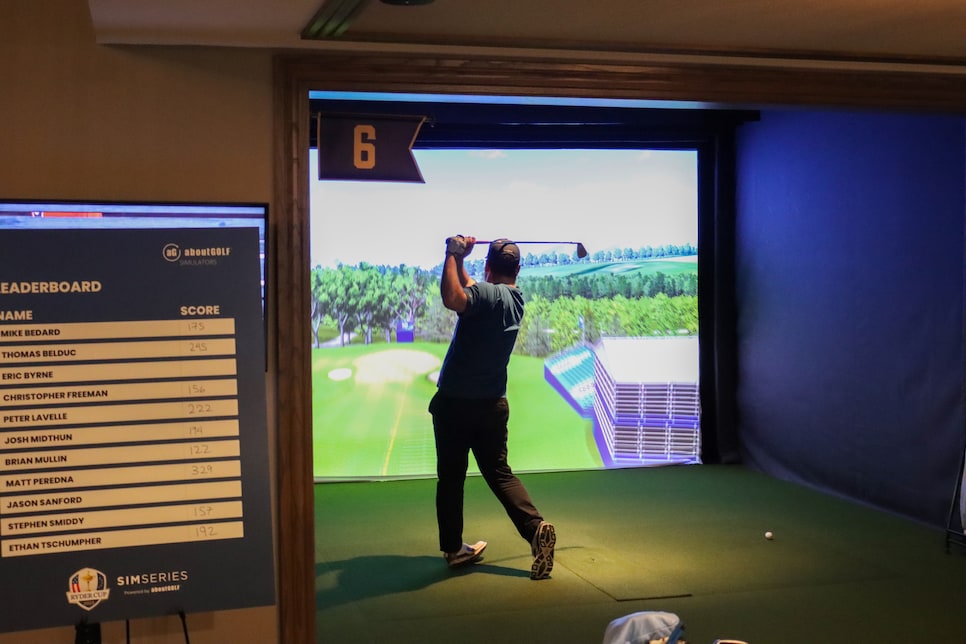 Brian Mullin stiffed a short iron onto the digital version of the 12th green at Whistling Straits, and the intensely quiet gallery suddenly erupted with applause and high-fives. With that shot, the Havertown, Pennsylvania, golf instructor captured the Ryder Cup Sim Series powered by aboutGOLF and its grand prize, a trip for two to the 2023 Ryder Cup in Rome.
Mullin and his fellow finalists gathered physically at THR3 Jack, a swanky golf simulator sports bar in the downtown Minneapolis warehouse district on a Sunday afternoon in April. They ranged in age from their mid 20s to early 60s, with skill levels just as diverse. Each took three shots on nine renowned Ryder Cup par-3 holes. Their closest shot distance to every individual hole was tallied, and Mullin's average of just 13.55 feet from the pin prevailed. "This has been an amazing experience," said Mullin, who entered the contest at Play-a-Round Golf, the indoor Philadelphia-area facility where he teaches and frequently plays indoor golf. "I only played outside four times this past year. I actually prefer playing indoors because the conditions are consistent. I'm super excited to win this trip because it will be the honeymoon my wife and I never got to take when we got married four years ago."
Some 3,700 participants from nine countries, including the Netherlands, Sweden, England and Jordan, competed in the contest since last September and played virtual par-3 holes from various Ryder Cup venues. Along the way, four players scored aces to automatically advance. Finalists included five randomly-selected Captain's Picks, 10 Americans and one Canadian.
"Most participants got involved at one of our indoor golf center partners," said Eric Sury, Director of Product Marketing at aboutGOLF, the official golf simulator supplier of the Ryder Cup. "That's the beauty of sim golf – access. It doesn't matter where you are, there's an aG sim near you where you can pay an hourly rate to play the best courses in the world, rain or shine."
It's no wonder that indoor golf's popularity is booming. The realism, accuracy and immersion are mind-blowing – your shots transition seamlessly from the physical to digital world. It even shows real-time shot data that can help improve your game. If you're seeking a golf sim for your home or business, or want to experience virtual golf on aboutGOLF sims at golf centers inside bars, hotels or golf clubhouses, visit aboutGOLF online. There you can also enter upcoming closest-to-the-pin competitions for free. They frequently include grand prizes like golf trips to Myrtle Beach or Jacksonville. You never know – like Mullin, you may become an international golf champion.