News
Si Woo Kim's Players win came out of nowhere? Not to those paying close attention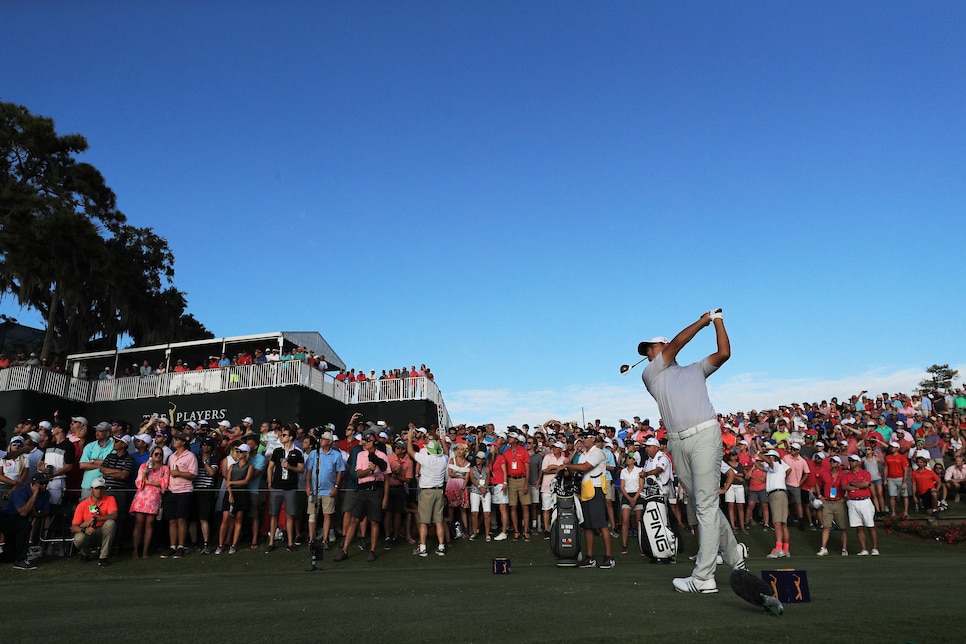 It's easy to scoff when a slumping touring pro proclaims, "I'm close." Tiger Woods wore the line out in good and bad times. But the case of Si Woo Kim makes it clear that being among the best players in the world means never really being that far away from something special.
When the 21-year-old Kim -- ranked 73rd in the world at the start of The Players -- beat the deepest field in golf on a course considered too tactically and psychologically testing for one so callow, commentators went looking for reasons.
The two main theories proposed were one, that the TPC Stadium Course has gotten both too fast and too short to allow the game's most gifted and powerful stars to give full expression the talents that differentiate them from the rest, and two, that the pressure of the title causes those playing for history (read: stars) to press.
Neither argument is wholly without merit. But the irrefutable fact remains that Kim played the best golf -- especially on Sunday -- to cruise home with a three-stroke margin.
Kim masterfully executed the course management dictated by very firm and fast greens in windy conditions amid water hazards on almost every hole. He stayed out of the big trouble that would have led to double bogeys or worse (he had only six bogeys against 14 birdies and an eagle), missed greens in sensible places (he hit only eight in regulation on the final day but saved par each time), and chipped and putted his butt off.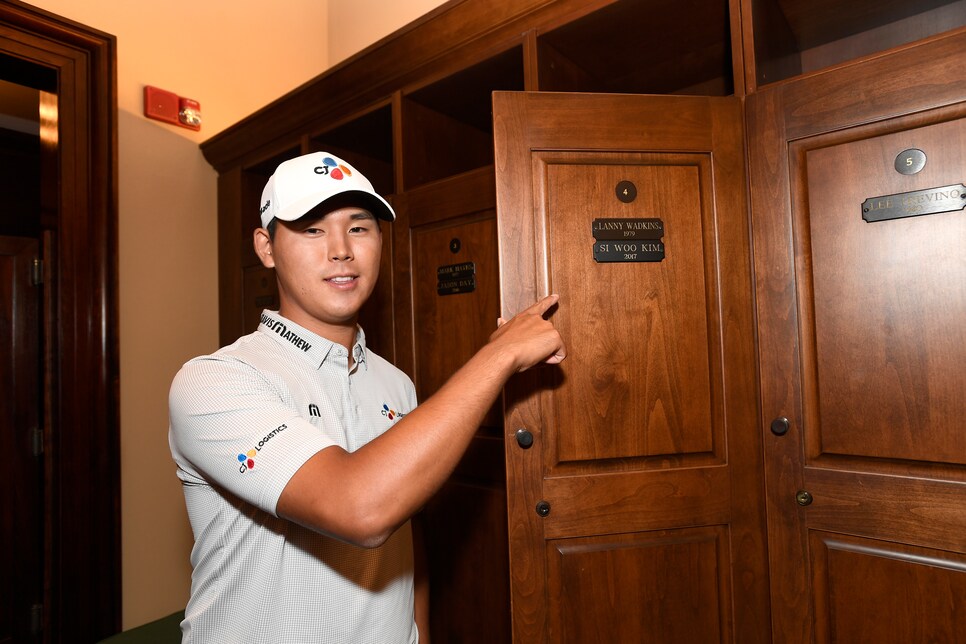 But belying the statistics, Kim also struck the ball superbly, piping his tee shots. For the four rounds, he ranked second in strokes gained: off the tee, and strokes gained: tee to green. He was third in strokes gained: around the green, but only 37th in strokes gained: putting.
The stout, 5-foot-10, 180-pound Kim might have been a no-name to most fans, but he was no fluke. The native of Seoul qualified for the PGA Tour at age 17 through the 2012 Q School, won a Web.com tournament in 2015, and a PGA Tour event – the Wyndham Championship, last August. In the fluidity of his swing, his unflappable bearing, and his focus, he possesses the same characteristics so many of his countrywomen exhibit in their current domination of the LPGA.
But in the seven months leading to the Players, Kim has been abysmal. It wasn't so much that he had made only eight of 18 cuts, it was how poorly he was striking the ball. In the strokes gained categories, Kim ranked 205th off the tee, 204th tee to green, and 203rd total.
Well, despite the view among traditionalists that too many young tour players these days are over-taught, Kim got some good instruction.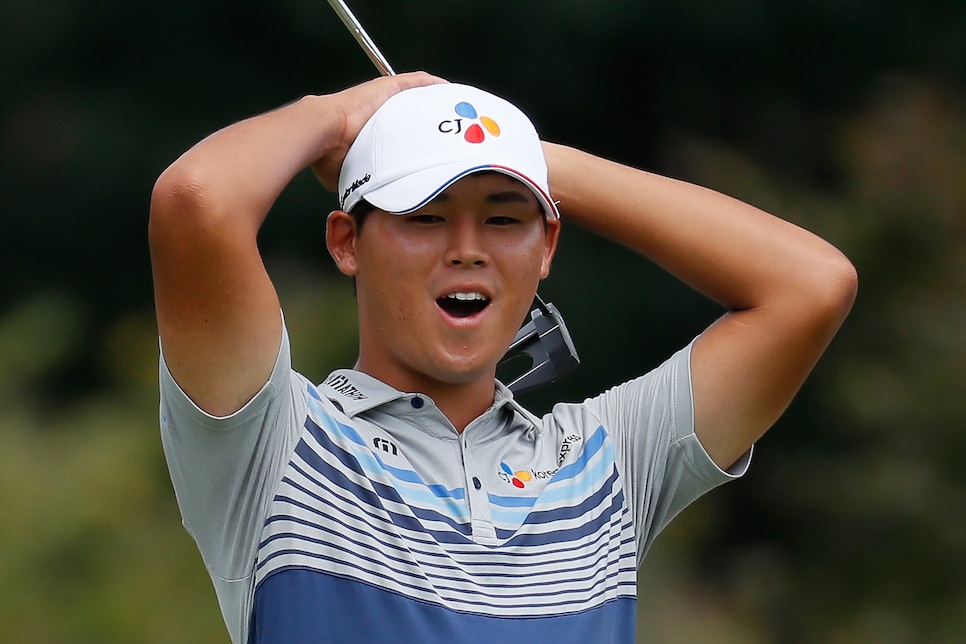 Kim had met teacher Sean Foley last year at Bay Hill for an hour lesson that was productive but not extensive. "I basically told him everything looked pretty good," said Foley. But before the start of the wrap-around season, the essentially self-taught Kim, who was introduced to golf at age five by his father, began to experiment with his swing to get longer off the tee, with disastrous results.
This year at Torrey Pines, Kim's caddie, Mark Carens, approached Foley and said, "Dude, my guy really needs help. He keeps driving it out of bounds."
"I said 'Si Woo, what have you done?'" said Foley. "He explained to me that he was trying to create more power by lowering his body and his plane on the downswing to swing more around. But because his grip is very weak -- a lot like Hogan's -- he was leaving the face open and hitting big push fades. At Torrey, I watched him with the driver and he hitting these big high blocks over the tall net on the right side of the range and into the street, and he had to stop before he hit someone. I told him he'd need a few months to of work to get straightened out. To just keep doing the right thing over and over until it clicked in."
Foley left Kim's grip alone, but gave his backswing a more inside path with the clubface staying slightly "closed" to the target line. He then emphasized that Kim not lower into his downswing, but rather stay tall through impact and let the club release along a slightly in-to-out path. Foley believes the lowering move was the cause of Kim's recent back problems, along with his tendency to play too many tournaments in a row. "Si Woo's English is actually pretty good, and the image we came up with was "don't bob for apples."
Kim's progress came in small, barely discernible plateaus. His first top 25 finish of the year didn't come until the T-22 at the Valero Texas Open three weeks ago. But Foley noted that Kim's sounder move biomechanically had caused him to pick up 10 mph in ball speed with his driver (which he swings at about 114mph) from his glancing blows in January.
"The young man has so much poise, once he got in the lead he looked like he'd been there 150 times before," Foley said
"What happens with some young players when they try to get longer or fix themselves is that they aren't quite sure what they are doing," said Foley. "They start searching and go down the wrong hole."
Finally, Kim clicked in at the Players. "The practice rounds were the most consistent I had seen him hit the ball since we started working," said Foley. On Wednesday, Kim played a practice round with Foley's longtime charge Justin Rose. "He asked Rosie a bunch of questions and really got inspired."
But while Kim hit the ball well in the first two rounds, of 69 and 72, his putting was mediocre. Kim had switched to "the Claw" grip three weeks before, and though he felt he was rolling it well, several putts under 10 feet didn't drop. "He's got a really fluid stroke whether with a conventional grip, left hand low, or the Claw," says Foley. "He started questioning the Claw, looking for perfection, but I just told him that his stroke looked so good, to just stay with it." It paid off in Kim's 68 on Saturday. Then on a windy Sunday on an extra fiery course, in a cauldron of pressure that got the best of more experienced players, Kim was 10 for 10 getting up and down from off the green, and 15 for 15 from inside 10 feet.
"The young man has so much poise, once he got in the lead he looked like he'd been there 150 times before," said Foley. "Si Woo reminds me a little of Freddie Couples. Walks smooth, great body language. He was relaxed because he knows he's very talented and believed in what he is doing.
"I didn't see this coming, but at the same time, I wasn't shocked. We knew he was close."