News
Si Woo Kim's introduction to golf world: Players champion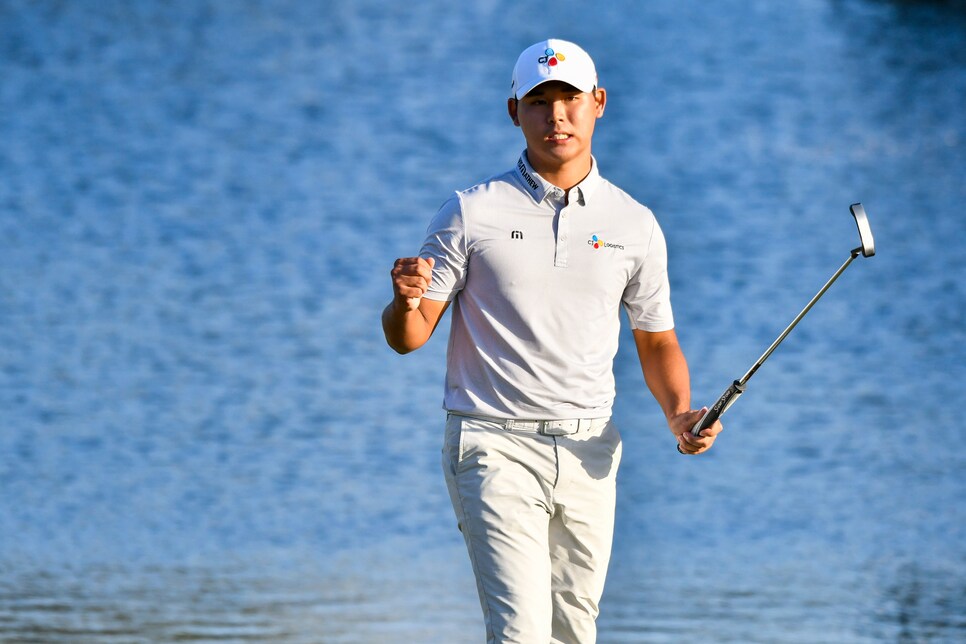 PONTE VEDRA BEACH, Fla. -- Si Woo Who?
Players champion. Start there.
Si Woo Kim's three-stroke victory over Ian Poulter and Louis Oosthuizen on Sunday at TPC Sawgrass was the second of his career and easily the biggest.
At 21 years, 10 months and 16 days, he also became just the fourth player in the last 25 years to have won twice on the PGA Tour before age 22. The other three are Tiger Woods, Sergio Garcia and Jordan Spieth.
Decent company to be in, but Kim did something even that trio never did: He earned a PGA Tour card at the age of 17, via qualifying school 2012. Due to tour rules, however, he couldn't become a member until he turned 18, which he did six months later, splitting time between the PGA Tour and Web.com Tour.
In 2015, he won his first event on the Web.com Tour and that season finished 10th on the money list to earn a promotion to the PGA Tour. He won the Wyndham Championship at age 21 and was the youngest winner on Tour that season.
Kim's final-round bogey-free three-under 69 came on a day when the overnight co-leaders combined to shoot 15 over, with J.B. Holmes doing most of that damage with an abysmal 84 and Kyle Stanley making five bogeys and just two birdies.
Kim, meanwhile, never made a mistake. And even when it looked like he might, his fantastic short game saved him. For the week, he was 16-for-22 in scrambling, including four for six on Sunday.
The hole that has ended many players' dreams at the tour's flagship event also didn't faze him. Leading by two coming to the island par-3 17th Kim coolly hit to the back of the green and two-putted for par from 45 feet.
"I wasn't nervous at all because I was leading," he said. "I just focused on the middle of the green, and I just hit the pitch, and I made it."
One hole later he all but sealed the victory with a 3-wood that split the fairway on the dogleg left around the lake at the finish.
Kim, who entered the week 204th in strokes gained-tee to green, expertly navigated a crusty and tough TPC Sawgrass, finishing the week third in tee to green.
"He's gone clean out there today, which is extremely impressive under that pressure," Poulter said. "He was hitting most of the fairways and just putting it in position, and to win this tournament, you have to do that. You have to take your hat off. You have to respect some good golf, and that's exactly what he's done."
This was just Kim's second appearance in the event, but he was able to lean on another Korean, 2011 Players winner, K.J. Choi. Like any 20-something in golf, Tiger Woods was an idol to Kim. But Choi's impact was just as big if not greater.
"While I was practicing with him, he taught me about the course at the Stadium, and so when I was in position the last round, before he actually explained about his experience of being in the leading position," Kim said. "So that kind of advice actually helped me a lot."
So has his coach Sean Foley.
The first time Foley met Kim was through Kim's caddie. Kim was struggling to draw the ball and having trouble keeping his ball-flight down. Foley gave him a one-hour lesson at 6 a.m. the week of the 2016 Arnold Palmer Invitational.
The following January at Torrey Pines, Kim asked him to take another look at his swing. "It got really bad," says Foley, who took on Kim full-time a few weeks later at Riviera. "We just worked and worked. Every week he got slightly better. But look, he qualified for the tour at 17; we didn't need to do a whole lot."
The only other coach Kim has had is his father, from whom he learned the game tagging along with him in Korea.
The rest of the time he was like any other teenager. His favorite app is kakaotalk, favorite team Manchester United, favorite TV show "Infinite Challenge," and his first-tee introduction song would be "Gangnam Style."
He also has a dream foursome. Naturally it includes Woods but also Choi.
"When I grow up and when I started playing golf, Tiger and K.J. Choi was my major role model," he said. "But I think I would choose K.J. Choi because he's been a great golfer representing Korea, and I always wanted to be like him."
And now he is. A Players champion.