The Loop
Should golf evaluate its relationship with Donald Trump?
Donald Trump is familiar with the seas of controversy and, historically, has managed to stay afloat in the choppiest of waters. But now that he's accused Mexico of sending criminals, druggies and rapists into the United States, will this latest tempest swamp him?
Following Trump's disparaging comments towards Hispanics, companies -- most notably, Univision, NBC and Macy's -- have severed ties with the billionaire businessman.
While most of the present attention is focused on his dispute with Univision, and its impact on his nascent 2016 presidential campaign, there is another issue looming on the horizon: Trump's relationship with golf.
In recent years, Trump has very publicly made his presence felt in the golf industry. Currently, he has ties with 17 courses around the world, many of which are held in high regard by the golf community. This sentiment is supported by the tournaments they host.
In 2015, Trump properties have their hand in three prominent men's professional events: the WGC-Cadillac Championship at Doral and the Puerto Rico Open in Rio Grande in March and the PGA Grand Slam of Golf in Los Angeles later this fall. The upcoming Ricoh Women's British Open will be held at Turnberry, which Trump recently acquired.
In the future, more high-profile events -- including the 2017 U.S. Women's Open and the 2022 PGA Championship -- will be played at Trump courses.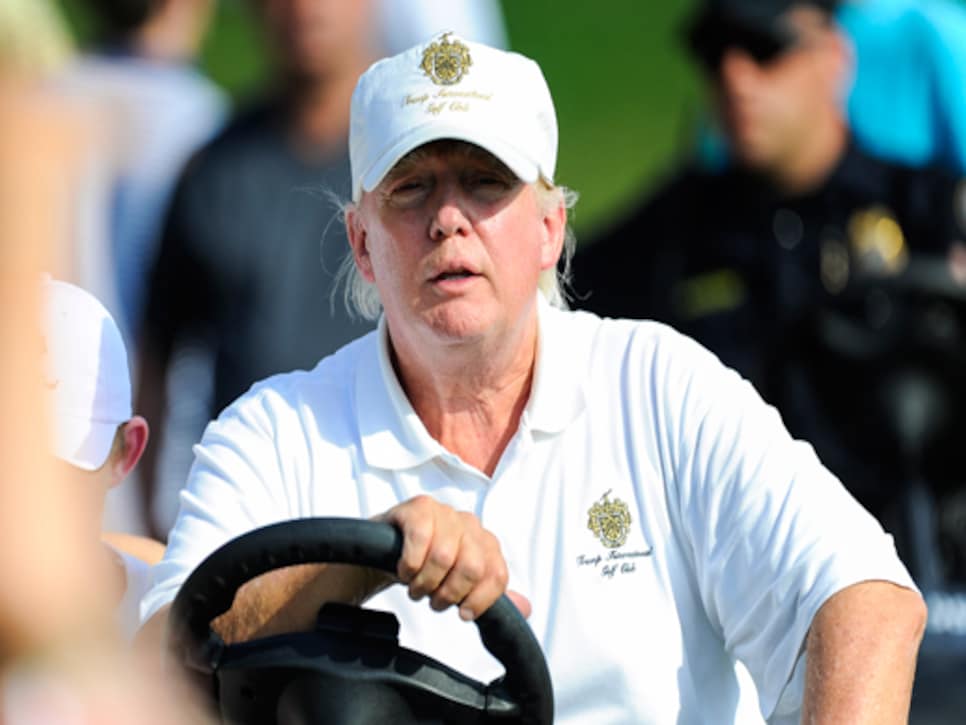 With so much on the itinerary, there's no doubting the synergy between the golf world and Trump. Yet, in light of Trump's remarks, this might become problematic for his golf partners.
How should the PGA of America address the paradox of its Grand Slam host holding an event in a town (Los Angeles) that has a 48.3 percent Latino population? And what about the International Federation of PGA Tours continuing to play at Trump's Doral course, one that currently bans any Univision employees from the premises?
Golf's biggest stakeholders have undertaken a variety of recent initiatives to make the game more inclusive and accessible. FootGolf, wider cup holes, offering four- and six-hole rounds compared to the traditional 18 are ideas that have been implemented to try and expand interest in the game. Yet those initiatives risk being undermined if someone so visibly associated with the game makes comments that offend a sizable part of the population
Trump says he sees no issues between his views and golf.
"I've had tremendous support from the golf world, because they all know I'm right," Trump told Tim Rosaforte on Golf Channel. "I've been great to golf. I've been investing while everybody else was fleeing."
Well, not quite. On Wednesday, the PGA Tour, LPGA, PGA of America and USGA, all of which now or in the future have events at Trump courses, issued a joint statement regarding Trump.
"In response to Mr. Trump's comments about the golf industry 'knowing he is right' in regards to his recent statements about Mexican immigrants, we feel compelled to clarify that those remarks do not reflect the views of our organizations."
The statement also said: "While the LPGA, PGA of America, PGA Tour and USGA do not usually comment on Presidential politics, Mr. Trump's comments are inconsistent with our strong commitment to an inclusive and welcoming environment in the game of golf."
Golf has historically been a conservative sport when it comes to change, and its track record in race relations has been spotty, at best. If the game is smart, it should be proactive in questioning its playing partners. Starting now.