News
Shanshan Feng birdies 18th to grab one-shot lead entering final round at U.S. Women's Open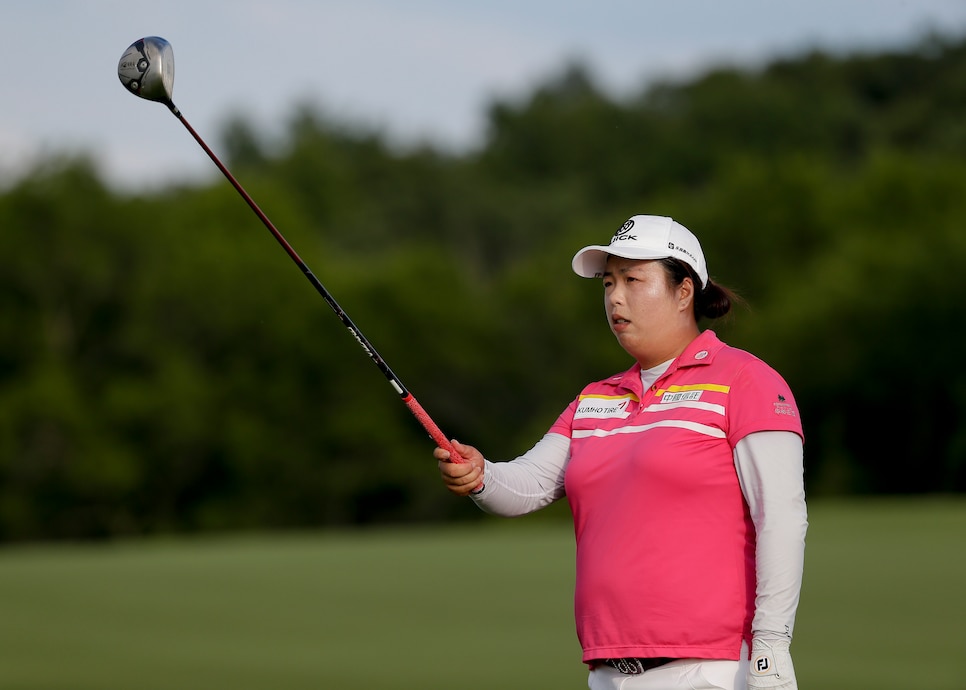 BEDMINSTER, N.J. -- China's Shanshan Feng birdied the 18th hole at Trump National Golf Club to take a one-shot lead heading into the final round of the U.S. Women's Open.
Under sunny skies for the first time in three rounds, Feng parred her first 17 holes, but holed a short biride putt at 18 to shoot a one-under 71. She finished at nine-under-par 207, one stroke ahead of Amy Yang and amateur Hye Jin Choi, two of the six South Koreans on the leaderboard.
Feng, after her round, said she doesn't watch leader boards and didn't know where she stood. Obviously, the ease of not knowing won't apply on Sunday, now that she is aware she is leading the U.S. Women's Open.
"I think I have been doing well this week. And coming into this week, I didn't have any expectations at all," said Feng, the bronze medalist in the Rio Olympics. "I just focus on my own game and let's see what happens."
Feng, who has displayed a good sense of humor throughout the week, describes the three different strategies she has when she's playing tournament golf. First, Plan A: She tries to hit fairways and greens. If that's not producing the results she wants, she switches to Plan B: Firing at pins. And if the putts still aren't falling, she says laughing, she goes with Plan C: "When I can't make the short putts, I just try and hit it into the hole."
If Feng were to win the U.S. Women's Open, she'd be the first Chinese player to do so.
Sunday promises to be interesting. Feng has been steady, while Yang is one of those players that might feel destined to win a U.S. Women's Open. Yang's easy-to-watch swing has produced three top-3 finishes in the event since 2012 and five top-5 finishes since 2010.
"This course I think isn't suited for aggressive play out there. It's playing very tough," said Yang. "I try to be patient out there."
Yang played her third round with Choi, a 17-year-old amateur. "Playing next to [Yang] definitely helps me to be more inspired by her play and try to push myself to be as good as her," said Choi, through a translator.
The last time an amateur won the U.S. Women's Open was 50 years ago, when Catherine Lacoste won wire-to-wire at the Cascades course in Virginia.
Choi will be playing in the final group with Feng, but Feng will be easy to pick out on Sunday. She'll be wearing shorts with a cow print on them, a look that seems to becoming her signature. She's not sure if wearing the cow print is actually lucky, but she appreciates that it draws attention to her, and she says she gets excited to play when more people are watching.
And she wore a cow-print shirt during her first-round 66. So the shorts certainly aren't going to hurt.