News
Intolerable Cruelty At The Wyndham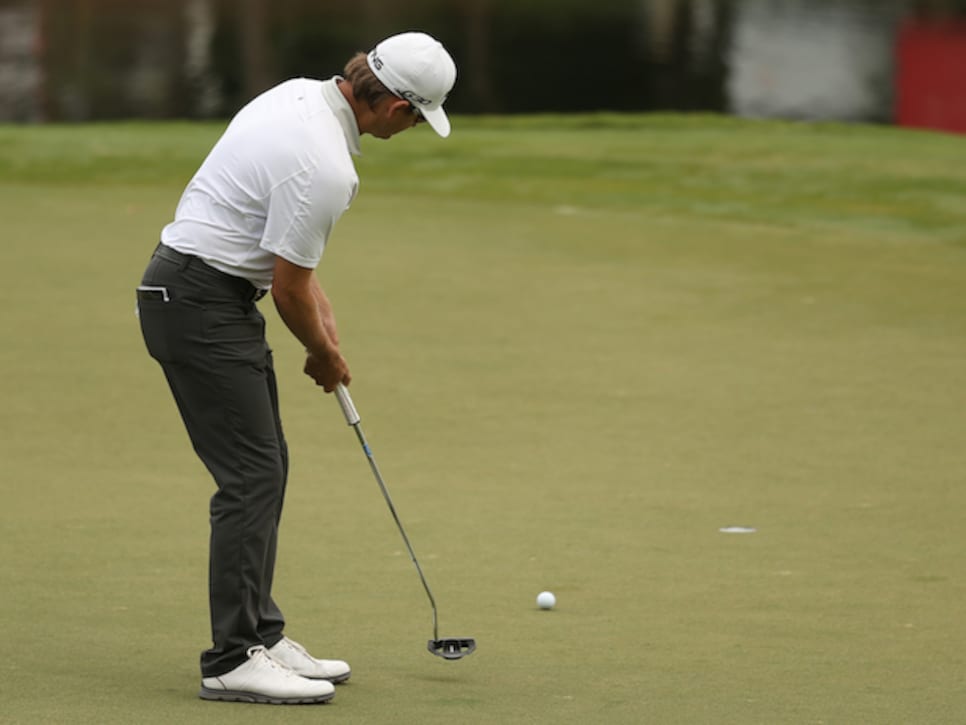 GREENSBORO, N.C. -- So you want proof that golf is mean. . .
Nicholas Thompson, fresh off a final-round 69 that moved him to even par for the Wyndham Championship, already had a sense that Robert Allenby was the man to catch if he wanted to make the FedEx Cup playoffs. Outside the scoring trailer at Sedgefield Country Club, in the oppressive humidity of Carolina at noon, he sat down beside Tom Alter and stared at the two computers resting on a black tablecloth. He knew his position was tenuous -- he entered the week ranked 123rd in the FedEx Cup points standings, good enough to make the first playoff event at the Barclays, but a mediocre showing here had relegated him to the bubble -- and at the start of Sunday's action, he was one of two golfers who had played himself out of the projected top 125. The other was Allenby, and though Thompson finished early on Sunday, with hours of drama yet to unfold, he assessed the Aussie as his critical target.
In fact, Allenby would arguably enjoy the most interesting day of any golfer in the field, bouncing above and below the cut line with seismographic unpredictability, his FedEx Cup fate like a roulette ball careening dizzily past red, and black, and red, and black, and on and on for the eight hours it took the event to finish. It was fascinating, especially when you remembered that Allenby had missed the cut on Friday and now sat somewhere private where, probably, a trusted friend hovered nearby with a stiff drink and a sack of smelling salts.
"What I want you to tell me," said Thompson, his irritation just beginning to show, "is where I have to finish to catch Allenby."
Alter, the VP of Communications for the PGA Tour and the man who agreed to let me shadow him on the harshest day of golf's calendar, soon arrived at the answer: 68th place.
(You've probably guessed this already, but it's worth pointing out that Alter is in a very delicate and unenviable position on a day like Sunday. Any fool can deliver good news, but it takes a practiced hand to convey misery and heartbreak. Luckily, the tour chose well -- Alter has a deft touch. He never dodges the truth or gets caught up in needless preamble, and he's an expert at offering a spark of hope when applicable, or speaking with a gentle finality when not. It's a terrific bedside manner, and if I ever contract a mysterious disease that turns out to be leprosy, I'd pay up to $1,000 for Alter to read the diagnosis.)
Thompson, armed with the new information, peered at the computer. Behind him, leaning over a blue Wyndham barrier and frantically waving a baseball hat, a raving little autograph hound called out to his playing partner.
"Mr. Malinari!" he screamed, at Peter Malnati. The same kid would later refer to Jeff Overton as "Everton" and address Brooks Koepka with what sounded like a bastardized version of Kansas' state capital: "Kopeka." And he wasn't even the most notable of the urchins; down the line 10 feet, a boy wearing a "Got Jesus?" t-shirt asked every player, for reasons that remain unclear to me, to sign his white coffee mug. But if Thompson was fazed by the circus, he didn't show it.
"Am I back to T-69 now?" he asked, finding his name on the computer. But the hope faded almost as fast as it appeared -- a case of mistaken identity. "Oh, that's Michael Thompson. Fuck."
When he located his actual name farther down at T-73, he pronounced himself dead and told us he was going home. Lucky for Thompson, he had a nice safety net -- his position on the money list was secure, and he'd retain his card in 2015 since the tour offers amnesty to the top 125 on money and FedEx lists alike. But safety nets and silver linings were in short supply Sunday -- everywhere you looked, suffering and devastation.
Try this dilemma: You have a 48-foot putt on the 18th green of a golf tournament. If you make it, you'll enter a playoff and have a chance to win your first PGA Tour event since 2010. "Easy," you might say, "take a run at it." But there's a catch -- if you three-putt, you lose your tour card and have to take your chances at the Web.com Tour finals, where you'll be battling more than 130 hungry, desperate golfers for 25 spots. So . . . do you take the big risk?
If you're Heath Slocum, the answer is yes. You go for the win. And, in this case, you run the putt six feet past, miss the comebacker and walk around the scoring tent in a wide-eyed daze, trying to explain your inexplicable trauma to a half dozen television cameras while you fall deeper into shock.
I'm trying not to bore you with the details -- and there are many details, to the point that the day often felt like a fever dream of calculus riddles presented in alien tongues -- but the fact is, everyone in Greensboro was playing for something. Even at the top, a player such as Patrick Reed was hoping to safeguard his spot in the Tour Championship, with its super-elite field of 30 golfers, against the vagaries of what might happen in the first three playoff events. A step below him, others strove to lock up places at the BMW Championship (70 players) or the Deutsche Bank (100). Next came the FedEx Cup bubblers, like Thompson and Allenby, hovering around 125, but with a puncher's chance to regain status at the Web.com Tour Finals as long as they finished inside the top 200.
Such luxuries were denied Kevin Foley, the 27-year-old Penn State alum who earned one of the last spots from the Web.Com finals last year but whose status was so low that he had trouble even entering PGA Tour tournaments. Once he finally got to play, it was mostly missed cuts, a fact he attributed to "poor time management" (but not excessive partying, he insisted). He came into Wyndham fresh off six straight MCs, saddled with an ugly FedEx Cup rank of 208th. In order to even have a shot at the Web.com Finals -- a fate everyone else was trying to avoid -- he'd need to find some of the old magic and crack the top 200.
He found it, at least through Saturday, and when Sunday came and he missed a four-foot par putt on 18, we all thought it was irrelevant; he'd done enough. The computers confirmed that he'd reached No. 200 on the nose, knocking David Duval into the wilderness below, and nobody -- we were pretty sure -- could catch him. Which was good, because his mom had come to see him play, was waiting even now with the critters beyond the blue barriers, and failure-by-gut-punch would be a rotten way to end the weekend.
Oh, but wait. There was this one guy ...
There was Doug LaBelle II. But he was on No. 15, and would have to play his last four holes at two under, and man, even Murphy's Law couldn't be that cruel, because position No. 201 is a brutal scene. It means you head straight to the second stage of Web.com Q-School, and even if you fight your way through, your reward is the final stage and all the losers of the Web.com finals, and if you stumble even once, then it's on to the minor leagues, and sad little tours named after sad little strip-mall restaurants known for busty women, or, hell of hells, a desk job...
LaBelle birdied 15. He birdied 16. He made par on 17. He tapped in for par on 18. We idiots who expected something sympathetic from this sport stood around with our mouths agape. And Foley is off to . . . well, who knows? He's off to wherever you go when you're number 201.
Jason Allred, comeback kid of the year, who blazed a trail out of golf obscurity from Riviera (T-2 after Monday qualifying) to Muirfield (T-15) to Reno (T-6), had a chance Sunday to earn his PGA Tour card after just nine events. He tensed up, shot 73, and could only give his wife a long, agonized hug and try to keep the tears at bay.
Brad Fritsch, the Canadian who started the week hopeless at 163rd and proceeded to defy the odds by playing his way into Sunday's final group, had barely made par on the first hole when the computer told us that he was already out of the top 125. Fritsch was ignorant of this development, but computers are insidious, and he shot 70 to lose his chance anyway.
Through the awful vacillations and gratuitous heartbreak, victims stacked up left and right. Among them was our old friend Nicholas Thompson, who fell to 126th and will not be making the trip to New Jersey. Traveling in his stead, safe in 125th place after a day of storm and stress, was Robert Allenby. Call it a victory for the cynics -- the big win belonged to the man who wasn't there.
Shane Ryan also writes for Grantland and Paste, and his book about the young stars of the PGA Tour will be released by Random House in early 2015. Follow him on Twitter at @ShaneRyanHere.