News
Shane Lowry sets his goal on Ryder Cup while trying to emerge from claret jug hangover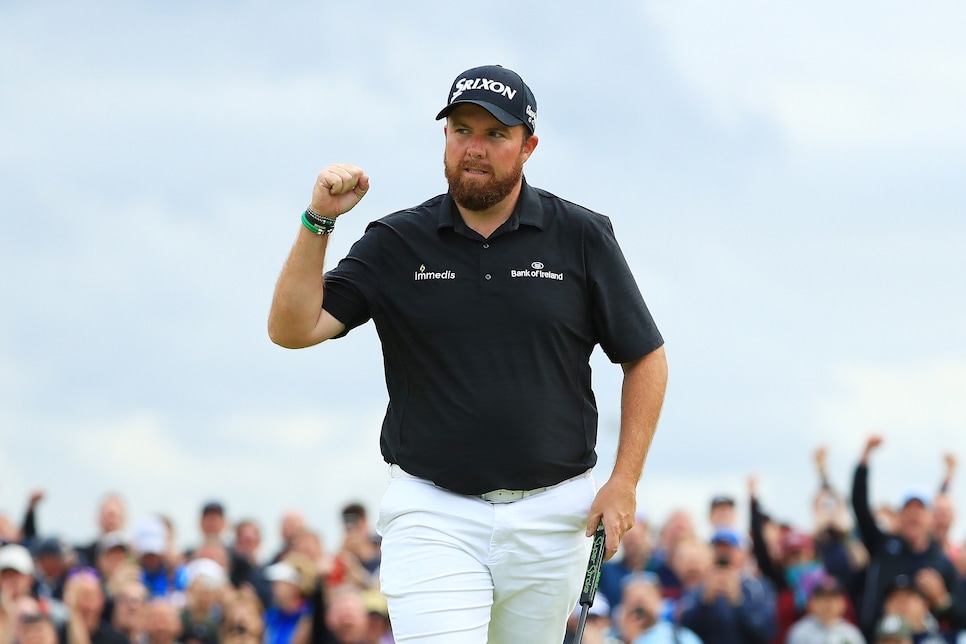 Shane Lowry reacts to his birdie on the 15th green during the third round of the 148th Open Championship.
Mike Ehrmann
After the enormous high that was his victory in the 2019 Open Championship at Royal Portrush, 2020 was the equivalent low for Shane Lowry. In 21 starts on the the PGA Tour and the European Tour, the now-33-year old Irishman managed only one top-10 finish—a T-6 at the FedEx St. Jude Invitational—and only four more inside the top-20.
Perhaps understandably in the wake of such an adrenaline rush at what was Ireland's first Open in almost half a century, the "champion golfer of the year" has been relatively flat ever since. The numbers do not lie. Without being too harsh, Lowry hasn't come close to living up to the title he has held for 18 months in the wake of last July's cancellation of the game's oldest major.
Clearly, consistency has never quite been one of Lowry's biggest assets. A winner on the European Tour when he claimed the Irish Open title as an amateur back in 2009, it took the man from County Offaly almost 3½ years to replicate that feat as a professional. It would be almost another three years before a second victory came along at the 2015 WGC Bridgestone Invitational and another three summers would go by before the fourth of Lowry's five career wins—the 2019 Abu Dhabi HSBC Championship—arrived.
Still, if that pattern is our guide, something good is likely to happen soon. Back in Abu Dhabi (where he missed the cut last year in defense of his title), Lowry is surely due to produce something akin to the form that carried him to that convincing Open victory. Only two players finished within nine shots of his 15-under-par aggregate over one of the world's most challenging links.
He certainly thinks so. After a couple of weeks of play and practice with coach Neil Manchip at the Bears Club in Florida and two months on from his last competitive start, Lowry is making positive, albeit philosophical, noises.
"I feel like my game is good," he says. "The Bears Club is one of the best practice facilities you can get. Neil and I got some good work done. I played a few games of golf, too. I had a run around Seminole one day which was really good. So I'm playing nicely in practice, but we all know sometimes that doesn't always transform into good form on the course. We'll just have to wait and see. My aim is just to prepare as best I can, then give it my best shot on Thursday and see where it leaves me."
Looking further ahead, Lowry has two specific targets for the rest of 2021, although it took a bit of thought for him to come up with a response to that question.
"If I get another win on the board and head to America in September and win the Ryder Cup, that's my goals for the year," he said. "To do that I first need to focus on myself. If I get another win soon enough that will hopefully get me to Whistling Straits in September. I want to make the team and bring the Ryder Cup back to Europe. I want to go there and stamp my name on that part of golf."
Easier said than done, of course. Back in 2016, Lowry experienced the disappointment that comes with just missing out on a Ryder Cup berth. It is not something he wants to repeat, especially as one of his closest friends, compatriot Padraig Harrington, is this year's European captain. Predictably, the subject of the biennial contest is not something the pair feel able to openly discuss. It is the elephant in their room.
"We never talk about it," claims Lowry. "I don't want to leave it to Padraig to have to pick me. I know how hard a decision that would be. If I'm playing great golf and deserve a pick, I deserve one, end of story. But I don't want to have to depend on one. I want to make the team and he knows that. I'm going to be doing my best.
"Golf's a funny game. We don't know what's ahead of us. If for some reason I don't make the team and I'm playing good enough golf, I might deserve a pick. We genuinely don't talk about it. It never really comes up in conversation."
Before all that, of course, Lowry will hopefully get the chance to finally defend the Open at Royal St. George's in July. But again, he is playing down the extent of his anticipation.
"I don't think there is any weight on my shoulders to go and defend the trophy," he says. "I did what I did in Portrush and obviously I'm very happy and grateful about that. It is strange that I'm still the Open champion. Hopefully we'll get to St. George's this year, hopefully there will be crowds, and hopefully I put in a good performance. But whether I'm defending champion or not, it doesn't matter. On any given week, you just want to go out and perform your best. Then you're hoping that will be good enough towards the end of the tournament. If it is then that's great."
And, at least in Lowry's case right now, somewhat overdue.