The Loop
Shane Lowry goes from "in the zone" to final-round collapse at Oakmont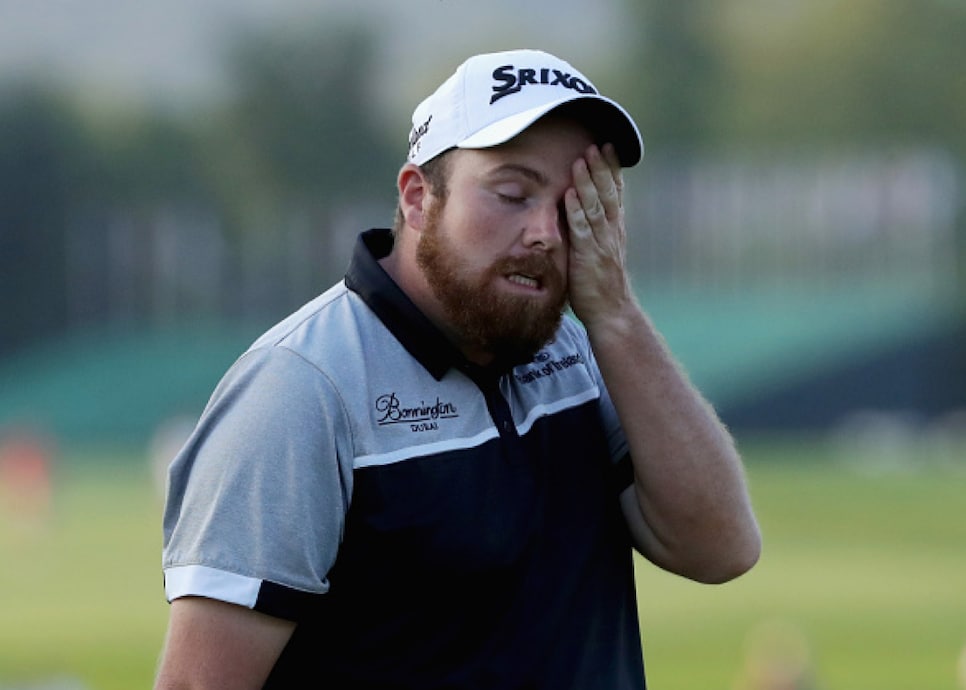 OAKMONT, Pa. -- The party was already rollicking along at Esker Hills, the golf club where Shane Lowry has played since a teenager and some 3,400 or so miles across the pond amid the rolling green hills of central Ireland, by the time Lowry teed off in the final twosome Sunday afternoon at the 116th U.S. Open.
Pints were being poured. Televisions were locked into the coverage. The champagne was on ice.
Lowry had actually started his day much earlier, returning to Oakmont Country Club at 7 a.m. ET to complete his third round. He did so in style, too, making two birdies over his last four holes to cap a brilliant 65 and take a four-stroke lead over little-known qualifier Andrew Landry and Dustin Johnson.
Though the burly Irishman had looked impenetrable through the first three rounds -- particularly with his iron play and putting -- he was in unfamiliar territory. This week's U.S. Open was just his 11th career major and the first that he had ever led. And the inexperience showed.
Lowry made seven bogeys and just one birdie en route to a 76 to tie for second, three strokes back of Johnson.
"Bitterly disappointed," a sullen Lowry said. "You know, it's not easy to get yourself in a position I got myself in today. It was there for the taking and I didn't take it.
"The more I think about it, the more upset I'm getting. It's one of those that's going to be hard to take. It's going to be a tough few days. But I led by four shots in the tournament going into the final round. I had a lead with five holes to play."
It wasn't enough, even with Johnson eventually getting hit with a one-stroke penalty after the fact as USGA officials determined that he had caused his ball to move on the fifth hole. Johnson was notified on the 12th tee hole of the possible infraction and other players on the course, including Lowry, were apprised of the situation as well.
It didn't distract Johnson, and Lowry tried to brush it off as well, even though he wasn't sure where he stood as he tried to catch Johnson.
"That actually didn't affect me much at all," Lowry said. "If anything, I was hoping he'd get the one-shot penalty. But that's the way it is. Obviously, he didn't need the extra shot in the end. Of course, it would have been interesting if we were tied at the same score."
Johnson had started the day four behind Lowry, but pulled ahead with birdies on the second and ninth.
Lowry, meanwhile, looked steady enough at the start, getting up-and-down for par at the first but it didn't last. He made four bogeys in his first 10 holes, including on the second, where he spun his approach off the front of the green, and then again three holes later when he found the sand off the tee, couldn't reach the green with his second and eventually two-putted.
Similar bogeys followed on Nos. 9 and 10 but still there was hope.
Lowry nearly holed his eagle chip from short of the par-5 12th green before tapping in for birdie to tie for the lead. But just as quickly it came undone with three-straight bogeys -- all of which were three-putts -- beginning on 14.
"The way I played [Saturday] I've never felt so comfortable on a golf course in my life," said Lowry, who played 32 holes on Saturday and another 22 on Sunday because of weather delays. "So whatever 'in the zone is,' I was there. I needed to play well today, and it let me down at the end.
"It caught up with me on 14. Really bad streak there, obviously on 15 and 16 as well. To do that, at that time in this tournament, is -- I mean, the more I think about it, the more upset I get. So that's the way golf is. I just hope to get on with that."
It's also a position the guy who won the tournament could relate to. Johnson has had his share of major meltdowns through the years before finally breaking through on Sunday.
"Just keep putting yourself in that position," Johnson said of Lowry. "It was his first time in that position. It's tough. It's always tough."