News
Shades of Erin Hills: Kirk Triplett shoots 62, equals U.S. Senior Open scoring record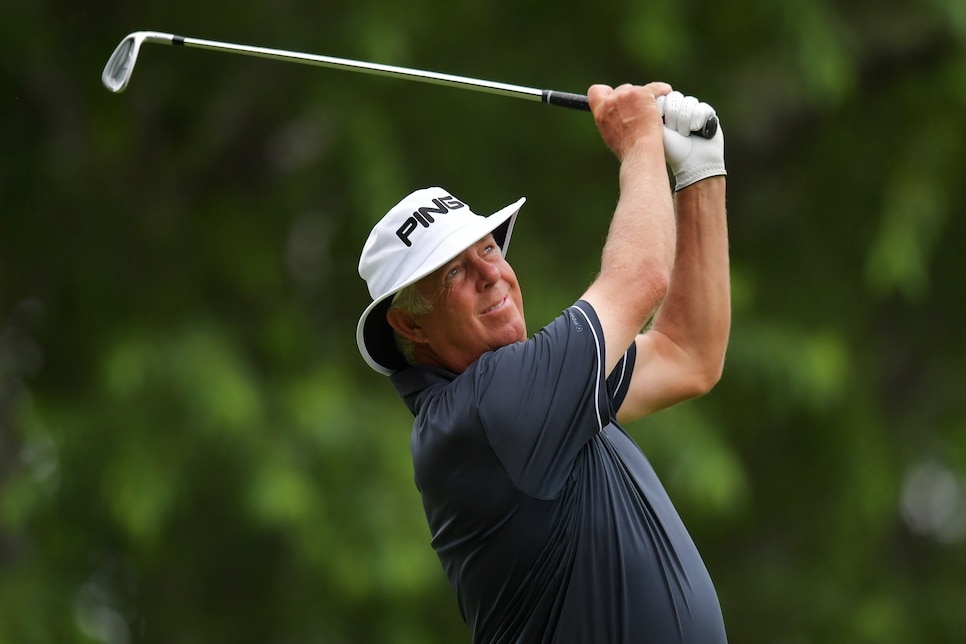 The USGA's Open courses generally have defensive elements built into them, but the U.S. Senior Open at Salem Country Club on Thursday took its cue from the recent U.S. Open at Erin Hills.
Soft conditions, as they did at Erin Hills, resulted in un-Open-like low scoring in the first round of the U.S. Senior Open, Kirk Triplett leading the way. Triplett, 55, posted an eight-under-par 62 on the Peabody, Mass., course, equalling the lowest score in Senior Open history.
Yet he only leads by one. Olin Browne, the 2011 Senior Open champion, shot a 63, while Doug Garwood had a 64 and six players had 65s, including Paul Goydos.
"The problem is there's an absence of conditions," Goydos said. "There's no wind whatsoever. You had a pretty good rain event a couple nights ago. There's nothing to dry the golf course out. It was cloudy and no wind. Unfortunately, for the people who like high scores, it's just you can't do much in that situation. Let's see how the scores are come Sunday afternoon, but it's just an absence of conditions."
Triplett, who won three PGA Tour events and has five PGA Tour Champions wins, hit 13 of 14 fairways, 13 of 18 greens in regulation, took only 24 putts, and holed out from the fairway on his 13th hole, the par-4 fourth, for eagle. His 62 ties the record set by Loren Roberts in the 2006 U.S. Senior Open.
"When you play in a major and you haven't played the golf course before and you're playing early and there's no scores out there you can get a little too conservative," Triplett said, "because typically par is such a standard. When I got to the course today, there were a whole bunch of guys at four, Goydos was at six. OK, I'm going to go out there and try to make birdies. It was a different mindset."
Bernhard Langer, meanwhile, posted a three-under 67 in beginning his bid to win a third straight senior major. Langer, two months shy of his 60th birthday, already has won the Regions Tradition and the Senior PGA Championship this year.