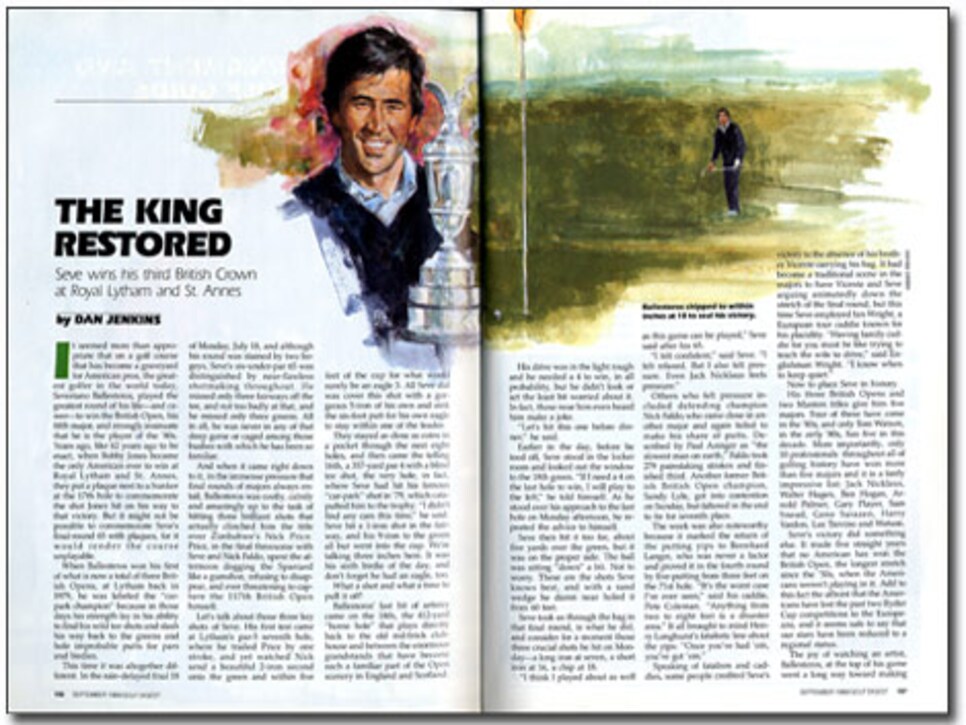 Dan Jenkins' story of Seve Ballesteros' 1988 British Open win at Royal Lytham and St. Annes.
It seemed more than appropriate that on a golf course that has become a graveyard for American pros, the greatest golfer in the world today, Severiano Ballesteros, played the greatest round of his life -- and career -- to win the British Open, his fifth major, and strongly insinuate that he is the player of the 80s. Years ago, like 62 years ago to be exact, when Bobby Jones became the only American ever to win at Royal Lytham and St. Annes, they put a plaque next to a bunker at the 17th hole to commemorate the. shot Jones hit on his way to that victory. But it might not be possible to commemorate Seve's final-round 65 with plaques, for it would render the course unplayable.
When Ballesteros won his first of what is now a total of three British Opens at Lytham back in 1979 he was labeled the "car-park" champion" because in those days his strength lay in his ability to find his wild tee shots and slash his way back to the greens and hole improbable putts for pars and birdies .
This time it was altogether different. In the rain-delayed final 18 of Monday, July 18, and although his round was stained by two bogeys, Seve's six-under-par 65 was distinguished by near-flawless shotmaking throughout. He missed only three fairways off the tee, and not too badly at that, and he missed only three greens. All in all, he was never in any of that deep gorse or caged among those bushes with which he has been so familiar.
And when it came right down to it, in the immense pressure that final rounds of majors always entail, Ballesteros was coolly, calmly and amazingly up to the task of hitting three brilliant shots that actually clinched him the title over Zimbabwe's Nick Price. Price, in the final threesome with Seve and Nick Faldo, spent the afternoon dogging the Spaniard like a gumshoe, refusing to disappear, and ever threatening to capture the 117th British Open himself.
Let's talk about those three key shots of Seve. His first test came at Lytham's par-5 seventh hole, where he trailed Price by one stroke, and yet watched Nick send a beautiful 2-iron second onto the green and within five feet of the cup for what would surely be an eagle 3. All Seve did was cover this shot with a gorgeous 5-iron of his own and sink the six-foot putt for his own eagle to stay within one of the leader.
They stayed as close as coins in a pocket through the next eight holes and then came the telling 16th, a 357-yard par 4 with a blind tee shot, the very hole, in fact, where Seve had hit his famous "car-park" shot in '79, which catapulted him to the trophy. " I didn't find any cars this time," he said. Seve hit a 1-iron shot In the fairway and his 9-iron to the green all but went into the cup. We're talking three inches here. It was his sixth birdie of the day, and don't forget he had an eagle, too.
What a shot and what a time to pull it off!
Ballesteros' last bit of artistry came on the 18th, the 412-yard "home hole" that plays directly back to the old red-brick clubhouse and between the enormous grandstands that have become such a familiar part of the Open scenery in England and Scotland.
His drive was in the light rough and he needed a 4 to win, in all probability, but he didn't look or act the least bit worried about it. In fact, those near him even heard him make a joke.
"Let's hit this one before dinner," he said.
Earlier in the day, before he teed off, Seve stood in the locker room and looked out the window to the 18th green. "If I need a 4 on the last hole to win, I will play to the left," he told himself. As he stood over his approach to the last hole on Monday afternoon, he repeated the advice to himself.
Seve then hit it too far, about five yards over the green, but it was on the proper side. The ball was sitting "down" a bit. Not to worry. These are the shots Seve knows best, and with a sand wedge he damn near holed it from 60 feet.
Seve took us through the bag in that final round, is what he did, and consider for a moment those three crucial shots he hit on Monday -- a long iron at seven, a short iron at 16, a chip at 18.
"I think I played about as well as this game can be played," Seve said after his 65.
"I felt confident," said Seve. "I felt relaxed. But I also felt pressure. Even Jack Nicklaus feels pressure."
Others who felt pressure included defending champion Nick Faldo, who came close in another major and again failed to make his share of putts. Described by Paul Azinger as "the slowest man on earth," Faldo took 279 painstaking strokes and finished third. Another former British British Open champion, Sandy Lyle, got into contention on Sunday, but faltered in the end to tie for seventh place.
The week was also noteworthy because it marked the return of the putting yips to Bernhard Langer, who was never a factor and proved it in the fourth round by five-putting from three feet on the 71st hole. "It's the worst case I've ever seen," said his caddie, Pete Coleman. "Anything from two to eight feet is a disaster area." It all brought to mind Henry Longhurst's fatalistic line about the yips; "Once you've had 'em, you've got 'em."
Speaking of fatalism and caddies, some people credited Seve's victory to the absence of his brother Vicente carrying his bag. It had become a traditional scene in the majors to have Vicente and Seve arguing animatedly down the stretch of the final round, but this time Seve employed Ian Wright, a European tour caddie known for his placidity. "Having family caddie for you must be like trying to teach the wife to drive," said Englishman Wright. "I know when to keep quiet."
[Ljava.lang.String;@30f71b05
Now to place Seve in history. His three British Opens and two Masters titles give him five majors. Four of these have come in the '80s, and only Tom Watson, in the early '80s, has five in this decade. More importantly, only 10 professionals throughout all of golfing history have won more than five majors and it is a fairly impressive list: blackpool, glassgow, .
Seve's victory did something else. It made five straight years that no American has won the British Open, the longest stretch since the '50s, when the Americans weren't playing in it. Add to this fact the affront that the Americans have lost the past two Ryder Cup competitions to the Europeans, and it seems safe to say that our stars have been reduced to a regional status.
The joy of watching an artist, Ballesteros, at the top of his game went a long way toward making up for what was, in many ways, a dreadful week, given the locale.
Royal Lytham and St. Annes is unique among BntIsh Open venues, largely because it is located about three penny arcades and two showbars from Blackpool on the Irish Sea, in Lancashire, where the unfathomable accents seem to be a blend of North Country and Glaswegian brogue, a Glaswegian being a Glassgow resident who each July drives four hours to Blackpool for fun and frolic. Blackpool, gaudy and vile, is what would happen in the U.S. if a tornado lifted up the worst parts of Disneyland and dropped them on Atlantic City.
Blackpool has what is called the Golden Mile, a promenade along the muddy beach that starts near the Blackpool Tower, a failed replica of the Eiffel Tower and ends somewhere near a plaster statue of an unidentifiable nursery rhyme character, or an ice-cold mist, or both. In between are row upon row of little glass-fronted hotels, shooting galleries, pleasure piers, gift shops specializing in nothing for everybody, pubs catering to the shot-and-beer crowd, indoor swimming emporiums -- the last person to swim outdoors in Blackpool was undoubtedly in a shipwreck -- an array of kiddie rides, candle-carving exhibitions, bingo halls and cabarets featuring such well-known acts from the show-biz world as "Mr. X, the Mystery Singing Star."
In addition, you can bet on pro wrestling in Blackpool, but no visiting American that anyone could track down had fancied Big Daddy and Kashmir of India in a tag team match at 3 to 1 over Cyanide Sid Cooper and Killer Karl, Krammer. At night, when all Blackpool's neon is aflame -- "Slots of Fun;' and so on -- it becomes a little bit of Heaven for the vacationing lorry driver, and every American's worst nightmare.
However, if one has a fondness for red brick, the nearby villages of St. Annes and Lytham are rather quiet, respectable and engaging. Friendly tearooms and shops and pubs abound, reeking with charm, hidden in nooks on narrow streets, all this surrounding the fabled golf course where Bobby Jones won that British Open of 1926. Royal Lytham is a patch of emerald polka-dotted with bunkers in a prison of red brick. You wouldn't know it was a links, actually, unless someone from the Royal and Ancient assured you of it, for the course is more than a mile from the sea. It is the only British Open course that is not within sight of any water, which leads to the theory that in Lytham's case, a links is any golf course built on land reclaimed from the penny arcades.
The layout itself is highly unusual in a couple of respects. It is the only known championship course used for a major, on either side of the Atlantic, that begins with a 206-yard, par-3 hole, hereafter to be known as Lanny Wadkins' hole inasmuch as he holed out his 5-iron for an ace at the start of the third round. Lytham is also the only layout that ends with six consecutive par 4s, all of them looking very much like the same hole to the non-architect. Some of the holes are longer than others, of course, and they are nearly always played into a prevailing wind that would knock down any human beings who weigh less than a sausage roll, so that on most given days at least two of these holes are unreachable in two shots and in reality become par 5s.
Officially, par at Royal Lytham is 35-36--71, but on a day like Thursday's opening round this year, when the gales reached 40 miles per hour and were col.d enough to spread a pneumoma epidemic through the grandstands, par was more rea~onably assessed to be in the neighborhood of 75. It was the most murderous day to try to play or watch golf in the memory of anyone who had been observing British Opens for two decades or more. Cold, damp, muddy, soggy', misty, rainy, windy. All this made Ballesteros' four-under 67 even more remarkable. It was closer, given the deplorable conditions, to eight under, and he even had two penalty strokes!
In this championship, Seve got off to the kind of start that golfers only dream about, by birdieing the first three holes. He was out in 30, five under, as he played downwind. It was on the inward half, as they say it in Britain, that he went wild on his 2-iron second at the 14th and on his drive at the 18th and found the bushes and had to declare unplayable lies and then still, miraculously, cut his losses with bogeys.
As Seve continues to master the English language, he struggles for more and more of what he would consider to be humor.
Of his two unplayables, he said, "Daniel Boone could not have recovered from there."
The pressroom roared with laughter at this, which did not speak well for many of its inhabitants.
Seve's round was all there was to talk about for three days, other than the horrendous weather, which guaranteed that this would be the longest British Open ever contested, not to end until Monday.
[Ljava.lang.String;@38c760eb
In past British Opens, there had been many days far worse than Saturday's constant drizzle, which caused the R&A to abandon play. For some curious reason, there were three greens at Lytham that wouldn't drain, nor did the R&A have any squeegees on hand, nor had the R&A taken the precaution to spot the pins in high places on the greens so that play could have continued despite the weather. Frankly, it all seemed like an ugly plot to keep everyone in Blackpool an extra day.
It was a swell week for the Americans, as Tony Jacklin had promised. Jacklin, the man who has captained two straight European Ryder Cup victories over the Yanks, said before it all got started at Lytham that the Americans had "no chance." This infuriated many Americans, pros and press alike, but Tony knew what he was talking about. Our guys don't seem to have enough golf shots for the English and Scottish courses anymore. We don't know how to hit the bump-and-run shots, or play underneath the wind, because in the States we don't have to. It's all perfect fairways and soft greens, more or less a putting contest.
Our No.1 hope, Curtis Strange, the U.S. Open champion, arrived jet-lagged, having just competed in a tournament in Williamsburg, Va., and played like it in Thursday's opening round, posting a 79. Much to Curtis' credit, however, he steadied himself and fired rounds of 69, 69 and 68 to finish in a tie for 13th. He just needed to arrive a day earlier. Naturally, it was an American who got the worst deal in the abandoned play of Saturday. Hubert Green, five over through the first two rounds, began Saturday 3-3-3-3-3-4-4, five under through the first seven holes. He was even par, very much back in the chase, but then the round was canceled altogether.
Craig Stadler was our next hope. He began the delayed third round in third place, at two under par, and he was in the crucial final pairing with Ballesteros and Price. After nine holes, Craig was still in fifth place, a contender. But this is when he made a double bogey and triple bogey and soared to a 44 on the back side and an 81 for the day. Somebody could put together a very funny comedy cassette of Craig's expressions and shrugs and slumps and club-pitching on those last six or seven holes.
Nor did Jack Nicklaus get treated with much respect. Jack received what may have been his earliest tee-off time in 27 British Opens on Thursday: 7:48 a.m., which might as well have been asking him to play golf in a Norwegian blizzard. Worse, he had a terrible stomach disorder and had spent the night on his bathroom tile. Somehow, Jack shot a 75, and later said, "The longest walk' at Lytham was from my bathroom to the first tee."
Nicklaus felt better in the second round with his 70, but still he got no respect. When he came to a big puddle of casual water on one hole, his playing partner, Englishman David J. Russell, said: "Didn't you use to walk On those?" Jack just answered: "Yes, but that was a long time ago." Nicklaus finished with another 75 and a solid 68 for 25th place.
At the British Open the bookmakers now will make you a price on low American. (In the old days, low American meant the champion.) But who among the American visitors would have bet much on Fred (Boom Boom) Couples or Gary Koch? They wound up tied for fourth place, sharing the honor. Trivia question: What American pro has twice been low American in the past three British Opens? Answer: Gary Koch, who tied for sixth in Greg Norman's victory at Turnberry, and then equaled Couples' final-round 68 at Lytham to tie Fred, even though Couples did it slightly more spectacularly by making back-to-back eagles.
Gloating by the locals reached levels unprecedented since the breakup of the British Empire. Some typical headlines in the so-called popular press: "Britain 1, U.S. 0," "Yanks mauled," "Woosnam: I'll whack the Yanks;' "We'll tank the Yanks again," and even the long-winded "We Used to Shake When We Stood on the Tee with the Yanks, Now Nicklaus and Watson Are Shaking." All this wonderful jingoism positively maddened the Americans. Even Anglophile Ben Crenshaw said in exasperation on Monday: "I've had enough. I can't wait to get back to the good ol' USA."
And so Lytham remains a graveyard for American pros, a place where you have to be a Spaniard, a South African, an Australian, a New Zealander, or a Brit to win. For the geographically uninitiated, past winners at Lytham include Seve twice, Bobby Locke and Gary Player, Peter Thomson, Bob Charles, Tony Jacklin. Maybe the solution for Americans lies in economics. Back in '26, Bobby Jones returned to his hotel for lunch between the two final rounds. He forgot his contestant's badge when he came back to the course, and rather than argue with the police on the gate, he bought a ticket to get back in.
When the British Open returns to Royal Lytham and St. Annes in five or six years, I heartily recommend that all American contestants pay the extra pounds they would normally spend on cashmere sweaters for a ticket. It could change their luck..