The Loop
Sergio's tree at Medinah gone, but not forgotten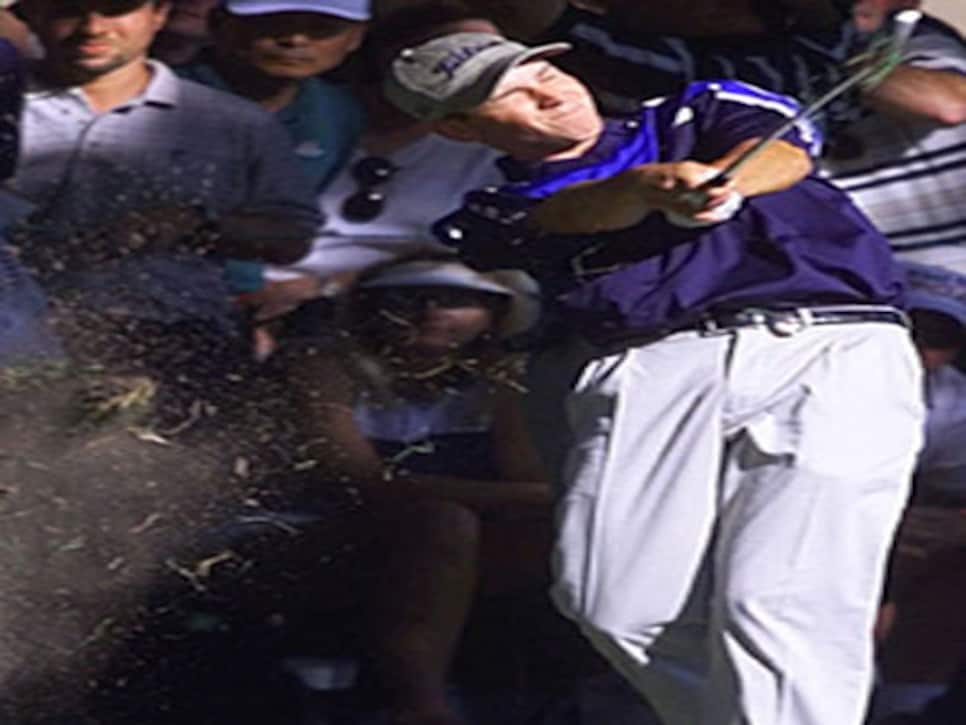 MEDINAH, Ill. -- Members of Medinah CC spent an estimated $3 million renovating its No. 3 Course in preparation for the 2012 Ryder Cup. But perhaps the most noteworthy change at the revered layout where Tiger Woods won the last two PGA Championships contested there was out of their hands.
Disease forced the club to remove about 400 oak trees in the last few years. Among them was a giant oak standing right of the 16th fairway under which Sergio Garcia pulled off one of the more remarkable shots in recent major championships.
"Yeah, it lived its full life, but it was dead, unfortunately. It was a safety hazard, so we had to take it down," said Curtis Tyrrell, Medinah's director of golf course operations, said Monday during festivities marking the one-year countdown to the 39th Ryder Cup.
Pursuing Woods in the 1999 PGA, Garcia sliced his tee shot on the par-4 16th into the right rough. His ball came to rest inches from the base of the oak, partially blocking his view of the green. Rather than taking relief and the accompanying penalty stroke, the 19-year old took a huge swing, spinning out of the shot and closing his eyes as he made contact. The ball found the left side of the putting surface. No sooner had he hit it, Garcia raced up the fairway and leaped to see where it ended up.
Though Garcia finished second to Woods, his shot is unquestionably the most memorable at Medinah, eclipsing even the long birdie putt that Hale Irwin sank on the 72nd hole in the 1990 U.S. Open that earned him a tie with Mike Donald. Irwin eventually won his third Open title in a playoff.
"It was the most recognizable thing on the golf course," said Mike Scully, Medinah's director of golf. "People flocked to it to see it. I'd look out and there would be someone hitting a shot there, which was actually pretty cool that people wanted to do that."
Scully believes, however, that its popularity contributed to its demise. "From 1999 to 2009 probably 10,000 people have tried to hit that shot. Some of our oaks caught a disease, but all that activity and wear around it probably didn't do it any good."
After the tree was removed in late fall, 2009, the club offered a piece of it to Garcia. He declined.
"The competitor that he is, he told us, 'I didn't win.' If he had won, there'd be a part of that tree somewhere in his house, I guarantee you that," Scully said.
So what became of it? Tyrell hinted that it was still on the property, but would not divulge its whereabouts. Scully confirmed that, explaining, "You'll see portions of it spread around Course No. 3, using it for decorative purposes. It's part of our heritage. It's a part of one of the most famous shots in the history of golf. It will always be on property."
(Photo: Jamie Squire/Getty Images)