The Loop
Sergio Garcia's victory in AT&T Byron Nelson a reminder of talent unfulfilled
El Nino is now El Hombre, a man, 36, whose hamstrings would likely discourage any attempt at his replicating the scissor kick with which he, at 19, introduced himself to golf at large at the PGA Championship in 1999.
At that, Sergio Garcia has hamstrung himself often enough already in a career that once promised so much more, one still outside the realm of Hall of Fame consideration.
Garcia's victory over Brooks Koepka in a playoff at the AT&T Byron Nelson on Sunday brought up a reminder of both how good he is and how success has never quite kept pace with his talent.
The victory, for instance, was his first on the PGA Tour in nearly four years and only his second in more than eight years, inconceivably, even with his splitting time between the U.S. and European tours.
Yet it says something that his playoff win at the TPC Four Seasons Resort in Irving, Texas, was his ninth on the PGA Tour, tying Seve Ballesteros for most by a Spanish-born player.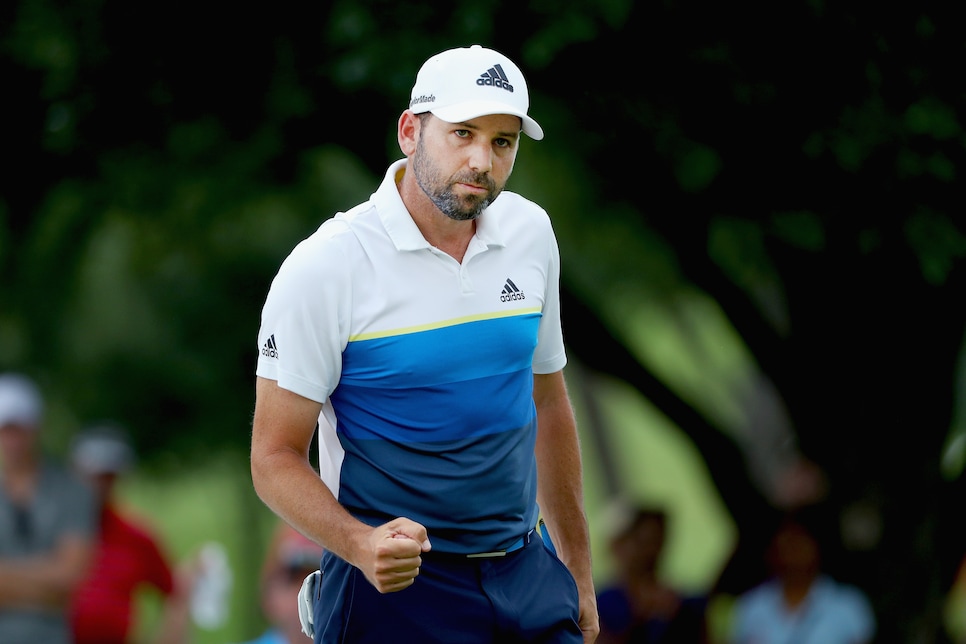 "It's awesome to be up there with Seve who for me means so much," Garcia said. "I won it a la Seve today. I wasn't on today. I played well the last five holes and the playoff. Other than that I was battling with my swing a little bit. I was playing hard and chipping great and made some great putts and it's just great that I was able to get it."
It says even more than he also has 11 European Tour victories, but add those to his U.S. total and it still doesn't add to immortality offered by Hall enshrinement. He's still missing majors.
The good news is that from his perspective better days, better golf, are still ahead. "The goals are still the same, just keep getting better," he said. "I know I can play better. I know that's in me."
Garcia closed with a two-under par 68 on Sunday, good enough to trample the two players ahead of him, neither of whom had their best, either.
Koepka led by two over Garcia before bogeys at 14 and 15 dropped him into a tie. Garcia won when on the first playoff hole, the par-4 18th, Koepka hit his drive into the water, allowing Garcia to win with a par.
"I really didn't have much the last 36 holes," Koepka said. "I had no idea where the ball was going."
Jordan Spieth, meanwhile, hit only 12 of 28 fairways and 20 of 36 greens in regulation over the final two rounds. He began the final round in second, two shots in arrears of Koepka, shot a four-over par 74 and finished tied for 18th.
So rack one up for El Hombre. The scissor kick might be history, but Garcia clearly is not.