The Loop
Sergio Garcia's racist joke more a reflection of utter ignorance than anything else
VIRGINIA WATER, England -- Judged on the sizable amount of evidence the world has gathered over the course of his 14-year career in professional golf, Sergio Garcia is capable of being many things. Emotional. Moody. Immature. Spoiled. Self-absorbed. Pampered. Excitable. A show-off. Those are just some of the more obvious characteristics one can attribute to the gifted 33-year-old Spaniard.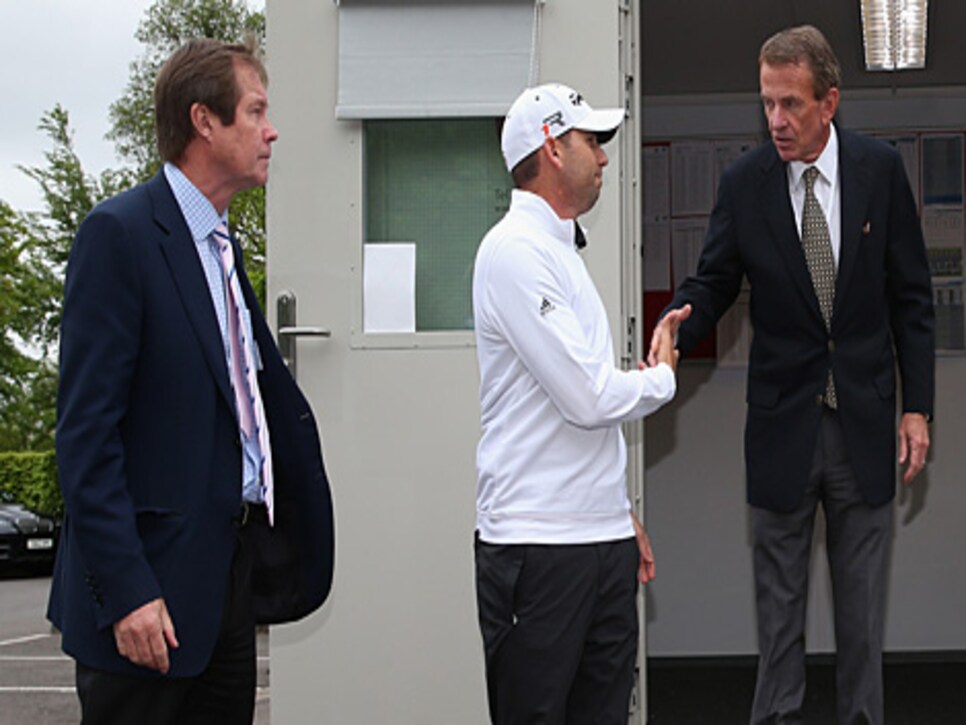 Garcia met with European Tour Chief Executive George O'Grady and PGA Tour Commissioner Tim Finchem on Wednesday. (Photo: Getty Images)
What there has been no indication of in Garcia is even a hint of racism, latent or otherwise. Which is why, even after cracking a clearly unthinking, ill-judged and rather silly "joke" stereotypically linking a black American, Tiger Woods, and the daily digestion of fried chicken, the former Players champion deserves to be rated on his previously unblemished (at least in terms of racism) overall record, not one moment of madness. His lame attempt at humor -- which recalled Fuzzy Zoeller's notoriously intemperate "collard greens or whatever the hell they serve" remarks in the wake of Woods' 1997 Masters victory -- was just that, nothing more or less.
Still, although his brain had clearly been temporarily out-of-order, it didn't take long for the potential and probable repercussions of his actions to dawn on Garcia.
"As soon as I left the dinner, I started getting a sick feeling in my body," he said to a packed press conference one day after what many will view as the ultimate faux pas. "I wasn't able to sleep at all last night. I felt like my heart was going to come out of my body. Today it was difficult to hit a shot without thinking about it. Unfortunately, I said it. I wish I didn't do it but the only thing I can say is sorry."
Which is what he did, repeatedly, throughout his 10-minute mea culpa.
"I want to send an apology," had been his opening line. Followed by, "I didn't mean to offend anyone. I was caught off-guard by the question. But don't get me wrong, I understand that my answer was stupid and out of place. I can't say sorry enough about that.
"Most importantly, I want to apologize to Tiger. I feel sick about it. I'm truly, truly sorry. I hope that we can settle things down and hopefully move on."
All of which, of course, is exactly what Sergio should be saying in the wake of such an ill-advised utterance. But hang on a minute. Before the wave of self-righteousness raining down on this suddenly wretched individual builds up even more momentum, some perspective please. An off-the-cuff comment regarding fried chicken -- while brainless almost beyond belief -- wasn't as damaging or hurtful as Golf Channel's Kelly Tilghman saying Woods' nearest pursuers should "lynch him in a back alley." And, last time I looked, Ms. Tilghman was still on the air.
While Garcia is clearly guilty of crass stupidity, to condemn and categorize him solely on the basis of a single phrase uttered during an adrenaline-charged interview alongside his 2012 Ryder Cup teammates would be wrong. Just as no sensible assessment of a golfer's worth can be made after only one shot or one round or one tournament, the same criteria must surely apply to any assessment of a man's character.
Already, of course, there have been predictably outraged calls for suspensions and heavy fines, none of which will apparently be used as punishment. In a brief meeting after his pro-am round at Wentworth, European Tour chief executive George O'Grady reportedly accepted Garcia's clearly heartfelt apology.
That result will assuredly not be nearly enough to satisfy that growing body of men and women "professionally offended" seemingly by anything and everything. But it is appropriate here. Because of the typically brutal and sometimes uncomfortable honesty with which Garcia responds to inquiries relating to his non-relationship with the world's best golfer, he should be allowed to move on from this latest episode. Indeed, just hours before his ill-fated quip made headlines around the world, Garcia faced the media gathered at Wentworth for the BMW PGA Championship and gave a series of frank answers to questions regarding Woods.
Asked why he "doesn't like" the 14-time major champion, Garcia was refreshingly open. "There's people you connect with and people you don't," he said. "It's pretty much as simple as that. He doesn't need me in his life and I don't need him in mine. Let's move on and keep doing what we're doing. It doesn't mean I cannot play with him."
Such remarks are, perhaps perversely given what followed, worthy of praise. Unlike so many of his contemporaries, Garcia did not take the easy way out. He did not hide behind the depressingly familiar mixture of obfuscation and blatant lies that these days pass for "comment." Instead, he told us exactly what he thinks. And it is his forthrightness that makes him deserving of a break. Were his dislike of Woods based on skin color rather than a simple personality clash, he would surely have revealed himself long before now.
"To even suggest Sergio is racist is ridiculous," agrees one prominent European Tour professional. "I've played with him many times and never has he even come close to saying anything that would suggest he holds views like that. Yes, he can be a bit of an attention-seeker, especially in front of a crowd. Which is why he sometimes speaks before he thinks. But that's hardly a crime is it?"
The greater sadness here is that Garcia running off at the mouth in such a high-profile manner will do nothing to dispel the widely held image of a cosseted world of golf largely populated by a distasteful collection of closet racists, complimented only by those who are openly misogynistic. Indeed, that is a notion sometimes hard to argue with.
It is, after all, still less than 40 years since the first black man played in the Masters. Only just over half a century ago the PGA of America removed the caucasian clause in their membership policies. And, until this year when Augusta National welcomed two female members, the PGA Tour blatantly ignored its own rules regarding the sanctioning of tournaments held at clubs discriminating on the grounds of color, creed or gender. None of the above, it goes without saying, did the game any credit.
So let's be clear. For inadvertently and thoughtlessly perpetuating those shameful but now hopefully outdated stereotypes, Garcia deserves criticism. But only for that. To those who would have him banished from the game for mere stupidity, Londoners have an appropriate phrase: Do me a favor mate.