The Loop
Sergio Garcia makes seven birdies in a row, replicates Tiger Woods' second-round 61 from a year ago
AKRON, Ohio -- Tiger Woods rode a second-round 61 last year to a seven-stroke victory in the WGC-Bridgestone Invitational. Sergio Garcia apparently liked the formula so much that he is hoping to copy it.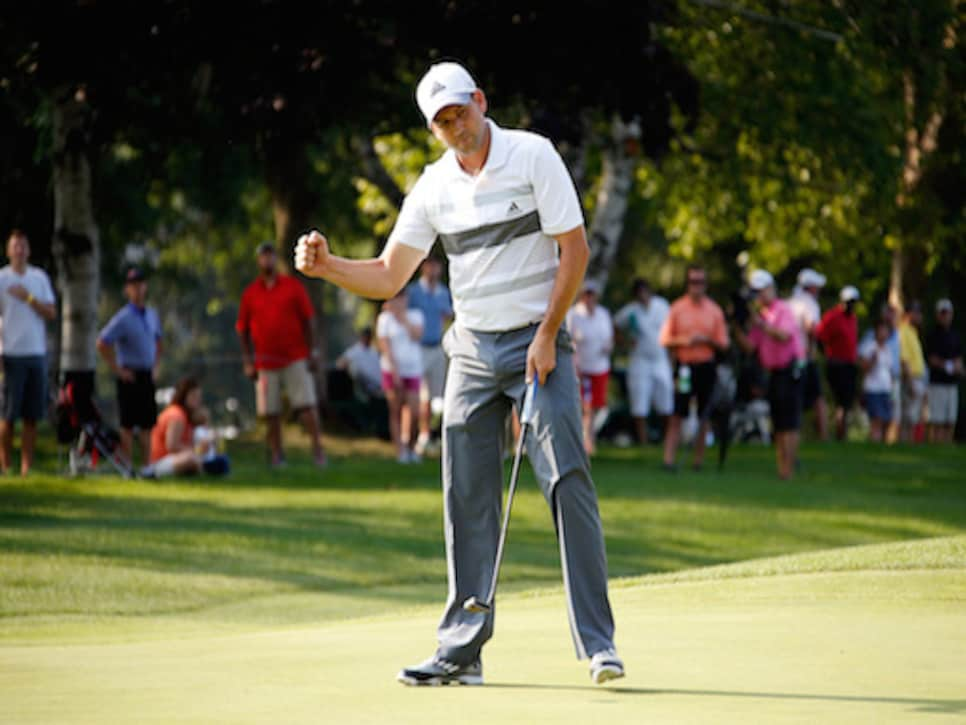 Thanks to seven straight birdies to close his round, Garcia tied the course record with his own nine-under-par 61 at the South Course at Firestone CC and surged to the top of the leader board Friday. Garcia, at 11-under 129, will begin Saturday's third round with a three-stroke lead over Justin Rose.
"It obviously feels great to be able to shoot the course record or equal the course record on a course like this, which, even playing soft, it's not that easy a course," said Garcia, 34, whose previous best round at Firestone South was 64 to open the 2003 edition.
Garcia, who finished T-2 two weeks ago in the British Open at Royal Liverpool, recorded his lowest round as a professional and also recorded his lowest nine-hole score with his inward 27. He actually ended the day with 11 straight one-putt greens starting with a 2 1/2 footer at the par-4 ninth. He birdied every hole on the back nine except for the 11th, which he parred by getting up and down from behind the green.
His birdie run began at the par-3 12th with a putt of 1 feet 5 inches, and he needed to convert just a three-footer at the 13th. On the final two holes he made birdies of 25 and 21 feet, respectively.
The inevitable question arose about Garcia, who has 25 combined wins on the PGA Tour and abroad, finding the zone.
"To me, that's ... I don't know. I don't even know what 'the zone' is," Garcia said with a smile. "The only thing I can tell you is I was feeling very comfortable. I was obviously very calm. I could see what I wanted to do pretty much almost every shot. And there I could see the lines in the putts quite well. So I don't know if it was the zone or what it was, but the only thing I can tell you is I was obviously feeling very comfortable and very calm."
Garcia tied the course record shared by Woods, who also did it in 2000, and Jose Maria Olazabal in 1990 in the World Series of Golf. Garcia admitted thinking about his fellow countryman after posting his score.
"Yeah, it came to my mind, obviously," Garcia said. "Tiger's done it. Jose's done it. I don't know who else has done it here. But I'm thrilled to be a part of that group, and hopefully I'll be able to play well again tomorrow."
Olazabal followed up his first-round 61 with a 67, while Woods backed his up with 67 in the third round in 2000 and 68 last year.