News
Sergio Garcia was a hard man to kill in Austin, and may be even harder at Augusta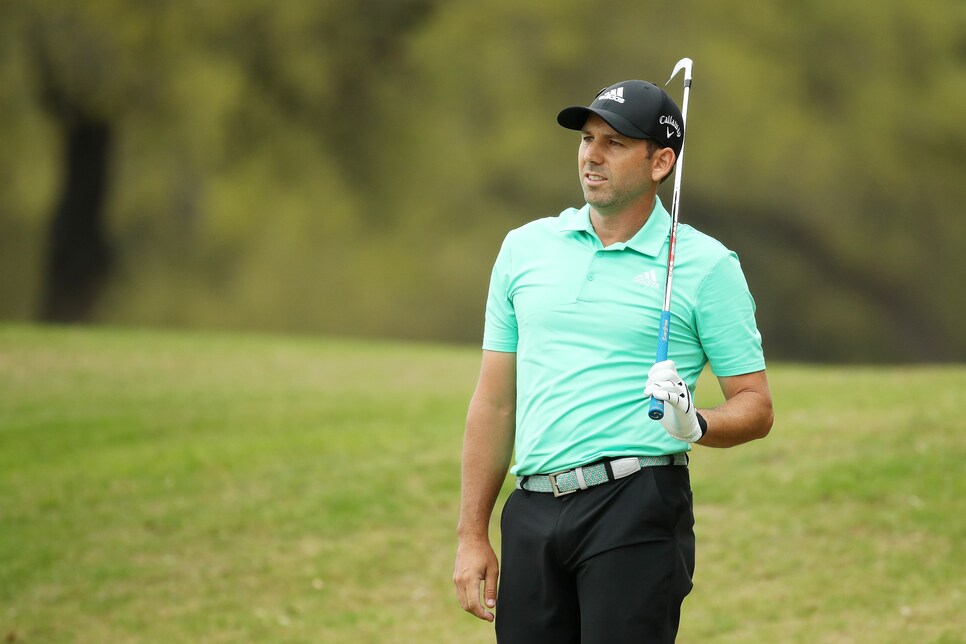 AUSTIN — Kyle Stanley just accomplished what Shubhankar Sharma, Dylan Frittelli and Xander Schauffele could not—he actually held on to a lead against Sergio Garcia. The Spaniard is finally beaten in the WGC-Dell Technologies Match Play, but he didn't go easy. Not in the group stages, where he trailed each match as late as the 11th hole, and came back to win all three. And not Saturday, where he turned a 3-down deficit into 1-down with five holes to play, and nearly made Stanley the fourth straight victim of a late comeback.
It was Sergio's short game that finally let him down on the 14th, when he and Stanley both drove over the green. Stanley's pitch was solid, stopping six feet from the hole, but Sergio misjudged his own effort and ended up 20 feet away. Stanley made his birdie to win the hole, and though Sergio won the 15th to return to 1 down, another iffy pitch on 16 left him with an 11-foot birdie putt that he missed by inches. When Stanley buried his 10-footer, the match—and Garcia's tournament—was effectively over.
This weekend was not exactly a unique situation for Sergio, who has a long career of playing close matches that come down to the wire. He's been successful, too—it would require about 10 hours of research to find out how many true back-nine comebacks he's had, but with a little shorthand, we can establish without much difficulty how he fares in close matches. In singles duels that went to the 18th hole or beyond, Sergio has amassed a record of 14-8-1. For what it's worth, his career record in the same scenario in pairs matches is 12-8-1.
What is it that makes Sergio so adept in these situations? It would be easy to reach the simple conclusion that he's a clutch player, but before last year's career-defining Masters win, he was known as anything but a reliable pressure performer—at least in stroke play events. I caught up with him in the parking lot after his loss to Stanley this afternoon, and posed the question two different ways. Unfortunately, the answers to these mysteries sometimes don't sound especially profound, and often it's because the truth itself isn't very profound.
"No, it's quite simple," he said. "You just keep at it. You just keep pushing and keep believing that you can do it."
Okay, but is there something special about his particular style that makes him more resilient than many of his peers?
"No, don't get me wrong," he said. "I don't enjoy that. I'd rather be 2- or 3-up on the front and play the back like I've been playing it, and win 5 and 4, but unfortunately I didn't manage to do it all week."
So he didn't quite see what I was after, and it's never easy to badger a player after he's just lost—two questions was about the extent of what I could get away with before he and his agent and the other reporters would start to look at me with more than just a hint of annoyance. Nor could I ask Kyle Stanley, who like most other winners in the morning session declined all media appearances in favor of eating and preparing for his quarterfinal round against Justin Thomas. But even if the atmosphere wasn't conducive to that type of discussion, it may be that the answer he gave was about as deep as it gets. Sergio is a natural fighter, and it may even be that he unconsciously gravitates toward dramatic situations. The flip slide of his skill under pressure in match play singles is his inability to make things easy, and we've seen the consequences of that in the majors for the better part of two decades. Maybe the minimized damage of a bad hole in match play is a sort of comfort—a disaster can only cost you a hole, not a tournament, and therefore it's easier to maintain a sense of optimism and even aggression.
That said, Sergio broke through the final barrier by winning the Masters last season, and that removes a significant pressure blockage from his brain. Never again will he have to listen to a Ryder Cup crowd heckle him for never winning a slam, and never again will we have to wonder on the back nine if he's about to blow another opportunity. It should give him a measure of freedom in 2018, and as we've seen over the past month, his form is solid. Top-ten finishes at the Valspar and WGC-Mexico, a win in Singapore, and now a gritty fight to make the knockout stages in Austin all bode well for Augusta. Tiger Woods was the last repeat winner at the Masters, 16 years ago, but though Sergio has walked in the predictive shadow of favorites like Phil, Bubba, Spieth, Rory, and Tiger himself, there's a better chance than many think he'll win his second green jacket next month.