The Loop
Is Garcia ready to break through at Augusta?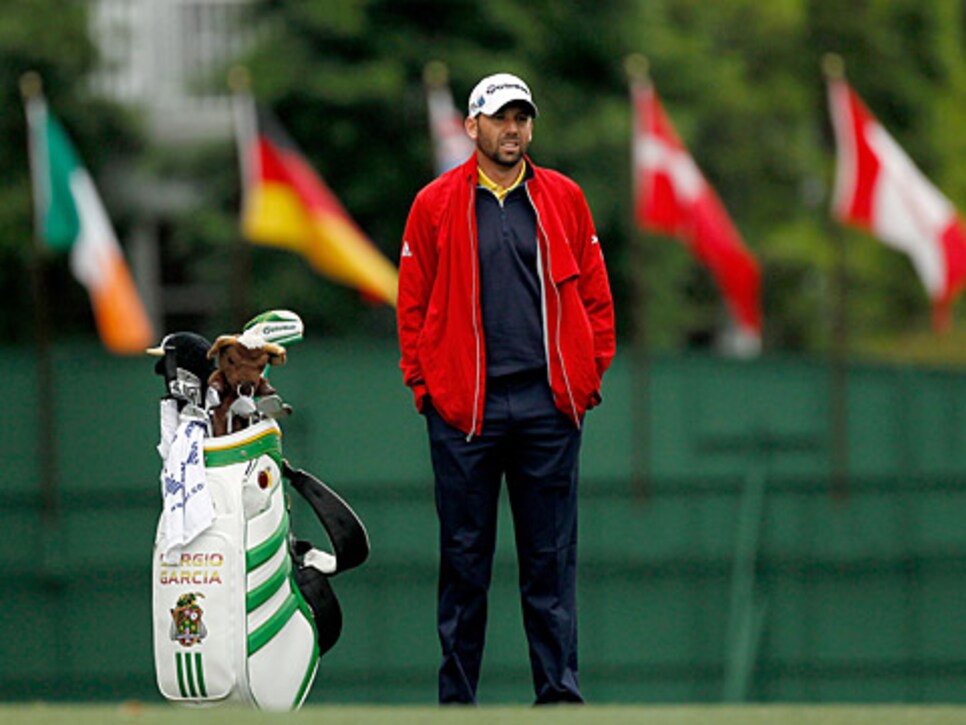 AUGUSTA, Ga. -- A reporter asked Sergio Garcia which of the golfer's fingers was bothering him.
"This one," Garcia said, flashing a mock obscene gesture with his left middle finger to roars of laughter Friday afternoon in the interview room at Augusta National GC.
For a change, despite his infected fingernail, birds of a different sort weren't rare for Garcia at the Masters.
The Spaniard had six of them en route to a four-under 68 and a 36-hole total of 140, one stroke behind the leaders heading into the weekend. Midway through the major championship that has been the most frustrating in a career full of Grand Slam disappointment, Garcia is in great position to break his 0-for-53 drought in the majors.
Not that he was bubbling with confidence. "It's the one that I have done the worst [in], so probably," the 32-year-old said when asked if the Masters was the major he felt he had the least chance of winning. "I don't know."
Still, as Garcia noted, Augusta National isn't just about second shots and the short game anymore. Thanks to extensive changes over the last decade, tee shots are important too, and that is good for Garcia, regarded as one of the best drivers of his era.
"Every single shot out there is testing," Garcia said. "This course, before all the changes, it was mainly about the approach shots to the greens, and everything around the greens and on the greens. Now, you have to drive the ball. The fairways have gotten very narrow. There's a lot of trees that didn't used to be there. It just becomes very, very difficult."
Although Garcia has won 10 European Tour events and seven tournaments on the PGA Tour, his description of Augusta National is also appropriate for his quest to win a major championship. Garcia, who burst on the scene by giving Tiger Woods a scare at the 1999 PGA Championship, lost a playoff to Padraig Harrington at the 2007 British Open and was T-2 at the 2008 PGA Championship. He has top-10 finishes in almost a third (17) of his major attempts, but only two of those are at the Masters: He was eighth in 2002 and T-4 in 2004.
The last five years Garcia hasn't factored at Augusta, missing the cut twice then carding finishes of T-38, T-45 and T-35. That trio of mediocre results in 2009, 2010 and 2011, however, came after promising halfway efforts each year. But he has had the Saturday blues, with rounds of 75, 76 and 75. Last spring his third-round downward spiral started on No. 9.
"That's a major championship," Garcia said. "It asks for everything you have, and if you are a little bit off and you lose a little bit of confidence, it can cost you." Two-time major champion Angel Cabrera, playing in the group with Garcia that day, tried to console him.
"It was just a nice talk," Garcia said. "Obviously at the time it was nice to hear because it wasn't a great moment for me. But you know, hopefully it won't happen this year."
Although Garcia broke a winless period with two victories in Europe late last season, his ability to break through on golf's biggest stages is another issue.
"I don't know if I am ready to win," Garcia said. "I'll see. We'll see. Depends on how I play tomorrow, and then it depends on how I go out there and play on Sunday. I wish I could tell you I'm ready to win, but I really don't know."
A reporter asked Garcia what he thought was the ideal temperament for golf. "I'll tell you when I find it," Garcia said. "I think that's the million-dollar question."
If Garcia is able to parlay a good first two days into a Masters win, money will be the least of his rewards. He would be able, finally, to hold up a different finger with a different, wonderful meaning.