News
Sergio Garcia had quite a spicy take regarding Nick Watney's positive COVID-19 test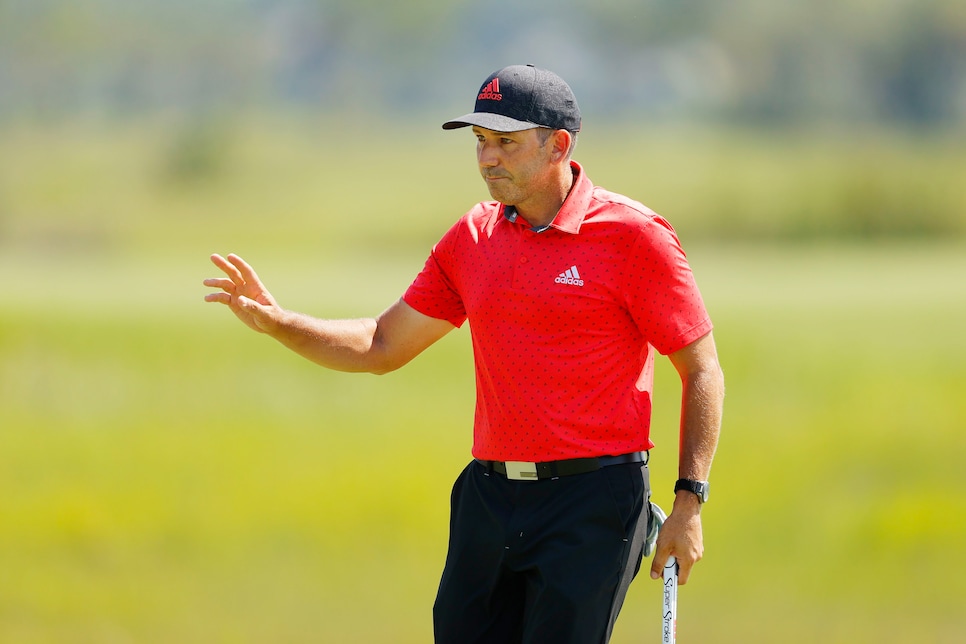 Sergio Garcia waves after a birdie on the 18th hole of the third round of the RBC Classic.
Kevin C. Cox
You know the cliché: It couldn't have happened to a nicer guy. Sergio Garcia believes this age-old adage applies to the current plight of Nick Watney, who on Friday became the first PGA Tour player to test positive for COVID-19.
Watney, per the Tour's protocol, was forced to withdraw from the RBC Heritage and will now have to self-quarantine in South Carolina for at least 10 days. It's a brutal situation, and Garcia certainly feels for him.
Had it been someone else, perhaps someone "more deserving," it seems Garcia would feel differently.
"I felt terrible for Nick because he's probably one of the nicest guys on Tour," Garcia said after shooting 65 on Saturday. "Unfortunately, it had to happen to him. So there's a lot of other people that probably deserved it a lot more than him, and he's the one that got it."
Garcia did not, unfortunately, elaborate further as to which PGA Tour player deserves COVID-19 more than Watney.
Garcia also mentioned that he gave Watney a ride on his private jet from Colonial to the Heritage, and that having shared an enclosed space with him so recently concerned him.
"I was a little bit afraid because, obviously, we knew—I gave him a ride on Tuesday, but when we landed on Tuesday, we got tested. We were both negative. So it was all good. Then I was surprised to hear that he tested positive two days, three days later. Obviously, I got my test done yesterday, and I was negative. But it was about 4 1/2 hours of waiting, very anxiously, hoping that it was negative because, obviously, after missing the cut last week by one and this week finally playing nicely in the second round and being in the middle of the pack, if I would have given positive, then I wouldn't be able to play on the weekend, and I would have been very, very disappointed.
"Nick is unbelievable. He's a good friend. He was very worried about me. He sent me several texts. I talked to him. He must have said sorry to me probably 25 times."
Again, we're just here wondering which player Garcia had in mind when he said others deserve it more than his buddy Nick Watney.