The Loop
Sergio Garcia plays badminton and other things we learned about the 2008 Players champ on Thursday
PONTE VEDRA BEACH, Fla. -- Sergio Garcia shot a first-round 67 to thrust himself back into contention at the Players. Afterwards, the 2008 champ was particularly chatty during his post-round interview. Here are five things we learned about Garcia:
He still doesn't think he was the bad guy at last year's Players
Before Garcia's "fried chicken" remark regarding Tiger Woods last year, he was involved in a smaller controversy at TPC Sawgrass when he blamed a bad shot on Woods causing the crowd to move. Garcia got most of the criticism for his complaining and the way he handled the situation, but doesn't believe he was portrayed fairly. "I didn't think I was a villain," he said.
He thought about last year's meltdown when he got to No. 17
While Garcia said he's moved on from the Woods incident, he admitted his final-round meltdown on TPC Sawgrass' 17th last year is still on his mind. "It did cross my mind; I'm not going to lie to you." But he added, "I was trying to be positive. It's a new year, let's improve on it."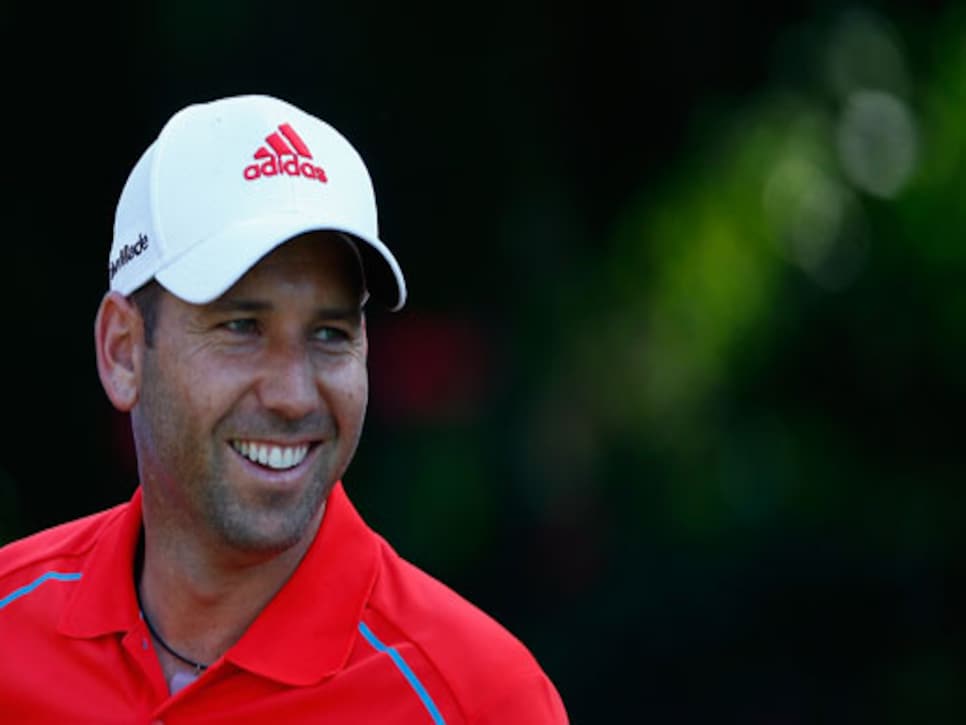 Sergio Garcia was (almost) all smiles following an opening 67.
After missing the cut at the Masters, Garcia took some time off from golf and took a trip to Europe with his girlfriend, Katharina Boehm. In Switzerland, the two hiked and played badminton. Who wins? "At the moment, she does . . . But I'm coming back."
He also has confidence in his golf game
Garcia famously said he wasn't good enough to win a major after a disappointing third round at the 2012 Masters. But if he actually felt that way then, he doesn't anymore. "I think that when I'm on, I can definitely win anywhere. I think I've proven that. It's just a matter of getting that week where you feel good, where you feel comfortable, where things go your way, where everything feels relaxed, everything feels at ease, and you manage to do things the way you know how to do them. I'm still waiting for that week."
When asked about seeming to enjoy his time at the Kids Zone at the Players on Wednesday, Garcia gushed about children. "I've always enjoyed kids. . . . Kids are going to tell you everything exactly how it is. They're not going to go around any corners. They're going to go straight at you. I enjoy that, and I think they enjoy me, so that's great. Hopefully, when I have my own, hopefully, they'll be the same."