The Loop
Sergio Garcia makes a bogey, blames... Tiger Woods?
PONTE VEDRA BEACH, Fla. -- Area thunderstorms delayed play at the Players for nearly two hours on Saturday afternoon, but the break did provide a bit of entertainment. Sergio Garcia sat down with NBC/Golf Channel's Steve Sands for a quick TV interview and seemed to blame Tiger Woods for the bogey he made on No. 2.
On the hole, Garcia was on the right side of the fairway, while Woods was in the left trees. Unable to see each other, Woods pulled a fairway wood from his bag as Garcia prepared to go for the green in two. The choice prompted a cheer from the fans encircled around Woods and when Garcia blocked his shot into the right trees, he looked over to Woods' area in disgust.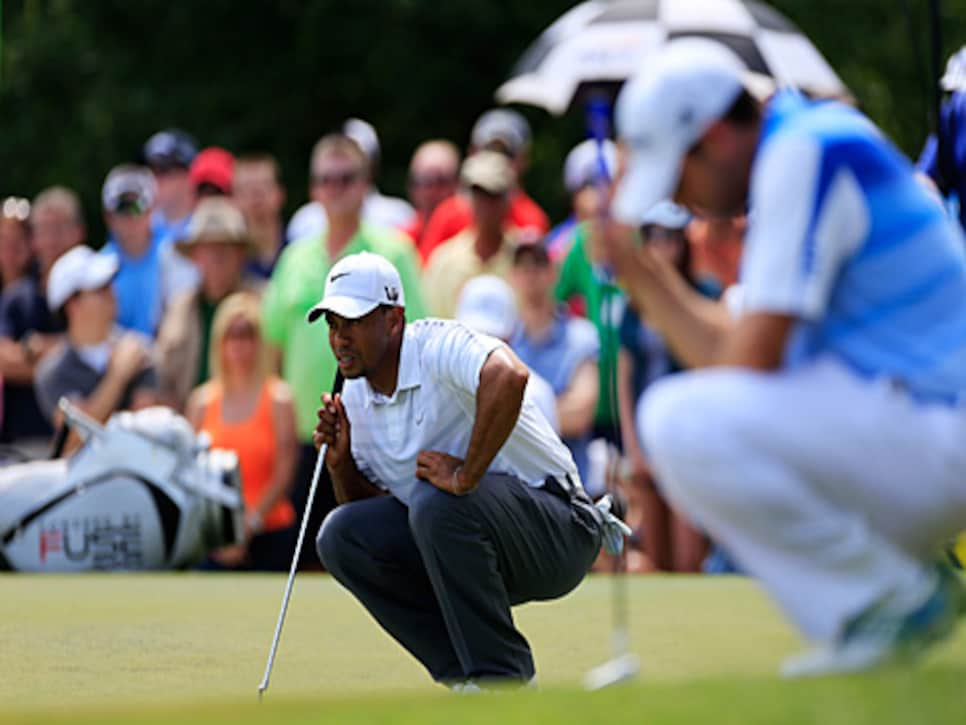 Here's the transcript of the interview, with the juicy part starting on the third question:
*Steve Sands: "How difficult was it on the first six or seven holes for you guys?" *
Sergio Garcia: "Well it was quite breezy.  It wasn't very easy but I felt like, for the most part, I played quite nicely.  I gave myself a good amount of birdie chances.  I hit some nice putts but unfortunately I didn't manage to make any of them. Overall, it is a tough golf course.
Sands: "We saw some low golf scores the first couple of days, do you see more low scoring again this afternoon when we do resume play?"
Garcia: "Well it depends.  Depends on the weather and what is going to happen, and how much it is going to rain.  It is going to make the golf course much softer, obviously.  We'll see if the wind blows back the way it was blowing.  It was blowing from a different direction, so that made it a little bit tougher."
Sands: "You had a par at the first and then had a nice drive with a 3-wood on the second hole and then you looked to the left with a second shot that went way to the right.  Did you hear something in the crowd?"
Garcia: "Well obviously Tiger was on the left.  It was my shot to hit.  He moved all the crowd that he needed to move, and I waited for that.  I want to say that he didn't see that I was ready.  But you do have a feel when the other guy is going to hit.  Right as I was on top of the backswing, I think he must have pulled a 5-wood or 3-wood out of the rough and obviously everybody started screaming, so that didn't help very much.  It was unfortunate.  I might have hit it there if nothing happens, you never know.  If I hit a good shot there and make a birdie, it gets my day started in a bit of a different way.
Sands: "When you have to deal with adversity out on the golf course, how do you handle it?"
In case you haven't been watching professional golf for the past decade, these two don't have the friendliest relationship. This latest incident certainly won't change that.