News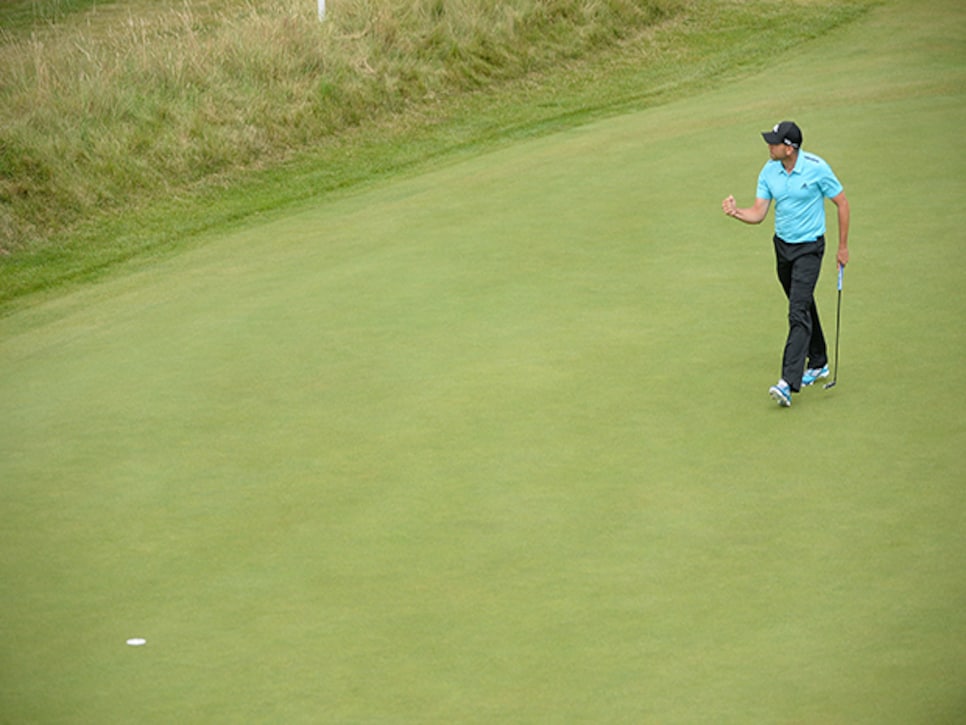 Oh, Sergio. It's been 15 years now. A decade and a half since that enchanting and gifted Spanish prodigy hopped, skipped and jumped along the 16th fairway at Medinah en route to second place behind Tiger Woods in the 1999 PGA Championship. An iconic image, it remains perhaps the most endearing moment of a controversial career, one in which a lot has gone down, quite apart from the 22 tournament wins around the globe and the six Ryder Cup appearances for Europe.
Among other things, we've had the flying shoe at Wentworth, the not-so great expectorating into a cup at Doral, the self-pity when that putt to win the 2007 British Open lipped out and some spectacularly unsporting behavior down the stretch in the 2008 PGA. Let's not forget too, the long-held disdain for Augusta National and those clearly thoughtless but nevertheless racially charged comments last year regarding the aforementioned Woods.
Here's the thing though: Amid all of the nonsense and notoriety, no Grand Slam victories. Not one. Not for Sergio Garcia. As others, many far less inherently talented than he, have triumphed at the highest level professional golf has to offer, the former Players champion has been left competing fiercely for one of the game's most lucrative yet ultimately unfulfilling titles: "Best player never to win a major." And with that label has come inevitable questioning and criticism. Much of it justified, some of it unfair.
"We live in a world that tends to say you are either a winner or a loser," contends sport psychologist Bob Rotella. "Lose the Super Bowl, and you get ripped to shreds. Lose the NBA championship, and you stink. Come in second in a major championship, and you get grief. But the guy who misses the cut disappears unnoticed. In that respect the world is crazy. And, as a player, you have to understand that.
"A better perspective is this: 'I'm one helluva player. Once I break through and get one of these, I'm probably going to get a whole bunch of them.' "
First things first though -- for Garcia, just one would be nice. And he's getting there. While his T-2 in the 143rd British Open at Hoylake -- his 64th appearance in a major -- represented Garcia's 10th top-five finish in any of the four, there were signs that, as he put it, "I'm finally growing up." Certainly, his play over the first 10 holes of the final round was close to immaculate in increasingly tricky conditions. Bogey-free, he laid down three birdies and an eagle in Rory McIlroy's path.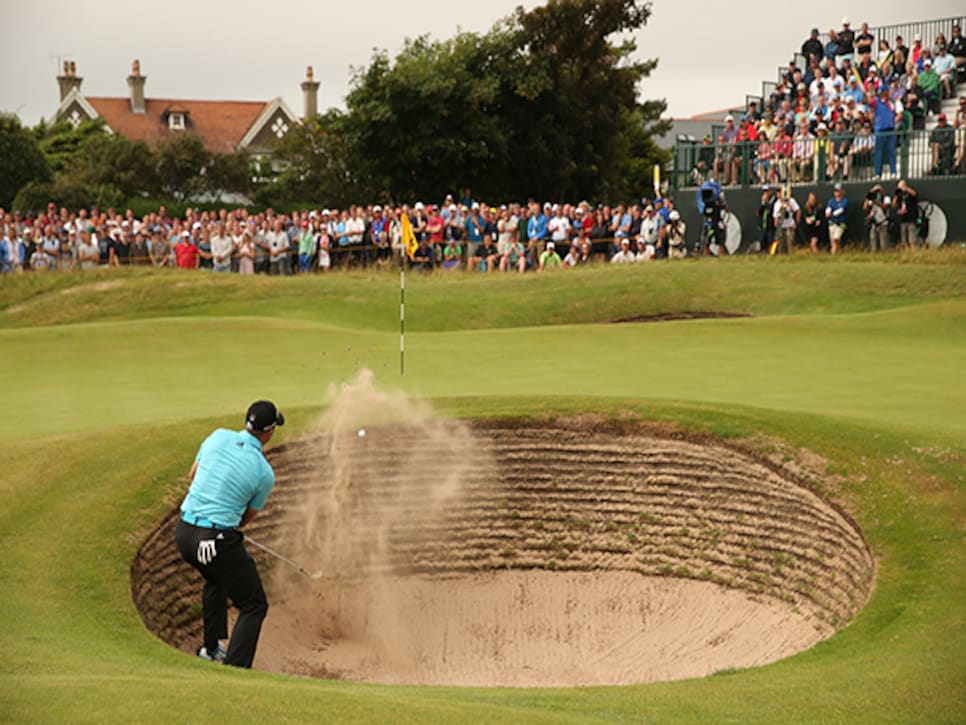 Garcia's Sunday included a costly bunker shot at 15.
Which is not to say doubts do not remain. They do. Cynics will surely point to the badly pushed wedge Garcia deposited into sand on the innocuous par-3 15th -- followed by a nervy failure to escape the hazard in less than two shots -- as stark evidence of a continuing frailty under the most severe pressure.
Perhaps. But it was Garcia, far more than his fellow runner-up, Rickie Fowler, who pushed McIlroy the most during what developed into a fascinating contest over Hoylake's closing nine. Until his nearest challenger's unfortunate tee shot at 15 allowed him some much-needed wiggle room, the eventual champion was a man increasingly on the back foot.
"It is difficult when you are in a situation where you know you can't make a mistake," pointed out Garcia, now ranked No. 5 in the world. "It just puts you under that little extra pressure. And the 15th was obviously a mistake. I was trying as hard as I could. I just got too cute. I could see the ball was on a little bit of a downslope, so I thought if I just get it a couple of yards out of the bunker it would run to the flag and I might even hole it. But I decelerated and left it in there."
The next two greens offered further ammunition to any doubters, in the shape of putts left woefully short when at least controlled aggression was required. And this time Garcia offered explanation rather than excuses.
"When the greens are slower it is tougher to hit the ball hard and keep it on line using a claw grip," he said. "You have to make so much effort just with the left arm. Having said that, I obviously did not hit my best putt on 17. It would have been nice to give that one a better chance. But I'm happy with the way I played overall."
Whether or not he should be quite so openly chuffed by his efforts is the bigger question. On the one hand, this was a closing round of 66 and a week where, on the biggest stage, Garcia (along with Fowler) beat every one of the world's best golfers, apart from the man whose best is, right now, the best of the best. And on the other, he didn't win. Again.
"I'm proud of the way I performed," continued Garcia. "In this championship a lot depends on the wind and the weather. So I didn't go out in the final round with any prearranged plan. I was making my decisions as I went along, depending on what I found when I got to a particular tee. I certainly didn't go out there to play any different than I had on the first three days. My job was to ask Rory questions. His job was to answer them.
"I feel like I did my part. The plan was to get as close as possible and see how he responded to that. It is just unfortunate for me that he responded so well.
"When I made eagle on 10, I was within striking distance. But to me it never felt that close. Unless he made some bogeys on the tougher holes coming in it was always going to be difficult to catch him. He didn't do that. But I gave him a good run. I will take a lot of positives from this."
Which is as it should be. For all his apparent skepticism regarding the proximity of the contest, there was a tangibly antithetic feel and vibe to this latest close call on the Garcia resume. No, he did not play his best after making that eagle from 15 feet on No. 10 -- he missed the next five greens in regulation -- but he hung in there with his short game. Not until the 15th did he drop a shot to par. Unlike his major losses to Padraig Harrington at Carnoustie in '07 and Oakland Hills a year later, this was more a case of someone else winning rather than Garcia losing.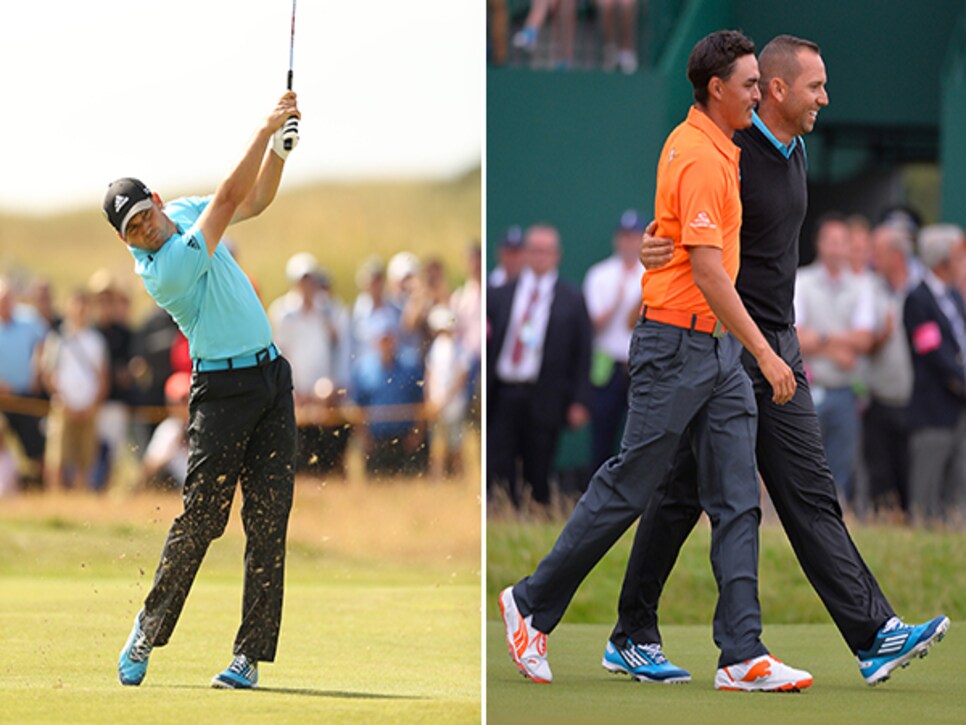 "Everybody looks at second place and wants to make it a negative," he shrugged. "Not at all. All these majors help going forward, even if you don't win. There are always more positives than negatives. I feel like I did almost everything I could. And there was a better player. Sometimes you don't have to look for other things. Sometimes it's just that simple."
Oh, Sergio. Yet always, it would seem, difficult and ultimately disappointing for you. Whatever the ins and outs of what went on these last few days on the Wirral Peninsula, Garcia's long wait for validation and vindication continues.