The Loop
Sergio Garcia breaks his major curse, Snoop Dogg tries golf & John Daly smashes a drive off a beer can
Welcome to another edition of The Grind, where we're still trying to make sense of a crazy Masters week. It began with the No. 1 player – and fittest golfer -- in the world getting hurt by slipping on some stairs (See, mom? Keeping your shoes on in the house is a good idea) and me sipping on some gin & juice with Snoop Dogg. Sort of.
A few (emphasis on few) hours later, I witnessed one of the oddest long-drive contests you'll ever see between Jack Nicklaus and Gary Player (Sorry, Gary, but it wasn't "a tie!"), and a bit after, another back-nine quadruple bogey by Jordan Spieth. But all of that was nothing compared to what happened on Sunday when Sergio Garcia won the Masters. Forget about the Cubs or the Cavs, this is the most unlikely sports curse to be broken in the past 12 months.
Sergio Garcia: In addition to an 0-for-73 record in major championships, Sergio has never been the biggest fan of Augusta National. But he put all that behind him – plus a rough stretch around the turn on Sunday – to finally win his first major. You can't hit four better shots under pressure than what he did in his two trips to No. 18 on Sunday and now he owns the most coveted piece of clothing in sports.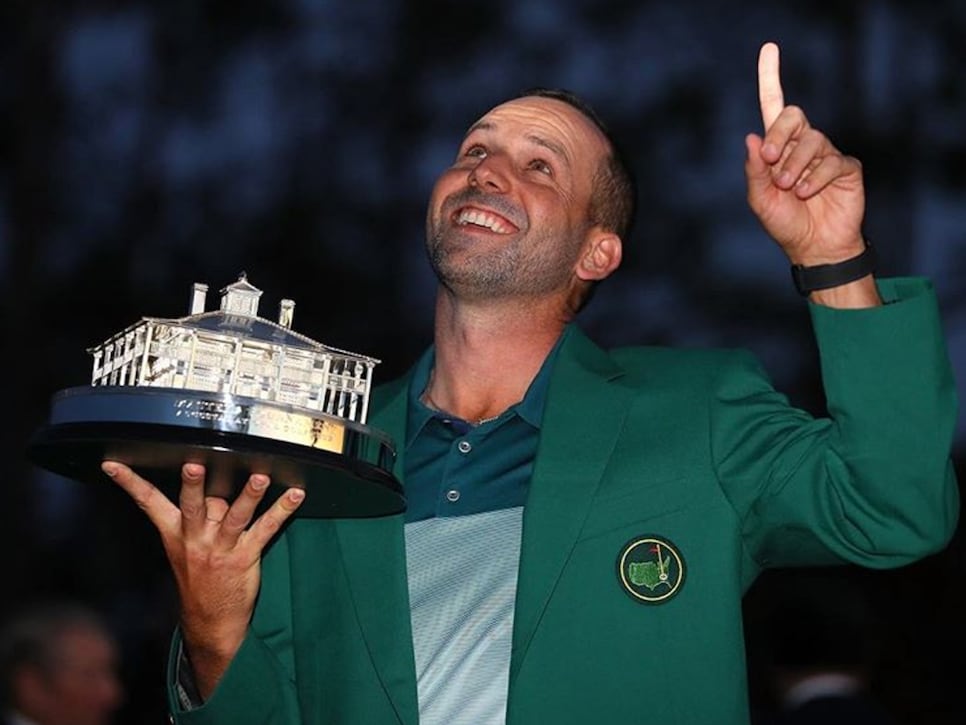 Justin Rose: The Englishman couldn't have come any closer to capturing a second major (sorry, that Olympic gold doesn't count), but he still captured the hearts of golf fans everywhere with a tremendous display of sportsmanship. Rose was all class (So was Sergio) during and after an intense round.
Even after a heartbreaking defeat. And even with everyone outside of his wife (and two random kids I saw sobbing) rooting for the other guy.
The Golf Gods: Garcia has had his share of bad breaks through the years, but this time, it seemed like fate was on his side. His second shot on 13 on Saturday hung on the bank and allowed him to make birdie. His tee shot on 11 on Sunday may have gone into the woods if not for his ball bouncing off a marshal's water cooler. And his ball didn't move enough in the pine straw on 13 to merit a penalty. Thank goodness for the last one. A second straight major determined by a rules controversy would have ruined the week.
The "new" Sergio Garcia: I'm sorry, but the "old" Sergio Garcia doesn't make that par putt on 13. He likely doesn't go birdie-eagle on 14 and 15. OK, so he probably misses those close birdie putts on 16 and 18, but he probably doesn't bounce back to win the playoff. We've never been shy about talking WAGs here, but we think Angela Akins – and her family – deserves some of the credit for Garcia's mental turnaround. Although, she's his fiancée, so technically, she's a WAF.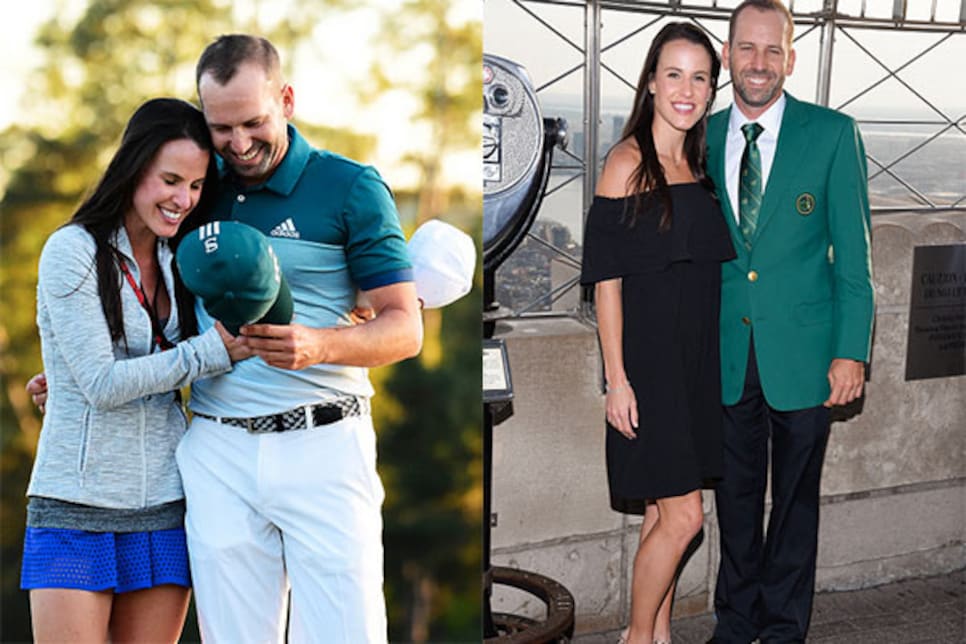 Jordan Spieth's week: There were a lot of positives, but the bottom line is he shot his worst round at Augusta National on Sunday to give him his worst Masters finish (T-11) in four tries. Are we judging him harder than everyone else? Yes. That's what happens when you finish 2-1-2 your first three tries. Also, another quadruple bogey and another water ball on No. 12 on Sunday isn't going to kill the "he's scarred from 2016" narrative.
Rickie Fowler's weekend: Fowler entered Saturday with a share of the lead, but he didn't keep up his strong play once the winds died down. He left with a T-11 and having to face more questions about possibly being the best current player without a major title -- at least, for another couple months.
My Masters bets: You can't pick the winner every year (I'll never forget you, Danny!), but this was particularly rough. Alex Noren and Tyrrell Hatton missed the cut, and Brooks Koepka, Brandt Snedeker and Louis Oosthuizen were never factors. In my defense, I picked all mid-to-long shots. Of course, I missed picking Sergio Garcia at 40/1. . .
That's funny, Tyrrell, because that's basically what I did with the money I bet on you.
ON TAP
The PGA Tour (and Jim Nantz) heads to Harbour Town for the RBC Heritage. The winner gets a tartan jacket instead of a green jacket.
Random tournament fact: Davis Love III has won this tournament five times. That's the same number of total PGA Tour titles won by Tom Lehman and John Daly.
RANDOM PROP BETS OF THE WEEK
-- Snoop Dogg will become an Augusta National member: 1 MILLION-to-1 odds
-- Dustin Johnson will win the U.S. Open: 8-to-1 odds (Actual odds)
-- Dustin Johnson will be more careful in his U.S. Open rental home: LOCK
Jordan Spieth asked his caddie, "What would Arnie do?" Then pulled off a fantastic – and bold shot – in the third round:
And John Daly pulled off a slightly different kind of fantastic shot by crushing a golf ball teed up on a golf can – and then chugging the beer for good measure.
My man Ben Walton – producer of The Grind videos – killed it all week with a camera at Augusta National.
"Well, I don't have to answer that anymore. Now I'll have to answer, I don't know if I'll be the best player to have only won one major (laughter). But I can live with that." – Sergio Garcia on being asked about having to answer questions about not winning a major for so long.
Look, we're all happy for you Sergio, but don't leave your friends hanging!
THIS WEEK IN LEXI THOMPSON MAKING US FEEL BAD WITH HER TRAINING
That's one way to get over a tough loss/rules controversy.
THIS WEEK IN CELEBRITIES PLAYING GOLF
Colleague Ashley Mayo was fortunate enough to play and talk golf with Snoop Doog. Enjoy.
Local Augusta National legend Jeff Knox continued to grow his cult following by playing as a marker – and playing well – with two former No. 1s, Jason Day and Ernie Els. . . . Day recalled a time he didn't play with a marker at the John Deere Classic and said he holds the tournament record for the fastest round (1:55). So, Jason, what's happened with your pace on the course since then? . . . Speaking of moving quickly, if you're flying home from Atlanta the Monday after the Masters, make sure to leave extra time or you might find yourself having to hustle like this:
Side note: Sam still has the biggest roller bag in the world. And finally, the chocolate chip cookies were back at the new media center and they were as glorious as ever: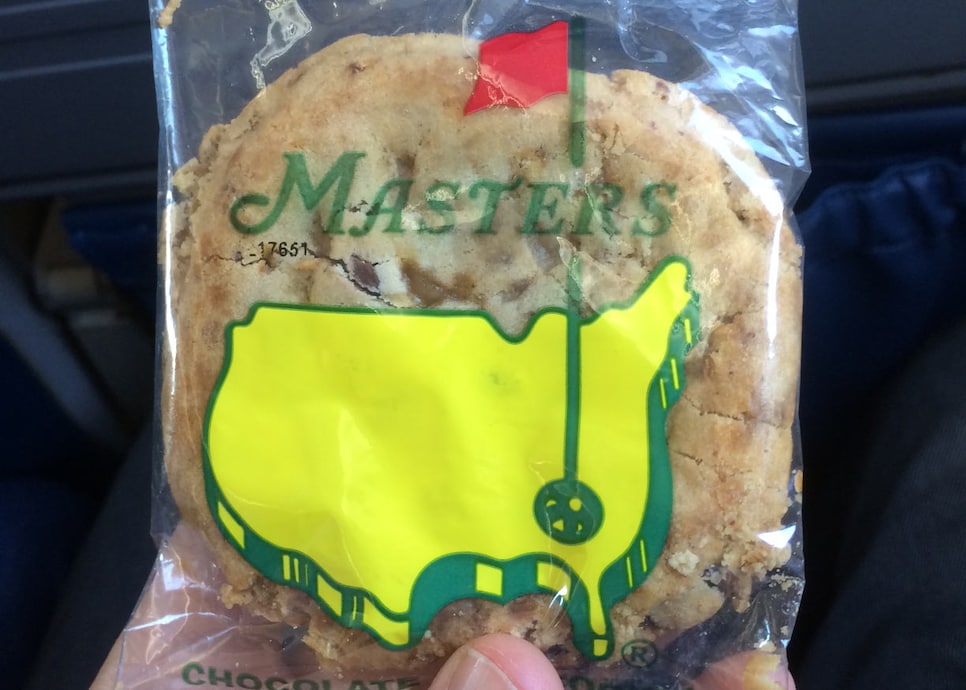 I'd like to say them being individually wrapped stopped me from grabbing them by the handful to eat, but, well, I'm only human.
RANDOM QUESTIONS TO PONDER
Will Sergio Garcia wear the green jacket at his wedding?
Is Jeff Knox looking for a fourth next weekend?
Where can I buy those cookies the rest of the year?