News
Senator accuses PGA Tour of being bought by 'brutal, repressive regime' in Congressional hearing opening remarks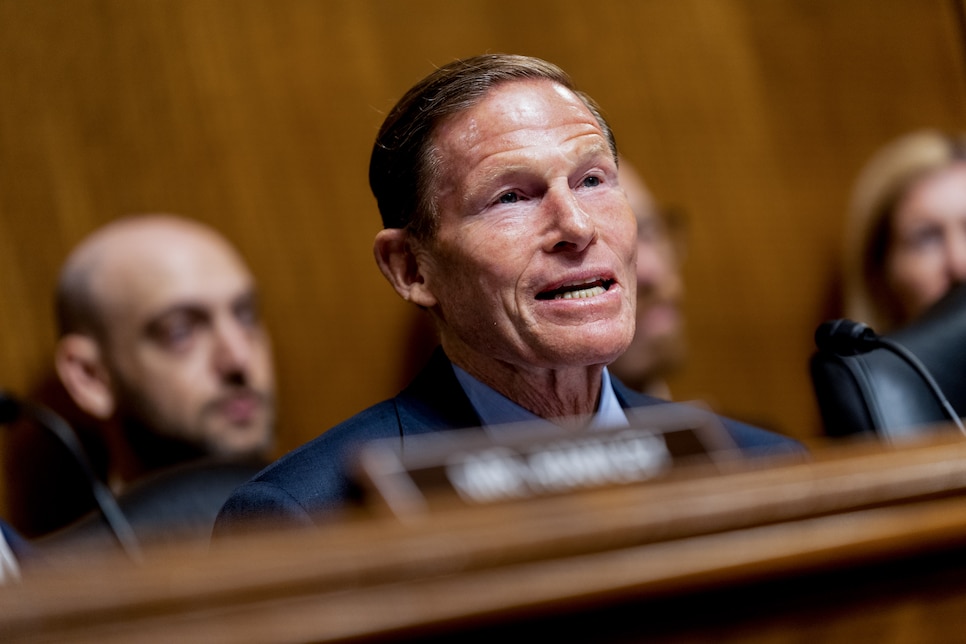 In prepared remarks for Tuesday's Congressional hearing on the proposed deal between the PGA Tour and Saudi Arabia's Public Investment Fund, Senator Richard Blumenthal (D-Conn.) will assert the new alliance shows how a "brutal, repressive regime can buy influence–indeed even take over–a cherished American institution simply to cleanse its public image."
A copy of the remarks were shared with Golf Digest on Monday night on the eve of the Senate's hearing, "The PGA-LIV Deal: Implications for the Future of Golf and Saudi Arabia's Influence in the United States." It is part of a Congressional probe opened by the Senate's Permanent Subcommittee on Investigations in response to the surprising partnership announced June 6 between the tour and PIF. According to Senator Blumenthal the deal "raises concerns about the Saudi government's role in influencing this effort and the risks posed by a foreign government entity assuming control over a cherished American institution." The alliance could be reviewed by the Committee on Foreign Investment in the United States, which analyzes mergers regarding potential threats to the nation's security.
Below are excerpts from Blumenthal's planned opening statement:
"Today's hearing is about much more than the game of golf ... It is about how a brutal, repressive regime can buy influence—indeed even take over—a cherished American institution simply to cleanse its public image. A regime that has killed journalists, jailed and tortured dissidents, fostered the war in Yemen, and supported other terrorist activities, including 9/11. It's called sportswashing.
"It is also about hypocrisy, and how vast sums of money can induce individuals and institutions to betray their own values and supporters, or perhaps reveal lack of values from the beginning. It's about other sports and institutions that could fall prey – if their leaders let it be all about the money.
"Perhaps to state the obvious, sports are central to our culture and society, with huge implications for our way of life, our local economies and communities close to home, and our image abroad.
"We hope that today's hearing will help us uncover not only the reasons for the PGA Tour's sudden reversal and what it means for golf, but to understand what similar investments by authoritarian governments with deep pockets could mean for our country, for our national security, and for the world."
Earlier on Tuesday, PGA Tour COO and acting co-commissioner Ron Price posted an op-ed to The Athletic, writing that the new partnership with PIF is not a "merger" and the PGA Tour will remain intact, with the PIF acting as a non-controlling minority investor in a new subsidiary.
Price and PGA Tour board member Jimmy Dunne will represent the tour Tuesday in Congress. Dunne, along with tour board member Ed Herlihy, facilitated the deal between the tour and Saudi Arabia. Price is serving as co-commissioner in the absence of Jay Monahan, who stepped down from his role following an undisclosed health issue on June 13. Though Monahan announced on July 7 that he will return to his post July 17, he is not expected to be at the hearing.
Saudi PIF governor Yasir Al-Rumayyan and LIV Golf CEO Greg Norman were also invited to Tuesday's hearing, but according to the Senate both declined due to scheduling conflicts. Blumenthal has threatened to strip the tour's tax-exempt status over the Saudi deal, although the proposed partnership between the tour and PIF would be a for-profit entity. Additionally, the tour continues to be under an antitrust probe by the U.S. Department of Justice, and PIF's investment into the tour is expected to fall under this investigation.
Tuesday's hearing is expected to begin at 10 a.m. ET.