News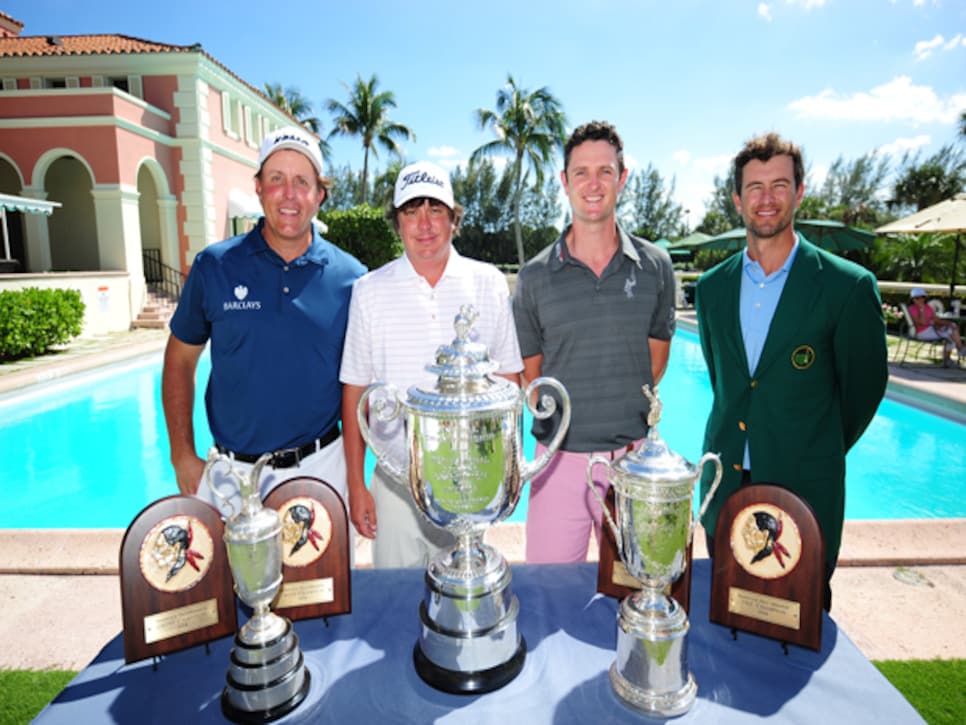 Feels like a major: The March 3 Pro-Member at Seminole GC attracted an impressive field, including 2013's fab four of Mickelson, Dufner, Rose and Scott.
They were boasting about the field at PGA National last week in Palm Beach Gardens, Fla., and rightfully so. With seven of the top nine players in the world, the Honda Classic had the star power of a top-tier tour event.
Seven miles away on the desk of club president Jimmy Dunne at Seminole GC in Juno Beach was a pairing sheet for the one-day Pro-Member tournament, played the Monday after the Honda. The draw included all four major champions from 2013 (Adam Scott, Justin Rose, Phil Mickelson and Jason Dufner), four Hall of Famers (Mickelson, Raymond Floyd, Nick Price and Ernie Els), plus a cast that included Rory McIlroy, Sergio Garcia, Lee Westwood, Luke Donald, Matt Kuchar, Davis Love III, Hunter Mahan, Jimmy Walker, Dustin Johnson, Nick Watney and Louis Oosthuizen.
Dufner, Rose, Els, Mahan, Kuchar and Johnson were not in the Honda field, but checked in early on their way to Miami for the WGC-Cadillac Championship. Graeme McDowell, who did not participate this year, knew it was something special when he walked on the range as the reigning U.S. Open champion in 2011 and saw Arnold Palmer hitting balls next to Jack Nicklaus.
"I think they look at it the way it is," Dunne said. "Seminole has a certain aura and a certain presence and it's different. We've got a lot of guys who want to come for the right reasons, and we're thrilled to have them."
The Pro-Member dates back to 1937, with a list of winners that includes Ben Hogan, Sam Snead, Lloyd Mangrum, Jimmy Demaret, Peter Thomson, Julius Boros and Palmer, who still plays with Dunne's predecessor, Tim Neher. It was Neher who resurrected the event in 2004, and turned it into one of the most cherished invitations to a club event in golf. There are no appearance fees, TV cameras or spectators. There is just golfing fellowship and reverence to one of the most treasured and historic spots on the game's map.
Seeing those legendary names on the locker room wall is inspiration for the modern tour pros to join them. Paired with his Walker Cup captain, Buddy Marucci, Rickie Fowler had won three straight (2011-2013) and the duo was in a foursome with McIlroy on Monday. After winning the 2005 Dubai Desert Classic with a dramatic final-hole eagle, Els was so bent on defending his low-net title with partner Johann Rupert that he flew from the United Arab Emirates to London to West Palm Beach and walked through the entrance at Seminole for his afternoon tee time.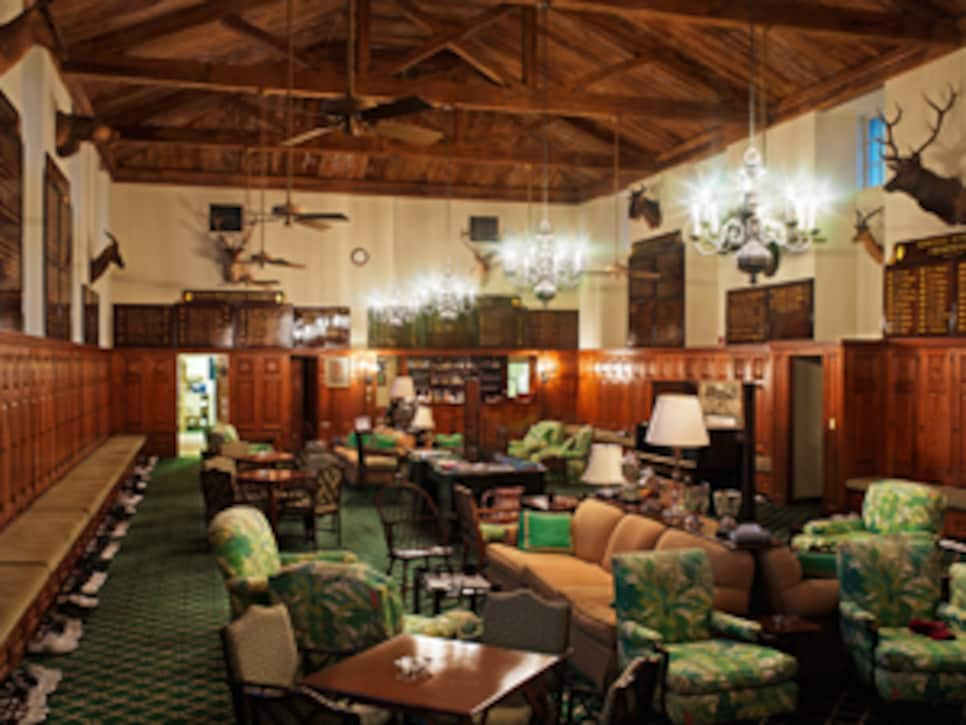 "The members enjoy the game so much," said Scott. "That's what makes it easy to go out and enjoy a great course and their company. It's really just a lot of fun, which is what golf is meant to be. It's nice to see the tour pros take their serious hats off for a while."
The members have game too. The list of hosts include a past U.S. Amateur champion (Vinny Giles), three past Mid-Amateur champions (Kelly Miller, Spider Miller and Mike McCoy), three Senior Amateur champions (Marucci, Giles and Jim Stahl), four Walker Cup captains (Marucci, Giles, Downing Gray and Dick Siderowf), plus the current USGA president (Tom O'Toole, a 6.3 Handicap Index) and its executive director (Mike Davis, a 3.7).
The pairings come through long-time relationships like the friendship Love has with Bill Jones III, the former CEO of Sea Island Co., or Kuchar with former AT&T CEO and fellow Georgia Tech alum Dave Dorman. Dunne played with Mickelson following conversations they had while playing in the same foursome at the 2013 AT&T National Pro-Am, and through Dunne's work on the Practice Activities Committee at Augusta National, where he is a member. Rose became close to Seth Waugh long before his U.S. Open win at Merion when the former Deutsche Bank Americas CEO extended the Englishman a sponsor's exemption to the Deutsche Bank Championship in 2003. Part of the experience is a party hosted by Waugh at his home on Sunday night that is the social event of the tour season.
"It's timeless, there's a sense of history, but I think the fact they come says it all," said Scott's partner, Stan Druckenmiller. "You'd have to pay this group an awful lot of money for an off day, but here they are and they're there year after year, so they get it."
The history of Hogan practicing on his way to the Masters, or Seminole head pro Claude Harmon setting the course record (60) a day after shooting 78 in the 1947 Pro-Member, is part of the lore. (Claude's namesake son, Butch, the teaching pro, was also in the field.) Although only 6,836 yards from the back tees, the fast greens and ocean winds of the Donald Ross design have kept Harmon's record intact. It's no exaggeration when McDowell said he just tries not to putt off greens. Scott reached the par-5 third hole in two shots one year and walked off with an 8 after de-greening his first putt.
"It's probably got four or five of the best designed greens you'll ever see on a golf course and another six to seven greens that are outstanding," said Nick Price. "It's quite possibly the best second-shot course you'll play anywhere."
At the end of their rounds, everybody congregates into what is considered the best locker room in the world to tell stories, have a drink and look at the names on the wall. Mickelson, who stayed at Dunne's house, got two practice rounds in, one before the Honda, and on Sunday after missing the cut. Dunne told him, "I don't want you coming here walking around. I want to win. I want to get my name up there [on the wall]."
Perhaps that will happen in 2015. Mickelson and Dunne (67 gross, 65 net) lost to one of the lowest scores in P-M history: Rory Sabbatini and Hugh Kenworthy's gross 61. Roberto Castro and Russ Ball, edged for low gross in a match of cards, won low net (59). Seminole's mystique lives on.
Johnny Vegas' last top 10 was the 2012 AT&T National. Shoulder surgery cost the man who won the 2011 Humana Challenge as a rookie most of last season, but his T-12 at the Honda Classic could signal a comeback. The Venezuela native spent six weeks in his home country this off-season, getting married and hanging out at his parents' home in Maturin. He met his wife, Hildagard, in high school, and they tied the knot after a four-year long-distance relationship. "I'm a lucky, lucky guy to find a girl who would wait and come to the States," Vegas said. Part of his motivation -- besides playing his way off a medical exemption -- is to give the people of his politically torn country a sporting hero. "You always want to do good, to have people cheer, to get them excited during bad times," he said. "I'm one of those guys that can do that for them."
Since winning last year's Wells Fargo Championship as a rookie ranked No. 1,207 in the world, Derek Ernst has changed swing coaches, business managers and caddies. Last week he changed his routine. Instead of tuning up for the Honda by hitting balls 10 hours a day for a week back home in Vegas, Ernst practiced only his short game. The resultant T-33 was his best finish in a full-field stroke-play event since his playoff win at Quail Hollow. After starting strong with rounds of 66-69, Ernst, 24, felt his short game turned a 78 into a 71 on Saturday. On Sunday, he ground out a 72."It's been tough," Ernst admitted. "I've been playing the worst golf of my life, and I'm out here doing it on tour. It feels weird, but at least I'm learning on the highest level how to compete. I think in the long run this is going to be hugely beneficial to be out here while I'm struggling. When I'm 35 years old and struggling, its not going to be as bad as it is."