News
Sei Young Kim wins, Lorena Ochoa promises to be around women's golf more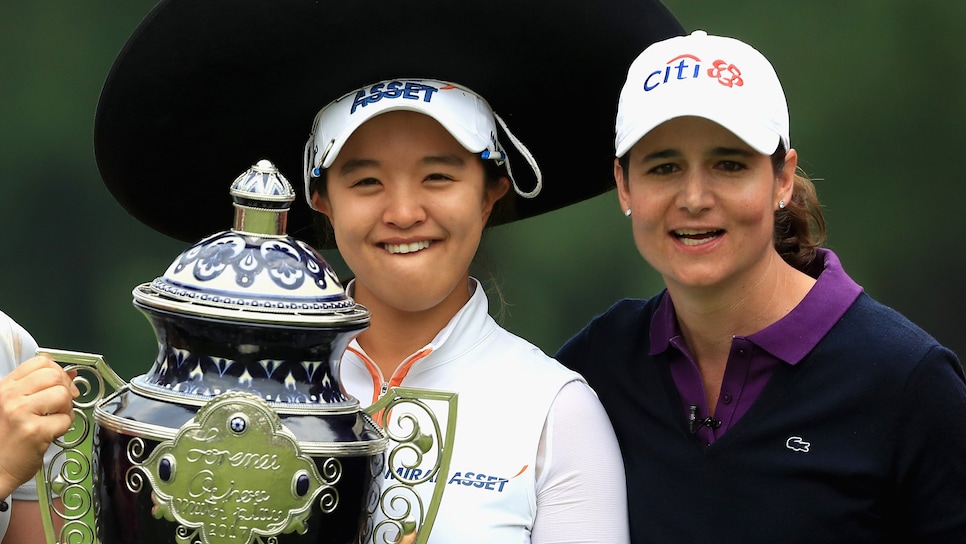 Sei Young Kim didn't waste any time getting a jump on Ariya Jutanugarn in the final match of the Citibanamex Lorena Ochoa Match Play Championship, winning the first three holes with a birdie, eagle, birdie at Club de Golf Mexico in Mexico City. It was the edge that the 24-year-old from South Korea needed as she then played the next 15 holes the equivalent of one over par, but hung on to defeat the 2016 LPGA player of the year, 1 up, in the deciding 18-hole match.
"She is an aggressive player," Kim said of Jutanugarn. "Even with the 3-up start, I was still very nervous and focused on making birdies, just kept playing as if I was one down."
The win was a change of pace from the week prior for Kim. The now six-time LPGA Tour winner had missed the cut at the Volunteers of America Texas Shootout before coming to Mexico. Her most recent win on tour came at the Meijer LPGA Classic last June. After this win, Kim is expected to move up from 12th to eighth in the Rolex Rankings.
En route to the final, Kim defeated Mi Jung Hur in the semifinals on Sunday morning, 5 and 4. Jutanugarn advanced after beating Michelle Wie, 4 and 3, in their semifinal clash.
In the third-place match Sunday afternoon, Wie was 5 up on Hur after 10 holes. But a charge by Hur pushed the match to 22 holes, where she defeated Wie.
Meanwhile, there was another competition going on Sunday afternoon, as Lorena Ochoa, Annika Sorenstam, Se Ri Pak and Juli Inkster played exhibition matches. To see Ochoa, who is scheduled to be inducted into the World Golf Hall of Fame in September, back on the course of an LPGA event for the first time since 2012 raised the obvious question: Will the 35-year-old ever return to the LPGA Tour?
"No," Ochoa said. "I always tell my family and friends that I would get back and play maybe one or two events just to enjoy myself and to be able to say hi to all of the players. I was talking today, maybe next summer we can play two events or do something together. So, you'll see, you'll hear from me. I'll be around, I promise."