The Loop
See which 7 golf events made Sports Illustrated's 100 Greatest Moments list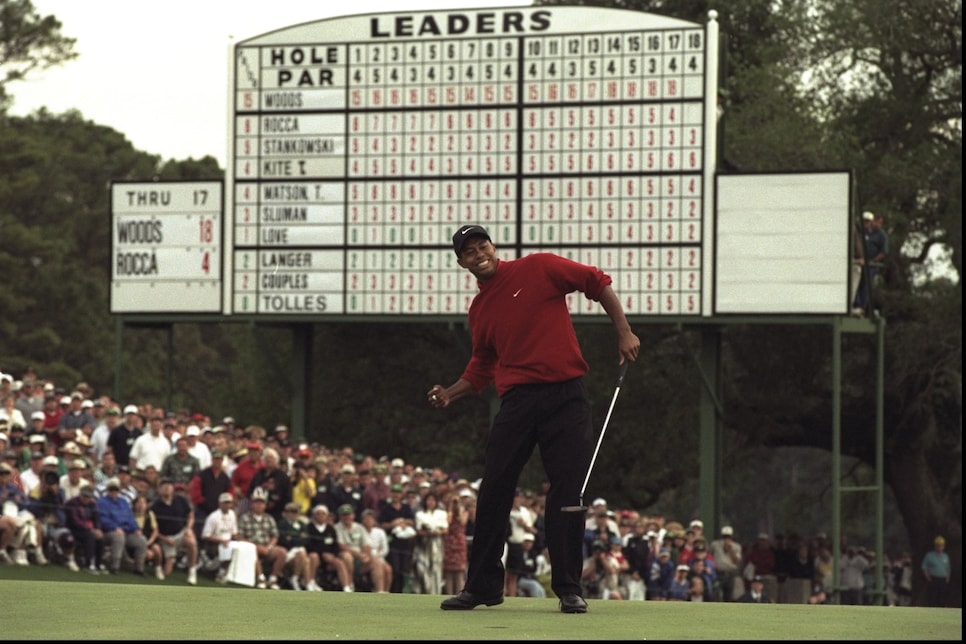 Earlier this week, Sports Illustrated released its 100 Greatest Moments in Sports History. And unlike some other retrospective lists (Cough, ESPN's original "30 for 30," Cough), we're happy to report golf got its rightful due (Yes, we're biased) with this one. In fact, seven golf moments made the cut. Here's the rundown:
No. 97: "Duel in the Sun"
Tom Watson topped Jack Nicklaus by one shot in arguably the best head-to-head battle in golf history at the 1977 Open Championship at Turnberry. Watson shot 65-65 over the weekend to edge Nicklaus' 65-66. Nicklaus finished 10 shots ahead of third place.
No. 69: Bobby Jones in 1930
More of an accomplishment than a singular moment, Jones completed the only calendar Grand Slam in men's golf with his wins at that year's U.S. Open, U.S. Amateur, British Open and British Amateur.
No. 57: Arnold Palmer's win at Cherry Hills
The 1960 U.S. Open is regarded by many as the greatest major championship ever played. It featured Ben Hogan going head-to-head with Jack Nicklaus for 36 holes on the final day, but also, a legendary charge by Arnold Palmer. Trailing by seven shots entering the final round, Palmer shot 65 to beat Nicklaus by two.
No. 43: Tiger Woods at Pebble Beach
The only drama at the 2000 U.S. Open was over how much Woods would win by. The final margin wound up being 15 as Tiger broke all kinds of records and cemented himself as one of the game's all-time greats at 24.
No. 42: Babe Didrikson Zaharias' comeback
After colon cancer kept her out of the 1953 U.S. Open, the dominant female golfer of the time returned to the event in 1954 at Salem Country Club -- and won by 12 shots. Sadly, this was the last of 10 major championship titles for the multi-sport star. She died of colon cancer two years later at 45.
No. 17: Jack In '86
The most famous of Jack Nicklaus' record 18 major titles was also his most unexpected. Two years removed from winning any PGA Tour events and 11 years since his last victory at Augusta National, Nicklaus shot a back-nine 30 on Sunday to top a star-studded leader board.
No. 7: Tiger in '97
Woods' win at the 1997 Masters went well beyond the 12-shot margin of victory. As the first person of African-American or Asian descent to win a major championship, it was a milestone victory that ushered in a new, more inclusive era of golf.
If we have one golf-related beef with the list, it's with the lack of Ben Hogan. One could argue that two of Hogan's accomplishments (His win at the 1950 U.S. Open after suffering a near-fatal car crash 15 months earlier and his "triple crown" season in 1953 in which he won all three majors in which he played) should have made it. . .
But overall, we're happy with Sports Illustrated's countdown and we suggest you check out the entire list. After all, there are so many great moments to debate, from Jackie Robinson breaking baseball's color barrier to the "Miracle on Ice," which took the No. 1 spot. Tough to argue with that.