See the design an 11-year-old Tiger Woods entered in Golf Digest's first Armchair Architect contest
Everyone who plays golf thinks they could be a golf course architect. It starts at an early age. Tiger Woods was just 11 years old when he entered Golf Digest's first Armchair Architect contest back in 1987. (Officially, he was too young to win, so he had his father mail it in.) His dream hole was a U-shaped double-dogleg par 5 with an island tee, island traps and an island green (see below). Even at age 11, he probably had the talent to cut the corner by smacking an iron from the back tee over his 120-foot-high hill and onto the green where he'd have a putt for a double-eagle 2. (If he avoided the bunker in the center of his green, that is.) The rest of us would likely take the long way around, dodging trees, bunkers, mounds, a creek and a bog.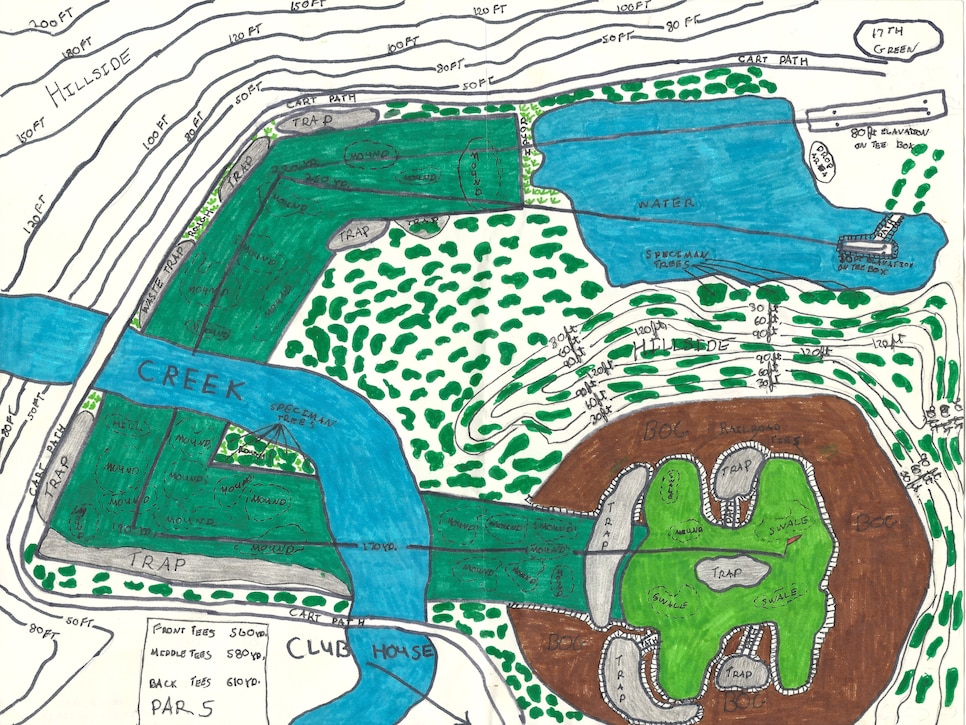 While Golf Digest's 2016 Armchair Architect Contest isn't seeking something quite so expansive, it is searching for an exciting and original concept for a two-shot hole that will actually be built at the new Sand Valley Golf Resort in central Wisconsin. Mike Keiser, whose Bandon Dunes Resort in Oregon and Cabot Links in Nova Scotia are celebrated around the world, is in the midst of constructing his next destination resort on a massive formation of sand dunes deposited long ago by glaciers.
Here's a 3-D model of the land for the 14th hole at Sand Valley's David McLay Kidd-designed second 18. As you examine it from every angle, note the model has two-foot topographical lines superimposed to help you visualize the flow of the land. It's pure sand, so you can push around as much or as little as you wish, carve out as many or as few bunkers as you desire