The Loop
Sean Doolittle said it all: Sports are a reward for a functioning society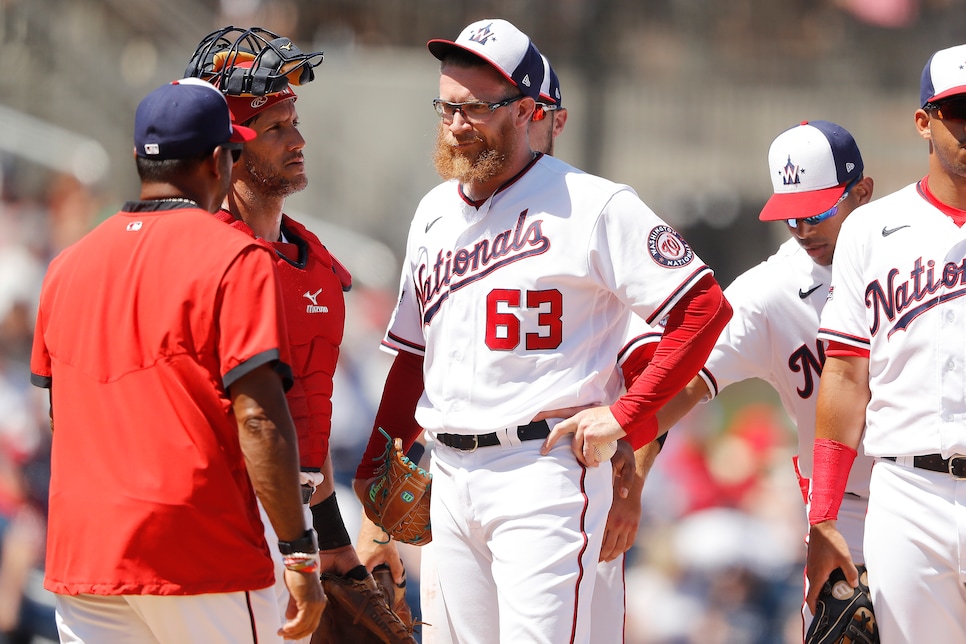 When asked on Sunday about certain MLB owners claiming that fans might be able to return to MLB stadiums by the end of the season, Nationals reliever Sean Doolittle, who is still uncertain whether he'll play this coming season and is concerned about the speed of the league's testing process, gave one of the most thoughtful answers any athlete has managed in response to the pandemic. You can see his whole answer here:
The key passage: "Sports are like a reward for a functioning society."
That's really profound, but also simple enough for anyone to understand. And it rings all too true. As WaPo's Jesse Dougherty wrote, the MLB return-to-play plan mirrors the successful Bundesliga efforts, but the key difference—and this difference is really everything—is that they're Germany, and we're the United States. They flattened their curve, they were proactive, their citizens largely obeyed protocol. They handled it. We did not. You've already seen all the sad numbers, and the saddest (and most embarrassing) fact is this: There's now a European Union travel ban on U.S. citizens.
I'm rooting for American sports—we all are—but whether we've "earned" them is another question altogether. PGA Tour golf has managed to run a strong show so far, but it's also the easiest sport to bring back in a pandemic, and even they have had touch-and-go moments. For indoor team sports like basketball, or even outdoor team sports requiring close quarters for travel and play like baseball, things are a lot more difficult, and the next two months are going to be a gauntlet. If they fail, and have to shut down again, remember Doolittle's words. In this situation, the society has to work first.
Ominous Baseball Sign of the Summer: Masahiro Tanaka
You know how in Shakespeare's tragedies, there's always a raven feasting on a horse or something within the first two pages, and that's our cue that some really bad stuff is about to go down? (Note: This is what I remember from Shakespeare, and no fact-checking has been done.) Anyway, I got the same ominous vibe watching this happen to Yankees pitcher Masahiro Tanaka while pitching to Giancarlo Stanton:
It's like the baseball gods are telling us to cut and run. As it turned out, Tanaka was "okay," at least in the sense that he was released from the hospital and is now on concussion protocol. But coming so soon after the pleasure of watching Gerrit Cole pitch in a Yankee uniform, it was like the joy was sucked right out again, and we were reminded where we are.
The "Taking Heed of Ominous Signs" Sport of the Summer: Baseball
Felix Hernandez is not playing. David Price is not playing. Ryan Zimmerman, Joe Ross, Ian Desmond, and Mike Leake...not playing. And these are not even players who have tested positive for coronavirus. There are plenty of those: The White Sox, Nationals, and Cardinals have had multiple players test positive, while the Braves have had four, including the apparently very ill Freddie Freeman. Sean Doolittle, as noted above, is on the fence. You get the feeling more will come in the next month, especially as people test positive.
The Other "Taking Heed of Ominous Signs" Sport of the Summer: Basketball
Speaking of leaky bubbles, the NBA season is about to resume, and they technically have an advantage over baseball in that the rest of the season will be held inside a so-called "bubble" in Orlando. The disadvantages, of course, is that basketball is a close, sweaty, contact sport in which an infected player could spread COVID-19 like wildfire, and the bubble is sitting in the middle of Pandemic Central, Florida. Already, we're seeing defections. Some of them are minor, like Lakers assistant Skip Hollins, but the list is growing and includes major figures like the Lakers' Avery Bradley and the Nets' DeAndre Jordan. Some have very good personal or family reasons, some are just being careful, but the more who pull out, the more acceptable it will be.
The question underlying all of this, in baseball, basketball, and even golf, is "where's the tipping point?" If there's an answer to that question behind closed doors, we'll never hear it, but it exists regardless. You get the sense with baseball and basketball especially that we're holding on by a thread, and all it's going to take is one key defection for the entire pyramid to collapse.
Bittersweet Soccer Highlight of the Week: Sadio Mane, Liverpool
In what should have been a triumphant return to Anfield after being crowned champions of England for the first time in 30 years, Liverpool defeated Aston Villa 2-0 and...nobody was there. Here's Sadio Mane scoring the first goal:
And here's Curtis Jones with the clincher:
But a stadium that should have been rocking with energy, fans belting out "You'll Never Walk Alone," was sadly empty. Even when they celebrated last week, they got scolded by police (for good reason, to be fair). Victory in sports is about catharsis, at least a little, so mark that down as another thing robbed by the pandemic.
The "Cheer Up" Moment of the Week: Che Adams, Southampton
Wow, so dour! Can't end that way. So let's turn to Che Adams, up-and-coming Southampton prospect, who got the first goal of his Premier League career against, of all teams, Manchester City. Watch:
Adams' goal stood up, Southampton upset Man City 1-0, and it's a hell of a way to score the biggest goal of your life so far. Thanks for the joy, Che. We need it.