The Loop
Sea Island, Part III: Tadd Fujikawa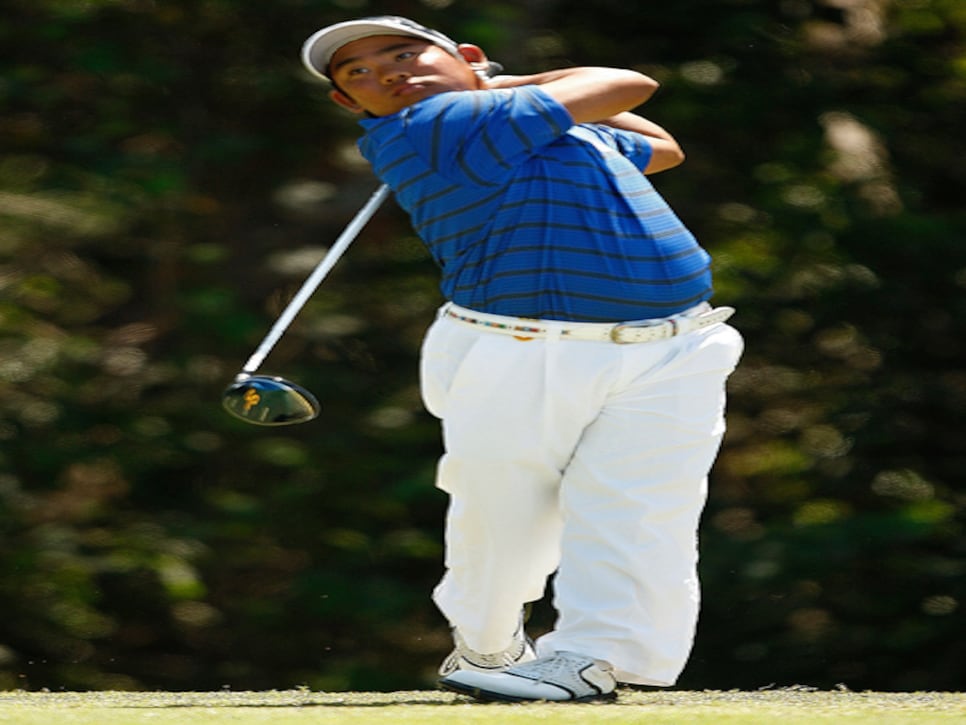 Fujikawa is now 19 and 5-feet-2 (if you measure him when he's wearing shoes), but trust me, don't underestimate the size of this kid's heart. At 15, only fours years after he started playing golf, the behemoth of a spirit living in a small shell was the youngest ever to qualify for a U.S. Open (2006 at Winged Foot).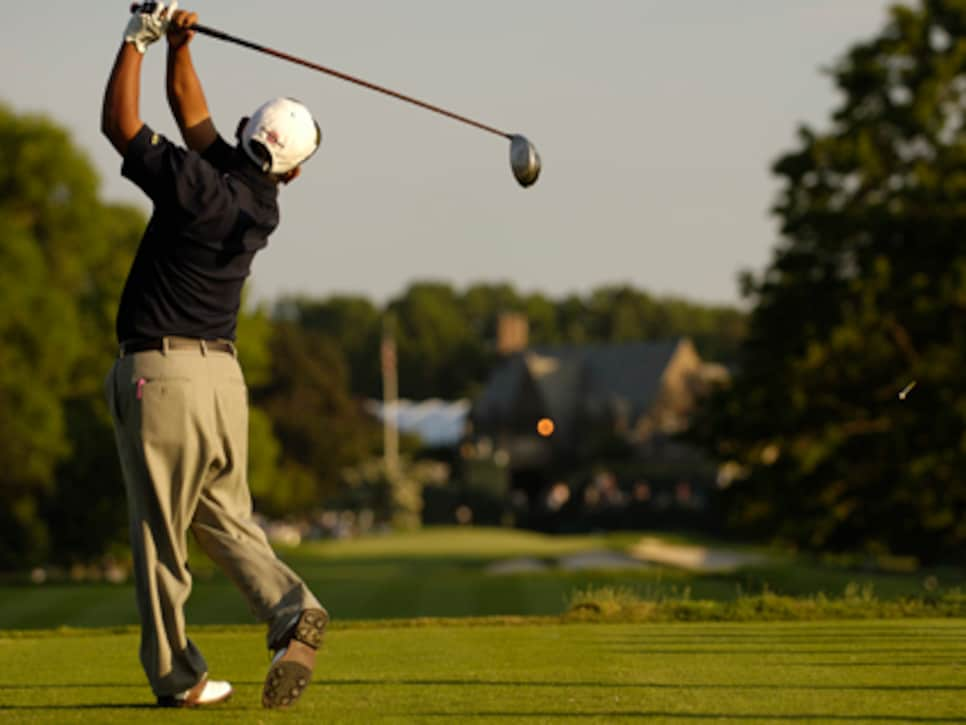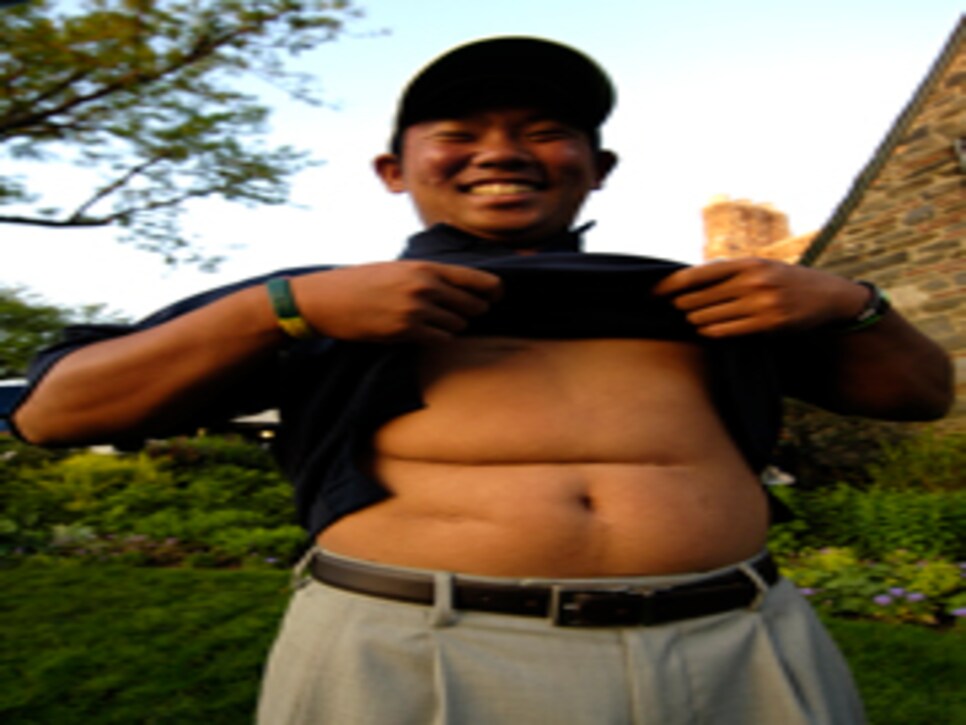 Last Sunday, when Anderson threw balls to decide playing partners, he drew the short kid, but far from the short stick. I got Engler, who was preparing for the USGA Mid-Amateur Championship. The other three guys would all play scratch; I would get eight shots, and we'd all play the blue tees (6,687 yards). The bet was a $5 nassau, and as Engler clarified, "You press when you're mad."
I won't take you all 18, but this is where I should clarify a few things. Even though Anderson hadn't played in two months, he didn't exactly struggle. He shot 75 with two birdies, and that was despite a 10-15 mile-per-hour wind.
Engler says he hasn't had a lot of time to practice, but as I wrote in the previous post, he shot 71.
After six holes I was just thankful to get the ball off the ground, but Anderson was kind enough to give me some mid-round swing tips. Basically, I was disconnected, closed, too fast at the top, and I was a victim of the occasional reverse pivot. Thanks to Anderson's keen eye and selfless acts of assisting an opponent, I made my first (and only) birdie, at the eighth hole, but finished with six pars in the last 10 holes and shot an 84. I was contributing to the team, and therefore, I felt good about myself.
Which brings me back to Fujikawa. The little assassin and his mom have been living at Sea Island full-time since February. "He's been great to have around," says Anderson. "He's been a good ambassador for Sea Island and a perfect role model for the kids." Anderson says Fujikawa practices six hours a day, and it has been paying off. Literally. In August, Fujikawa shot 25 under for four rounds and won the eGolf Tour Championship by nine shots. (He received $25,000 and a free trip to the PGA Tour's Q school at the end of the year.)
But none of that mattered to Fujikawa on Sunday. I got the sense he wasn't just after the contents of my wallet--he wanted my first-born. He made three birdies on the front nine and shot a 34. Believe it or not, Engler and I were 1 up going to the back, which is where Fujikawa, who was the longest of the four off the tee all day, started to separate himself. It was four Fujikawa birdies and eight holes later that we all stood on the 18th tee. Fujikawa had just birdied two in a row and was having the best ball-striking round I have ever seen. (Not to name-drop, but to make my point, I've played with Phil Mickelson.)
Anderson/Fujikawa were up on two back-nine bets, we were all square in one bet and Engler/Ginella were mad, so we pressed another $5 bet. (I had a shot on the 492-yard par 5.)
Fujikawa didn't miss his drive, but he did pull it a little. Anderson, Engler and I all hit our drives down the middle. Fujikawa was just long enough that he found the water off the tee. He elected to drop his ball back in the fairway, which meant he had at least 200 yards to the flag. While he was sorting out his drop spot, Anderson hit his second shot to the back of the green and the ball kept rolling. He ended up just beyond the fringe in two. I had 175 yards in and hit my 6-iron pin-high, middle of the green, 25 feet from the hole. With my shot, or "diaper," I was essentially on in 1. (Knuckles from Engler, who let one get away from him and found water left on his approach.) No worries, I thought, I can take it from here.
That was before Fujikawa stuck some long iron to three feet. He and Anderson both made birdies, so all I had to do to win a total of $10 was to two-putt. Subconsciously determined to disgrace Digest and myself, I guess, I decided to try to make eagle. In doing so, I ran it past the hole at least seven feet, forcing Engler's inner monologue to be overheard saying, "Whoaaa." And then I rushed the comebacker.
There's nothing like a three-putt par with a diaper to lose $20. (It turns out I needed two diapers.) Of that $20, $10 of it was for $2 junk--Fujikawa made eight birdies on the day and shot an easy 65.
Before Q school later this fall, Fujikawa says he will try to Monday qualify for the McGladrey Classic, which will be played at Sea Island's Seaside course the week after the Ryder Cup. The only thing I can say is, learn from my lessons: Stay connected, swing with better tempo, and never bet against the little kid with a big heart. If Fujikawa is going to make it on tour one day, that will be the best club in his bag.