The LPGA Tour saw an impressive milestone achieved in 2021. With a playoff win at the BMW Ladies Championship in October, Jin Young Ko claimed the 200th win by a South Korean-born player on tour—accomplishing the feat, appropriately enough, in South Korea. Looking at the Rolex World Ranking as the 2022 LPGA season begins, more victories are likely to come. Three of the top five players in the world are Korean—Ko (2), In Bee Park (4), Sei Young Kim (5).
Indeed, South Korean influence on the LPGA is undeniable. But where did it come from? And how has it sustained itself over time? To find the answers for these questions, we went to the source: Se Ri Pak, the first South Korean female golf star.
If you ask South Korean players who inspired them to play golf, Pak's name comes up time and again. It's no surprise given her incredible accomplishments. Over two decades of play on the LPGA Tour, Pak won 25 titles including eight major championships.
Igniting Pak's stardom for an entire generation to follow was her incredible 1998 U.S. Women's Open victory. She was a 20-year-old rookie on the LPGA Tour at the time who after 72 holes of regulation play at Blackwolf Run was tied with amateur Jenny Chuasiriporn, the Duke University All-American dropping a 40-foot putt on 18 to force an 18-hole Monday playoff. At the end of that grueling round, the pair were still tied, so they went into sudden death. Finally, after 20 holes, Pak emerged the victor.
Back home in South Korea, people were glued to the broadcast. Though golf wasn't the popular sport then as it would become, her win resonated, Pak explains, because the country was in economic tumult. As unemployment numbers climbed and the value of South Korea's currency, the Won, plummeted, the people of the country needed something to believe in.
Or in this case, someone.
"In 1998, when Korea experienced the IMF Financial crisis, Korean people as a whole struggled mentally," Pak, now 44, told Golf Digest via email. "During this difficult time, my dramatic victory served as a rally cry for people to 'Never give in.' This encouraged people in Korea to come together and overcome this financial crisis."
Golf's popularity was immediate.
"This led to the rise of 'Se Ri Kids,' who actually started playing golf after seeing me play," Pak explained. "I just ran towards my personal goals, and due to my success, I was able to become a role model and become someone else's dream. This fact really made me happy. These days, the Se Ri Kids are playing in the international stage and are dominating."
After witnessing the golf boom she triggered in South Korea, Pak is not surprised that South Korean women have succeeded on the LPGA Tour. She says the way parents interact with their children while pursuing professional golf has helped those children become successful.
"I am definitely proud of the achievements by the Korean women golf players, but actually there is a reason for this. It probably applies to most sports, but for golf especially, you must constantly challenge yourself. Even a small mental wavering or distraction will change the golf swing," Pak said. "In order to overcome these issues, an individual needs to have a strong mentality and tremendous amount of practice. Many Korean golf parents give support to their children and actually make substantial personal sacrifices so that their kids can achieve their dreams and goals. This type of environment enables the Korean golf players to focus on achieving success and, to make this a reality they are able to practice relentlessly. This is why Korean women golf players are able to dominate on the international stage."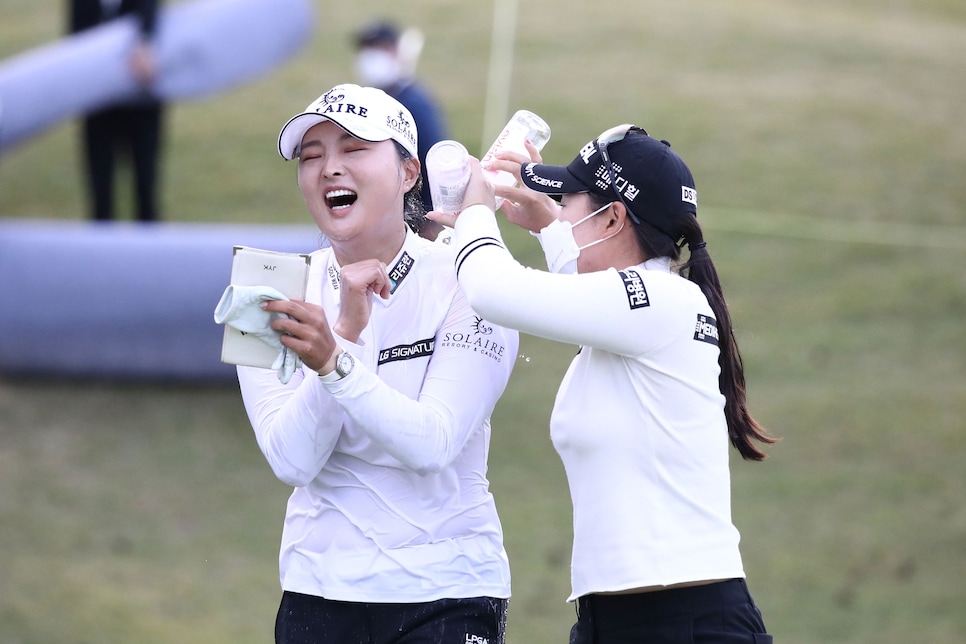 Jin Young Ko celebrates with Da Yeon Lee after winning the BMW Ladies Championship in October, the 200th LPGA title won by a South Korean-born player.
Chung Sung-Jun
Pak was voted into the World Golf Hall of Fame in 2007 and retired from the tour in 2016. She's always been humble, so it's not a surprise she hasn't been seen much out in public in the United States since her retirement. She did make an appearance at Augusta National in 2019 to hit the ceremonial tee shot with Annika Sorenstam, Lorena Ochoa and Nancy Lopez at the inaugural Augusta National Women's Amateur event. The roles have reversed; She's now home, watching South Korean women dominate on the LPGA Tour.
"I am very proud and thankful for [Jin Young Ko's] achievements," Pak said of the 200th win. "It is not easy to play abroad in such tournaments and show consistent good results that leads to the 200th win. And for this, I really applaud her enthusiastically. Having a Korean woman golf player to achieve 200th win will serve as a huge motivation for many aspiring Korean golf players."