The Loop
Baba Booey lives! Screaming fans don't bother as many pros as you might think
JERSEY CITY, N.J. -- The PGA Tour returns to Liberty National this week for its annual stop in the New York metropolitan area, aka the land of rowdy, screaming spectators.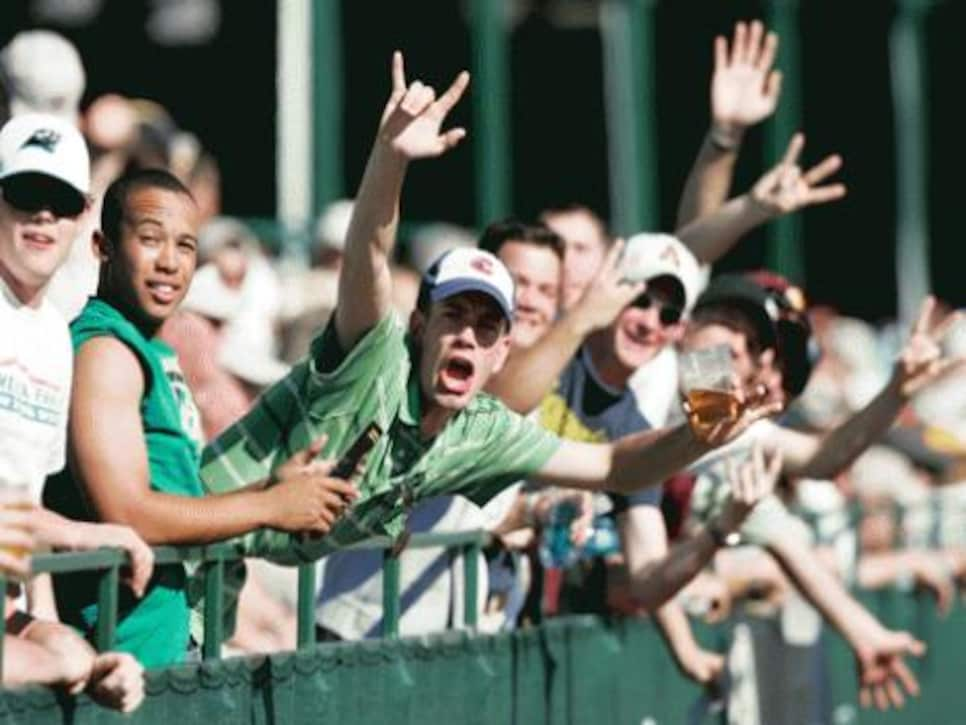 Photo: Stan Badz/Getty Images
Turn on any PGA Tour event for a few minutes and you're bound to hear the focus of the conversation.
"Spaghetti and Meatballs!"
In fact, if not for Baba Booey, this debate might have ended the moment the tour packed up and left Rochester.
Europeans are quick to condemn screaming American fans as an assault on the foundations of the game; an argument usually left to golf experts and analysts. But when Ian Poulter specifically called out the Baba Booey jeers in a series of twitter rants immediately following the PGA Championship (including one suggesting that tour pros should be allowed to "tazer every muppet who shouts out something stupid"), Howard Stern took notice.
Baba Booey is the nickname of The Howard Stern Show producer Gary Dell'Abate, and when Stern welcomed PGA champ Jason Dufner on the show two days later, he brought up the topic. Even suggesting the real Baba Booey should make a cameo this week at The Barclays.
Dufner, casual as ever, downplayed it. In fact, a quick poll around the Liberty practice range on Tuesday confirmed that most players feel similarly to Dufner: As long as it happens after the swing, then it's not a big deal.
"I think us even talking about it gives it way more credit than it's worth," Barclays defending champ Nick Watney said of the commotion. "If you want golf to be mainstream, you can't have it both ways. You can't have golf be considered one of the big four, but still want everything to be exactly the same as it was when it was just a niche sport."
Keegan Bradley was a bit more direct. "I love it. You're trying to make golf more fun, let's not take it away from the fans."
This was consistent among most of the younger players asked. While Jordan Spieth, Ryan Moore and David Lingmerth all conceded it doesn't happen as often to them as, say, a Tiger Woods, they see little wrong with it. Though Spieth did bring up one potential issue.
"It can be a problem if someone's hitting a shot on the next hole over."
"I don't know if it is any more of a concern than it has been, and I'm not sure it has been that much of a concern. As long as they don't do it during a player's swing, it's difficult to police," PGA Tour communications chief Ty Votaw told USA TODAY Sports. "We clearly want people to have a good time when they come, but we also want them to be respectful, to not only the players but to their fellow spectators," he added, before concluding, "It might be worse in certain places."
Still, only one pro we asked had reservations about screaming fans. Bill Haas, who, while a young player, it should be noted does come from a lineage of pro golfers, pointed to the negative side of the practice.
"I think it has a place in the game, but scream something that means something, scream something that makes sense, scream something that's supportive," Haas said. "I don't think Phoenix 16, the negative side of that hole has a place in the game. Usually the people that are yelling are not golf fans, they're attention-seeking fans."
Conversely, Billy Horschel was more irritated by the obliviously positive fan.
"I actually hate it more when your ball is in the air and it's heading towards the trees and everyone's saying 'good shot.'"
But like all great debates, they usually can be addressed with the simplest of philosophies. Enter Boo Weekley.
"If I'm playing good they got a reason to holler. If I'm playing bad they don't need to holler."
So maybe it's just the result of poor play. Without pointing fingers at Poulter or Jim Furyk, rarely do we hear the weekly winner complain. Either way, don't expect the noise from the gallery to die down anytime soon -- at least not over the next four days.
Let's just hope Baba Booey doesn't find his way into Ian Poulter's gallery.